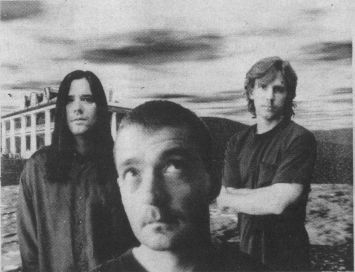 strong material, familiar sounds
Invoking Michaelangelo (Meridian Records)
The Floating Men
By Allen Howie
On Invoking Michelangelo, Nashville's The Floating Men sound a little like a lot of artists, and not at all like anyone. Imagine a fusion of the Black Crowes and Counting Crows, fronted by a lead singer who is equal parts Tom Petty and Leon Russell and you'll have a feel for the Nashville band's second studio effort.
The record has a lot going for it, not the least of which is strong material. All twelve songs here were written by singer/guitarist Jeff Holmes, which may explain the fluid ease with which his voice winds through the melodies. Better still are Holmes' lyrics, which are consistently inventive and insightful, a tough combination. In "She Dreams About Me," for example, Holmes recalls, "We swore there'd be no lies between us/But the truth was getting way out of hand."
But The Floating Men is hardly a one-man show. Rounding out the trio are bassist Scot Evans, whose harmonies offer a glowing counterpoint to Holmes lead vocals, and Jeff Bishop on drums and percussion. Together, they lay down a rich sound that is equally comfortable in a spare acoustic setting or a crackling electric one.
Another plus is the record's sparkling production, courtesy of former Springsteen bassist Garry Tallent at his own Moondog Studios in Nashville. (Check out the sly nod to the Boss in the intro to "Wringing the Wheel," with its echoes of "Born to Run.") Add in the relaxed roll of guest Billy Livsey's tumbling piano, and flourishes like Robert Moore's shivery trumpet solo at the end of
Long Gone Tomorrow," and you've got a set that might easily resurface on a lot of ten-best lists at year's end