Newsical Notes By Jean Metcalfe
Congratulations!
• To William Calvin Riddle Jr. on his May 23 marriage to Mary Lee Whelan. Bill is a former LASC member and was for a while co-coordinator with Earl Meyers of the local NSAI workshop. Our best to the newlyweds.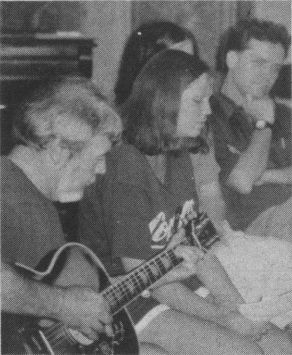 Ray Burden played the guitar while his daughter Christy Rae sang on of his songs. Stephen Waggoner looked on. Photo by Jean Metcalfe
• To LASC VP Mike Boehnlein on landing a cut of his "Keep Knockin'" (c/w Bill Ferguson) on an upcoming album by Jerry Pieper of Clifton, N. J. Mike's company, Believer's Choice Publishing Co., is working with Bayridge Publishing on the project. The veep has been doing his homework; let's hope this project earns him an A+.
• Several songwriters showed up to hear Dave Cole perform his story songs at the Rud on July 13 and stayed around till the last string was plucked. Even Marcia Ball fan Bill Ede stopped by to hear several songs before heading to another local nightspot to hear (and no doubt have a good look at) the long-legged lady work her magic. (Now just what does Marcia have that Dave doesn't, Bill? By the way, do you still want one of our file photos of Ms. Ball now that you have your very own autographed one?)
• Hope everyone enjoyed the guitar pull on July 17 at the Union Hall. It was good to see some familiar faces from the distant and not-to-distant past. About eighteen people were present, with eight performers playing and/or singing. That's very good participation, especially considering the "party" wasn't publicized. Ray Burden's daughter, Chrissie, sure sounded a lot like Alison Krauss. And what a good sport Dee Ewen was, agreeing after much encouragement to play one of her originals on the piano. Sorry, Dee, I didn't know that the piano was in bad repair; I hadn't even noticed that the pedals were missing! But Dee was a real trouper and the show went on.
• Rita Beach hopes to be back at meetings soon since she's not doing her Monday-night gig anymore. Also, she's looking forward to performing on a songwriter showcase at the Broken Spoke Cafe in a Nashville Ramada Inn on July 27 and August 3.
During her recent trip to Nashville, Rita visited the local NSAI workshop, where her "Gotta Move" was rated 8.3 on a scale of 1-10 by a visiting publisher with a track record of 16 No. 1 hits.
Way to go, Rita!
This column is the place to share your news with your fellow LASC members. Keep us posted.