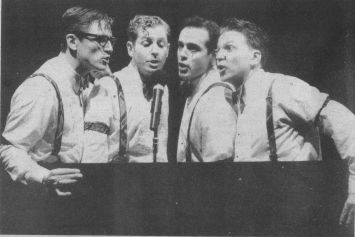 Left to right: Matt McClanahan (Smudge), Jamison Stern (Frankie), Sean Frank Sullivan (Sparky), Christopher Eaton Bailey (Jinx). Photo by Richard Trigg
Musical 'Forever Plaid' at Actors By Ninette Shorter
Amazingly exuberant, replete with affectionately spoofy wit, and loaded with 28 nostalgia-dripping songs from the '50s and early '60s, Forever Plaid opened July 20 at Actors Theatre.
The Bingham Theatre's in-the-round setting proves perfect for this Stuart Ross piece, a musical which plays more like a concert, for the songs are seldom tied to dialogue or story.
The Plaids, as the members of the Forever Plaid vocal quartet call themselves, are a lovably nerdy-looking (by today's standards) foursome who get the chance to do the show of their, uhm, lives, and what a show it is. It's too easy to get caught up in the antics and take for granted the combined talent and energy needed to carry off both the vocal parts and the often hilarious drilled-to-precision movements that adorn the entire performance. These guys are going to be sticks by the end of the show's run if they don't keep eating their Wheaties.
The show's humor and lightheartedness never allow what almost become serious moments to slow things down. Comedy abounds. You'll either spend the evening rolling your eyes or laughing 'til you hurt. And if you're at least nearing the turn to 40, you'll get some memory jolts that will absolutely charm you.
Scott Kasbaum, music director and piano accompanist for nearly all the songs, auditioned over 80 vocalists in New York City before selecting the tenors, baritone and bass who could all both solo and harmonize well. After seeing the show, it seems they must have also had to pass fitness tests.
Rehearsing Forever Plaid's four-part harmony group was more like rehearsing a band than orchestrating a typical musical, says Kasbaum, since "the lyrics don't necessarily have anything to do with" what's happening onstage at a given moment. In Forever Plaid, the story is the songs themselves, and the singers' tribute to a time more innocent.
In a show full of stars, shining highlights include "Crazy 'Bout Ya Baby," done with imaginative props and tremendous animation, and "Cry," which shows the surprising vocal flexibility of tenor Christopher Eaton Bailey in the part of Jinx. Matt McClanahan as Smudge, Jamison Stern as Frankie, and Sean Frank Sullivan as Sparky have wonderfully strong, clean voices, and their sparkling harmonies fill the room with warmth.
Kasbaum, who resides in Louisville and started out with Bunbury Theatre, has worked as pianist and conductor for Derby Dinner Playhouse productions and written scores for Stage One. He is a recipient of a 1995 Al Smith Fellowship Grant from the Kentucky Arts Council.
Local jazz musician Mark McCulloch played bass accompaniment in his debut for Actors. McCulloch has played for Joan Rivers, Mitzi Gaynor, Eddie Arnold, Rosemary Clooney, and David Brenner at the Palace Theatre, as well as for several musicals, including performances with Derby Dinner Playhouse over the past five years.
Forever Plaid, the Fifth Third Bank Summer Musical Theatre presentation that has become an international hit, plays through August 27 at Actors Theatre, 316 West Main Street. For further information, call the Actors Theatre box office at 584-1205.
Photo caption: (l-r) Matt McClanahan (Smudge), Jamison Stern (Frankie), Sean Frank Sullivan (Sparky), Christopher Eaton Bailey (Jinx)