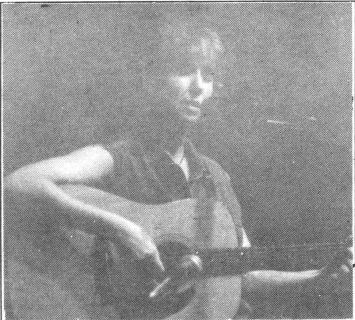 Tanya Savory. Photo by Les Reynolds
Shades of Tanya Savory
By Les Reynolds
Singer/songwriter Tanya Savory's debut CD Better Shade of Green will touch you, make you laugh, make you think and make you listen — over and over again.
The South Carolina native, by way of Northern California and now Nashville (and sometimes Louisville), has a remarkably crystal-clear voice and a brilliant literary style that reveals one of the best talents to emerge in a long time — a talent mixed with lots of heart that was shared with an audience at the Rudyard Kipling in late June. (Louisville Music News also talked with her in a phone interview and just prior to her TRK set.) _
Savory combines the best elements of folk and country and intermarries the melodies around original songs that evoke vivid images of being on the road, in and (mostly) out of love, at home and out-of-place – a real slice-of-life style suggesting one who's been there.
Though only 34, Savory's been writing literally almost all her life as the daughter of an English Lit professor and having an English degree herself. "It seemed the natural thing to do, even if I used it for nothing other than songwriting," she says.
Savory originally only dabbled in songwriting when she began playing at age 16, doing mostly cover songs. "I just never thought anything I wrote could be as good as my favorite song(s), a popular attitude among songwriters," she says modestly.
Career turning points included a trip to Alaska (from which a few original tunes emerged), a successful open mike competition upon returning to the Lower 48 and several times as a finalist at the prestigious Kerrville (Texas) Folk Festival songwriting competition.
Other events that kept her career moving were a transfer to Nashville (with her former job at Federal Express) and meeting up with her current producer, Kim Wohlenhaus (who's recently moved to Louisville).
"She's literally just started touring (about four months ago as this goes to press) and I see her having a great career," Wohlenhaus notes, then adds, "Her goal isn't mega success. I think she'll be happy ... singing and playing for a living. She's not mega concerned with stardom."
Savory's writing impressed Wohlenhaus, too. "She didn't follow their (Nashville's) formula and she doesn't indulge her own feelings in her songs ...they apply to everyone."
Savory acknowledged that "bucking the system" was a "frustrating" experience as it took "about a year for me to regain my own (writing) style. Looking back (at some of those tunes), it'd make your hair stand on end." Another hurdle was dealing with her first negative review, which she noted that few people she knew actually read it.
Wohlenhaus' prediction is that a record deal is imminent, yet pinning down exactly when is anyone's guess. But reaction to Savory's music seems positive wherever she's heard. "The reaction's been better than expected for the amount of time I've been doing it ... it's progressed better and quicker than I thought it would," Savory adds.
However, airplay continues to miss the mainstream stations, concentrating instead on public stations and folk shows. Targeting and labeling isn't a "huge concern" for Savory, "though I'd sure like someone to record one of my tunes on a country label."
Her music has been described as too country to be called folk and vice versa. She notes that the farther north she goes, the more her songs are labeled as country and the opposite is also true. "It's quite a bit of pop, too, but mostly folk with a country element." Her management says she's playing on the "Americana" charts — a wide-ranging folk-type sound — which Nanci Griffith and Cheryl Wheeler are also doing.
Savory listens to all types of music, but won't buy any country, content to get it off the radio. "Lyrically, it's kinda boring and silly. I like it for the melodies and the feel of the music," she explains. Her favorites (and influences) are: James Taylor, Nanci Griffith, Mary Chapin Carpenter, Joni Mitchell.
Personality, of course, also comes into play, especially early in a musician's career as they play to small crowds as often as large. Audience rapport is crucial and (bad jokes aside) Savory is strong in this area. She takes a small, attentive crowd, as she did at the Rud, makes small talk and draws them into her performance with her stories, her wit, quick smile and easygoing personality. She plays t.unes from her CD (such as "Call it Home" and "Heading South") and a few other originals not on her CD, like "Reuben Brown" and "40, 80 or 10" (a tune about traveling some well-known interstates. Who sez they 're not autobiographical?!) Her guitar playing, while not dazzling, is solid — you can tell she's comfortable with it, like an old friend. She even did a cover – a gorgeous rendition of John Prine's "Angel From Montgomery," a tune many singers have done.
(The Rud crowd, unfortunately, missed out on Wohlenhaus' inspiring piano playing since Savory wasn't told there was a piano available. On the CD, Wohlenhaus' keyboards and other musicians' wonderful instrumentation, especially on "Heading South," can be heard on several tunes.)
Savory says she takes a lot of chances that require a "leap of faith ... and often I have a hard time believing it when good things happen, like 'Why me'?" Better Shade of Green is certainly one of those good things, but, listening to some of Savory's poignant lyrics, it's not hard to hear the "Why me?" Some of her lyrics, though always masterful and thoughtful, aren't the happiest. Overall, they're a tapestry of pain and pleasure, travel and being home, a mix of up-tempo and slow songs, all sung to the rhythms of real life.
Borrowing from Mary Chapin Carpenter, Savory says, "All my songs are autobiographical — they're just not about me." Then she adds "There is an element of my life in them ... I also draw from my own tragic love life —the songwriter's best friend." (Listen to "February 13th.") And even with powerful lyrics, it's sometimes easy to be taken with Savory's voice and actually miss the words. Big mistake – both are too good to miss.
So, Savory bides her time, content to now be able to make a living doing what she loves, She's opened for the likes of Cheryl Wheeler and Maura O'Connell and her management (Golden Guru of Philadelphia) is known for success in getting record deals; but make no mistake, Savory is good enough to have other artists open for her.
This down-to-earth' lady with the next-door-neighbor sweetness has taken the ultimate leap of faith: Now, her life literally hangs on her voice and her songs – and they're definitely strong enough to hold it.