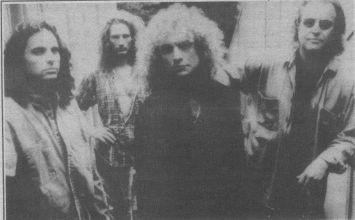 Foreigner will be at Louisville Gardens on August 5.
Upcoming August By Bob Bahr Staph Lococcus
The big news this August is that the Kentucky State Fair has gone beyond country and more country to build a diverse lineup of concerts, in a dramatic change from recent years. The country shows are well documented by our capable country columnist, Michael Stout (see Cowboy Corner, page 10), but a string of concerts at Cardinal Stadium provide entertainment for fans of other types of music.
For example, on Aug. 17, Little Richard will hit the piano at home plate. Then the next night, the R&B harmonies of H-Town are in the house. Aug. 19 brings The Rembrandts, hot on the success of their chart-topping theme from the "Friends" TV show, then the Christian rock band Petra takes over on the 21st. On Monday, Aug. 22, The Neville Brothers will play a FREE show, then an oldies show arrives on Aug. 24 with the Crystals, the Platters and the Drifters. Surely there's at least one show among the above that you would like to see. If not, there are always the myriad free performances to be found on stages both inside and outside the fairgrounds.
Meanwhile, in Freedom Hall on Aug. 18, dance diva Donna Summer will heat up an already hot State Fair night.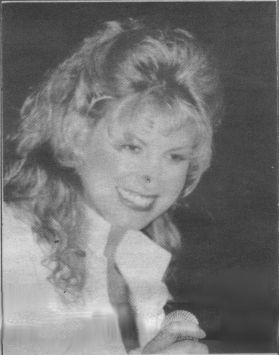 Faith Hill will perform at Freedom Hall with Alan Jackson on Aug. 27. Photo by Letha Marshall
Tickets will certainly be scarce for Lyle Lovett's concert on Aug. 2 at the Whitney Hall. He's with his Large Band, and that almost assures a great show.
The next night (Aug. 3), two very different shows take place mid-county. Over at Jim Porter's Good Time Emporium, the smooth saxophonist Najee will walk the line between fuzak and jazz, while over at the Cherokee/Tewligans club, New Radiant Storm King will play, with Hum and Crain opening.
This month marks the debut of another open stage, this one hosted by Peter Searcy (Starbilly) at the Butchertown Pub. The open stage will run every Thursday.
Also on Aug. 3, the Java Men celebrate the release of their new album, A Letter to St. Paul, with a reception at ear X-tacy and a performance at the Twice-Told Coffeehouse. Todd Hildreth has threatened to play his accordion at the reception; you have been sufficiently warned.
"I've been waiting" for Foreigner to saiul into Louisville. They'll be at the Louisville Gardens on Aug. 5, promoting a new album, Mr. Moonlight.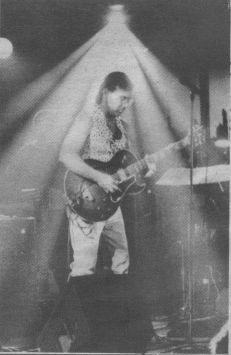 Al Di Meola will perform with Stanley Clarke and Jean-Luc Ponty as "Rite Of Strings" at the Kentucky Center for the Arts on August 9 for a Lonesome Pine Special. Photo by Pete Strojny
She hasn't had a hit in a decade, but Diana Ross is coming, and her tickets are pricey -- in the $35 range. Ross plays two shows at the Palace Theatre on Aug. 6 as part of the Fifth Third Bank Vegas Star series.
The Doobie Brothers haven't had a hit in a while either, but rumor has it John Cowan will be providing vocals for them. That makes the show a bit more interesting. That ol' black water will keep on rolling through the Palace Theatre on Aug. 7.
The next night at the Butchertown Pub, Free Tuesdays bring Thinking Fellers Union Local 282 to town on Aug. 8. The Free Tuesday show, alas, probably won't be free. Thinking Fellers Union Local 282 is another one of those indescribable bands that roar, whisper, groove, plod and sing -- true alternative music. Babe the Blue Ox opens.
If you planned on getting more than a feeling on August 8, well, I have bad news for you: Boston cancelled. Never mind . . . their albums probably sound better than their live show anyway.
Ringo must need money. That literally cheesy pizza chain commercial was the first sign; this tour of rock has-beens is another. Ringo Starr & His All-Star Band features John Entwhistle (The Who), Randy Bachman (BTO), Mark Farner (Grand Funk Railroad), Billy Preston, Felix Cavaliere, Mark Rivera and Ringo's son Zak Starkey. They play the Palace on Aug. 8.
The Lonesome Pine Special at the KCA on Aug. 8 holds some promise; Al Di Meola, Stanley Clarke and Jean-Luc Ponty play together as a group dubbed "Rite of Strings." One thing's for sure: chops will be in abundance.
If you think singer/songwriters are tedious, you haven't seen Alan Rhody. The Nashville-based performer mixes a bit of Dylan with some blues and country, then adds his own mystical images to create an engaging brand of folk. His songs have launched the careers of several country artists. Rhody plays The Rudyard Kipling on Aug. 11.
Come on, admit it! Admit that you like Cheap Trick. Come on, it's okay -- we all have some musical puppy loves in our past. Bun E. Carlos and his friends play Coyote's on Aug. 15. "Yer daddy's all right/Yer mama's all right/They just seem a little bit strange. . . ."
What does America do on Wednesday nights? Butchertown Pub hopes they look for some good live music. They have instituted Wednesday Nation, a night of alternative music, as a regular feature at the Pub. The Blueberries do it up right on Aug. 16.
For scenesters, there may be no bigger show this year than Royal Trux (Aug. 17 at Cherokee/Tewligans/whatever). The lo-fi rock group has been written up by every major music publication in the country, it seems. Hear the hubbub on the 17th.
Is it already time to get high again? Rocky Mountain high, that is, with everyone's favorite '70s pop icon, John Denver. He divorced "Annie," but he still plays "Annie's Song," and that's good news for his fans. His last appearance at the Palace Theatre was raucous, especially for AARP members. Denver visits again on Aug. 19.
Deal of the month: Soul Asylum, the Jayhawks, Victoria Williams and Matthew Sweet, all for under $20. That lineup plays Louisville Gardens on Aug. 21.
Chicago is one of the most frustrating groups performing today. Their early music was meaty and thrilling, their '70s stuff was tolerable hit material. But today, they are the worst type of saccharine peddlers playing music today. The horn charts are watered down, the lyrics are incredibly vapid, and the polish on their sound is a garish promise that goes unfulfilled by the music. Still, the occasional spark of past brilliance fires. It would be for that spark that I would brave Chicago's show at the Palace Theatre on Aug. 23.
If reggae's your thing, check out the estimable Burning Spear, Aug. 24 at Phoenix Hill Tavern. If pretty pop masquerading as punk is your thing, see Bush at the Palace, Aug. 24.
You remember that ridiculous hat you got last Christmas? The ones with the felt reindeer antlers sticking up? Don't wear those to Freedom Hall on Aug. 26 unless you have a death wish. That's when bowhunter and overall manly man Ted Nugent comes to town. Hide Bambi and wear your Kevlar.
If you don't mind the drive to Lexington, you can close up August with a fine bluegrass show at the Kentucky Theatre. J. D. Crowe & the New South, Del McCoury Band and Laurie Lewis are on the bill. That's a progressive (as opposed to a traditional) lineup for the Aug. 28 show, in case you are unfamiliar with the acts.