The All Ages Beat
By Duncan Barlow
And as November dragged forward, life slowly began to enter the corpse known as the All Ages Scene. As a matter of fact, during Thanksgiving weekend alone there were six shows. With so many shows in one weekend, I could only attend a couple.
The first show I attended was at the Cherokee on November 23. This bill was supposed to feature Shelter, but fortunately for many of us [who got to play as a result], Shelter did not show. As for the rest of the audience, they were a bit unhappy that they did not get their money back.
The first group of the evening came as rather a surprise to the audience, as well as to the band. By the Grace of God, with members from Falling Forward, Enkindel, Empathy and Endpoint, played to fill the time slot that Shelter could not provide. I play guitar for By the Grace of God, so I cannot judge our performance, but I can assure all who attended that the show could be considered the band's second practice. Naturally the set was sloppy, but nonetheless fun.
Union followed and played a very entertaining set. They have just recorded a demo at DSL and are currently looking for a good record label. Union has many good days before them.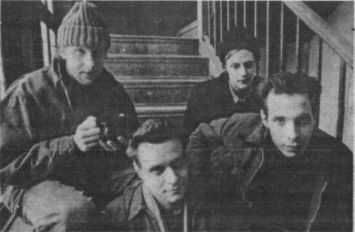 June Of 44
Earth Crisis, from New York, was next. They are a group that does not stand on the median. They are full-force Vegan Straight Edge. Veganism is a dietary decision whereby one refrains from eating any animal products or animal byproducts. It is a political and an ethical decision that the group, who are all animal activists, support. Straight Edge is a movement which was formed in Washington, D. C., in the eighties whereby one abstains from drinking, smoking, the use of illegal substances and casual sex. Earth Crisis is a band with a message. Unfortunately for the crowd, the fans of Earth Crisis from other states came and began to cause trouble. I suppose loud and angry music attracts angry people.
Shelter arrived just as everyone left.
On Nov. 25 Rachel's, June of 44 and Parlor performed at the Clifton Cultural Center. Parlor opened with an improvisational set, which reached deep into science fiction reading. I honestly cannot wait to see this group of people perform again. Rachel's played second and their set was beautiful. The only problem was that the piano was a little too quiet. It was unfortunate that June of 44 had to play last, because after Rachel's my ears were not ready for loud amplifiers. I have seen June of 44 before and loved them, but on this night I was unprepared. I think they performed well; I just was not ready for them.
Guilt performed at the Cherokee on November 17 with Texas Is the Reason and The Loved. The Loved played to replace Shift, whose van broke down in Kansas. The Loved contains ex-members of Pulse and Falling Forward, but sound better. The band reaches into past rock influences and produces a sound that lies somewhere between the Beatles and Cream. Louisville is not ready for the intensity of The Loved.
Texas is the Reason, from New York, played second. Garret Kahn, the vocalist, lived in Louisville for a while and later moved. Texas is a great band, very melodic and radio friendly, but maintains a punk edge.
Guilt finished off the night. It is impossible for me to give a decent description of the set, since I am the vocalist of the group. Because of many technical problems suffered during the first song, I lost my temper and punched a hole in my amp. I apologize to all who witnessed my lack of professionalism. During the second song things pulled together a bit, but the group never maintained professional composure. The emotional intensity seemed to remain. I have been told by many that it was one of our most memorable sets.
Metroschifter's new record is available and is a must-buy. Bob Weston produced the album. Bob, who produced Rodan, Rachel's and Guilt, seems to remain a favorite for Louisvillians. Metroschifter belts out many songs that are completely emotional and always energetic. Expect typical Metroschifter with a slight indie rock influence.
Four Rose Society put out a seven-inch on their own label. This record is punk with a capitol P. If you like Ebulliton stuff, check this band out. Expect a Louisville compilation out on their label this winter.
My Own Victim just released their record at the Toy Tiger. It was a sold-out show and I was informed that the crowd was going insane. My Own Victim is an excellent group; support them!
Enkindel released a split with Empathy on Toothless Records. This seven-inch includes one song that will not be on the LP, so snatch it up quick.
There are rumors of a Fadin' Out record being released on Palace Records. If this rumor is true, Louisville will smile. Fadin' Out used to be Malignant Growth. They changed their name and a year later broke up. That was in 1986, for you young'uns.
Some shows that are coming up are Snapcase and Enkindel on January 7; The Young Pioneers, Church or Astronauts and Four Rose Society on December 27. Enkindel and Elliot will be playing at Ground Zero. Be prepared to see Flipped Doubt, ex-Indignant Few, By The Grace Of God, The Loved, Erchint, Metroschifter and many other bands playing very soon.
Thank you for reading. If you have any news or questions, please drop me a line at P.O. Box 5159, Louisville, KY 40205.