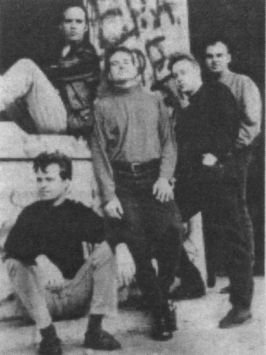 Big Head
Floppy (self-produced)
Big Head
By Kory Wilcoxson
My roommate walked into the room while I was spinning the latest review fodder. "Is this Pet Shop Boys?" he asked. "Nope," I replied. "New Order?" he pressed. "Wrong again," I said. "It's Big Head."
"As in the Louisville Big Head?" he said quizzically.
The one and only. After listening to Floppy, it is easy to see why the band could be mistaken for one of the big names in techno/dance music. The album sounds that good. Spread the credit around generously. Producers Jeff Epperson, Gordon Shirley and Kevin Garvey (all band members) keep the sound taut and pulsating throughout. Garvey and Shirley both write sharp lyrics to go with Epperson's expert music. And the sound is about as good as anything you'll find on the bigger labels.
Big Head has been making noise on the local scene for several years now, but has not been able to make a big break from the region. Floppy could be the catalyst. The five tracks (four songs and a remix) capture the Big Head sound authentically, not a lean feat when you consider Big Head's claim to fame is their live show.
With the opening tune, "Higher," it is easily evident that Big Head knows what it is doing. Keyboardist/programmer Epperson puts together a tight sonic mix and singer Garvey lays out some righteous lyrics with a voice that is a cross between Neil Tennant of Pet Shop Boys and that dude with the big hair from Air Supply (Big Head covering "Even the Nights Are Better?" Think about it. It would make a slammin' dance tune).
"Higher" has the potential to be a bona fide hit.
The band continues to demonstrate their knack for infectious dance tunes with more than a chunk of substance to them with "Losing You," "Stick Around," "Mistake" and an "orgasmic" remix of "Higher." Each song is a showcase for Epperson's wizardry and the rest of the band's solid chemistry.
The one fault of Floppy was articulated by my perceptive roommate. At times the band tends to sound a little too much like Pet Shop Boys, especially on "Losing You." Not that that is a bad comparison by any stretch. As the band grows, they will continue to develop their own sound that will produce original works of consistent quality like "Higher." If this sampling of Big Head's potential is a sign of things to come, gimme more! It's time everyone else found out what Louisville already knows.