On Stage: Blind Ambition
A ZZ Top cover, and boy is it loud! The guitar player looks kinda like an old Greg Allman — and his guitar work is a nasty-fuzzy-smoky-dirty lead on what appears to be a Paul Reed Smith (you know, one of those guitars with the little pearl birdies inlaid in the neck).
Yup, outstanding git-work from the man (Ricky Lee), tight-fisted, under-control blues licks and rock riffs blasting out and bouncing around Greg Hardin 's bass lines and Kerry Mefford's drumming.
The band has been together about five or six months and they are self-admittedly "smokin'." Kerry, the drummer, lives in Carrollton and commutes back and forth for gigs. All three bandmates kind of grew out of a country-based gig route ("just to make money"), but now they have broken the reins and saddled up to play their first love: the blues.
How many blues bands are there in Louisville, anyway? A bunch. More than I can count. Luckily, there are plenty of venues that are blues-based, providing the heady blues musician with a stage from which to hawk his wares.
And hawk he does, this Ricky Lee, with a grin and a sparkle in his eye. He bends that PRS up and down the gamut, and once again the music is appropriately mean and nasty — but above all, tasty.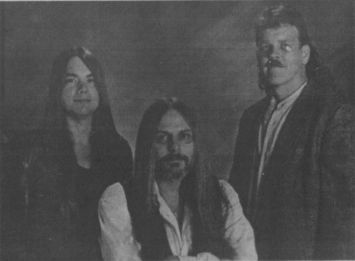 Blind Ambition: left to right, Kerry Mefford, Ricky Lee, Greg Hardin
Indeed, country lurks close to the surface for these "good old boys," but so does the darker, deeper secrets that go along with the blues.
And why not? The drummer (Kerry) is really something — a short, little guy (like me), but a real tower ot power. He looks 18 and says he gets carded everywhere he goes. "They used to tell me I couldn't play without ID."
I tried and tried to get a good picture of him (he tends to let his long brown hair hang down in front, obscuring his features), but to no avail.
The whole stage shakes when he beats on those skins, and there is a forcefulness that is readily apparent to all in the audience. He does the obligatory drum solo, and the audience goes crazy. Perfect ointment for wounded souls — okay, I don't really know what that means, but hey, it makes for good copy.
The band leans toward more obscure covers than your basic "My Baby Left Me" shtick, and that goes over just fine with me. The audience seems to agree; it is difficult to get a good look at the band during their second set as everyone in the place is up dancing, dancing, dancing.
And Ricky just goads them on with a careful blues walkdown into a slide with that six-finger barre chord that sounds like a church bell ringing at midnight — wang, wang, wang — oops, my cough syrup is coming up....
Uh-oh, what's that I hear? A Hootie & the Blowfish cover? You bet! However, it does lack a little sincerity, but in my book that's a plus. Any band that covers Hootie with more than a little tongue in cheek gets my vote for best band of the month. Even in a non-rock venue like this one.
I wish I coulda seen these boys at Coyote's, or even Big Heavy's... not that the Louisville Pizza Co. isn't nice... but I get the feeling this is closer to dinner theater than the band cares to tread. There is something distracting about watching a band play while 16-year-old boys are standing next to the stage air-guitaring with pool cues. "... dude, make mine pepperoni."
Luckily, during the third set there is a sudden influx of new faces — and you can see the relief spread across the band's collective complexion: "Aaaah, people — see, we don't suck, they really like us!
"Fingers fly fast and furious as the joint begins to fill up with guys that roof houses, pour concrete, and hammer #16 nails for a living. Definitely a blue-collar crowd, you can tell from the ominous amount of belt-clipped digital pagers and baseball caps from KYANA lumber company .... These fellas don't want no made-up sissy in black tights whining about his place in life — they just wanna rawk! !
Workingman blues (hey, I just coined a phrase!) is a musical niche that doesn't often get written about, and it's a damned shame. Blue-collar guys like to rock out, uh, party, you know, get down, just as much as the next fellow — but a blue collar's money is earned from the sweat of his brow, and they demand the same of their entertainment. Everyone is familiar with the slothful image of the musician's lifestyle, but there is a segment of hard-working, doing-it-for-the-flat-out-pleasure, hey-we-don't-get-paid-like-Eddie Vedder-but-we-don't-whine-about-it-type bands out there. Many rock critics are too close to the art; they hear only philosophical meanings and too much studio time. And perhaps too many east-end coolie, Doc Marten-clad trust-fund babies buy records, whereas the workingman is more concerned with the price of Bud on tap.
Blind Ambition does well by the workingman (as far as I can tell). Even the guys' dates seemed happy: I saw this one chick with her shirt inside-out, her-shoes-on backwards, and she looked like she was having a damned good time.
The band is going into the studio this month.
Blind Ambition will be performing at the Indiana ABATE Toys for Tots show at bouie's in Hanover, Ind., on Thursday, Dec. 7. Admission is $5 or a new toy. Other upcoming dates include Louie's on Dec. 1 & 2, and 69; Borden Tavem, Borden, Ind., Dec. 15; Stevie Ray's, Dec. 22 & 23; Louie's, Dec 27, 28 & 30; and the Backstage Blues Cafe, Jan 4-6.