Bluegrass Beat
Did you hear that? Listen. Was that a sleigh bell? One of the bell ringers?) Or maybe it was that alarm bell that says, uh oh, it's Christmas time and I'd better get ready Yes, it is almost here and I hope it is a great one.
Now that the alarm has gone off, let's look at a few possibilities on how to answer.
For the real bluegrass fan there are many recordings that would be in exactly the right size, color and all of those other things that must be considered individually. I will offer a couple of suggestions from among the many:
For that Flatt & Scruggs fan (you can hardly miss with F&S for a bluegrass fan), there are three great (and I emphasize great) boxed set CDs by these two. The sets contain just about, if not everything they have recorded. There are perhaps a few surprises. Such as ten square dance instrumentals with calls, recorded for RCA. I didn't remember these. Gordon Terry played fiddle on them. (Speaking of square dance and figure calling, I had the pleasure of calling figures for a square dance on a couple of occasions when Lester and Earl were playing)
Back to the CD sets. The first set covers 1948-59 and contains four CDs. The second set covers 1959-63, and the third 1964-69+ There is one of the live concert LPs that is listed in the accompanying booklets — The Vanderbilt University show — that is not included on the CD. Set one contains four CDs, set two has five, and set three has six CDs. I cannot begin to, tell you which set is best. I have all three and cannot choose the best. They all have great material and information. Over 400 (quickly figured in mv head) Flatt & Scruggs recordings in these three sets. They are not exactly cheap but are well worth the investment and will be enjoyed for a long time to come.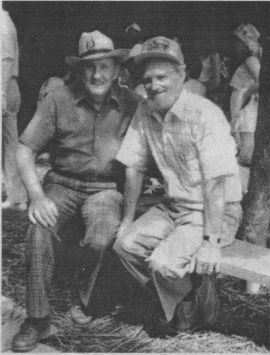 Wade Mainer, left, and Old Joe Clark
Flatt & Scruggs are not the only ones available. There are three sets of Bill Monroe. I have one of those and there are some surprises in that one.
There are several sets of Ralph Stanley, by King, Rebel and I am not sure what else. There is a new four-CD set from Rebel. Cuts with Ricky Skaggs, Keith Whitley and others are contained in this set. Where to get these? Among other places, I would suggest Blue Moon, ear X-tacy, and Old Homestead Records in Brighton, Mich. I'm sure you have heard that you get what you pay for; well you get it here.
I recently had a letter from old-time friend Wade Mainer. Wade and his wife, Julia, are on their annual trip out west. In his letter, Wade said he is thinking about retiring from the music business. I for one would like to see him continue. Be that as it may, Wade is 88 and must do what is best for Wade. Maybe we can get him to retire just a little bit and not completely. (Whatever you decide, our best wishes and prayers are for you, dear friend.)
Pickin' Time ...
It's pickin' time. At Shepherdsville [Country Music Place] this month:
Dec. 1, Randall Hylton and the Sand Mountain Boys, favorites in this area; Dec. 8, Charlie Sizemore, one of my favorite young men in bluegrass; and on the 15th Poppewill Family and Eli Grass, featuring Hiram Stamper (Art's brother).
At West Point at the West Point Opry house: Dec. 1, The New Coon Creek Girls; Dec. 8, Rarely Herd, and Dec. 15, Ralph Stanley and the Goins Bros.
Dec. 15 will be the cut-off date for Friday night bluegrass shows at these two locations until January. Now I know that you will all be running to and fro frantically during these next few weeks. All the more reason to take a break and enjoy any one of these great bluegrass shows.
It's going to take more than turning the radio on or sticking a tape in the dash or a CD in the player to support bluegrass music and to keep these favorite and legendary pickers coming to the area. These shows have to be attended, otherwise there is no reason to have them. The folks who attend want to be there, and those who don't attend, I guess don't want to be there. Do (first) yourself and bluegrass music a favor. Attend the show/concert of your favorites. Let them know you want them.
One more suggestion about those Christmas goodies I mentioned earlier. There are Jimmy Martin sets, Jim & Jesse, top traditional country star sets and videos. A lot of good videos available. Need more hints? Call. me Sunday nights at 574-1753, WFPL.
Speaking of Sunday night and WFPL, a big thanks to all of you who called to support us during the fall fund drive. Stay tuned to these pages and the Sunday Bluegrass show (WFPL 89.3, 8:30-11 p. m. for coming changes of importance to all of us in January.
On a sad n0te, Curly Fox, old-time fiddle player and long-time Grand Ole Opry performer, passed away on Oct. 10. Curly, who was married to the late Texas Ruby, had been in ill health for some time. He was 85 years old at the time of his death.
To all the friends and fans of bluegrass and all of you out there, my most sincere wishes to you for a most happy and safe holiday. Let's not get away from the real meaning of Christmas and why it is, as our first feelings of this most special time. A happy new year to you also. Especially to the boss and all the folks here at Louisville Music News and WFPL.
(And an especially joyous, bluegrassy Christmas and New Year to you, Country Gentleman! THANKS for another year of keeping our readers tuned in to bluegrass!
— Editor.)