CCM Happenings
By Robert Gruber
Young Messiah Tour Won't Stop Here Anymore
The Young Messiah Farewell Tour will be making a stop in Louisville on Friday, Dec. 8. This is the final year for the hugely successful annual holiday junket, and features some of CCM's hottest talent, including Carman, Stephen Curtis Chapman, Twila Paris, Larnelle Harris, and Wayne Watson, among others. The show will be "in the round" at Freedom Hall, and Ralph Carmichael will be conducting the orchestra, backed by a 200-voice choir. Sounds pretty spectacular, huh?! Tickets go from $23 to $27, and the tour is sponsored in part by World Vision, so bring along a little something extra for them.
Coffee & Jam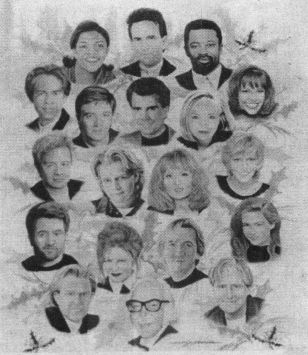 Performers of the Young Messiahs Tour
Though somewhat less, spectacular, the following evening, Sat., Dec. 9, Jubilee Coffeehouse will be having another Jubilee Benefit Jam. Basically, this is like an open stage, night, and will feature past performers such as Sticks & Stones and the newly reformed Dreamhouse. If you are interested in performing, or would like more info, call the Jubilee line at 2310387. The show will start at 8:00 p.m., and Jubilee is located at 1765 Bardstown Rd., near Speed Ave. All proceeds from the jam will go to the Jubilee Facelift Fund, which will help pay for a new paint job and some redecorating for the club.
For the Records
The fellas in Omega Highway tell us that the Lord has blessed them with some studio time and a producer. Beginning early next year, the band will begin recording new songs for an upcoming release. We will keep you posted — also, keep an eye out for Via's upcoming new release.
Dale Thompson of Bride has just released his first solo record, a self-titled effort on Rugged Records credited to Thompson and "the Religious Overtones." The record has a more acoustic, bluesy feel than most Bride efforts, but should nonetheless appeal to fans of the band.
Praise & Celebrate '95
St. Stephen Baptist Church, located at 1008 South 15th St. in Louisville, will be the spot for Praise 95 Celebration. Featured performers include Kirk Franklin and the Family, The Canton Spirituals, Fred Hammond and Radical for Christ, and much more. This will be an exciting evening of gospel praise —don't miss it! Show starts at 7:30 p.m., and tickets are available at Better Days Records, Baptist Book Store, Tiff's Records, and elsewhere. Call 634-1822 for info.
Happy Third Birthday … Strike Up the Rap 'n' Country Band
Forest Park Community Church, located in J-Town at 2173 Blankenbaker Rd. (on the corner of Electron and Old Blankenbaker Rd.) recently celebrated its third anniversary with special shows by Marshall Kellam and Turley Richards. Congrats, Forest Park, for three good years! I The church is currently looking for musicians to put together a youth worship band —if possible, a band that can do rap and country styles (whew!). If interested, contact the church at 266-9163, or call 893-8091 and leave a message.
That's it for me this time out. I'd like to wish all LMN readers a mighty fine Holiday season, reminding one and all that Jesus is the reason for the season (not that ol' fat boy in the red pyjamas!). Cool yule, y'all!!!