Nollaig Shona Duit
This is pronounced NULL-ig HUNN-a KITCH and means "happy Christmas to you" in Irish.
The Light Up Louisville International Festival sponsored by Brown & Williamson Tobacco Company was the official start for the holiday season. All of Jefferson between Fifth and Sixth Streets was a designated smoking area. The ad hoc "Celtic All Stars" admirably represented the Gael, thanks to Pat Benningfield and Don Kahl of The Louisville Pipe Band; Greg Byrne and Paul Whitty of Galloglas; Gerry Ford and Paul Kinder of Drowsy Maggie; Mark Cannon of Ten Penny Bit and Larry Green from The Rashers.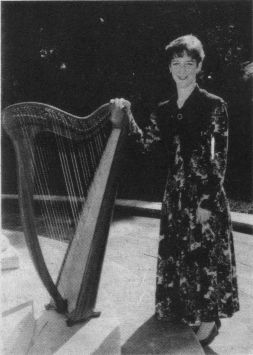 Kimble Howard
There are more holiday events with a Celtic flavor as well. As part of the Olde Tyme Christmas On Frankfort Avenue during the afternoon of Saturday, December 2, The Irish Rover will feature Kentucky's premier Celtic harpist, Kimble Howard, a serenade by The Louisville Pipe Band and traditional Irish music (with an occasional mountain twang) by The Rashers. That same evening is the Bardstown Road Aglow where the Ancient Order of Hibernians will host an open house at their clubhouse at Bardstown Rd. and Speed Ave. While you are in the neighborhood, Rock recommends that you check out the Scottish Society of Louisville's Annual Auction at 7 p.m. at St. Andrew's Episcopal Church on Woodboume Avenue. You can find some remarkable values for last-minute Christmas shopping.
Colin Grant-Adams, internationally known Scottish balladeer from Oban, Scotland, will be in concert on Tuesday, December 5, 9 p.m. at The Rudyard Kipling. Having heard Colin at this year's Glasgow Highland Games, Rock strongly recommends that CC readers take in this upcoming performance. In addition to his vast repository of Scottish songs, Colin masterfully undertakes many lrish, American and contemporary songs, including his own. A recent recipient of a Fellowship in Celtic Music by The Glasgow Highland Games, Colin is now residing in Glasgow, Ky. Welcome to "the Dark and Bloody Ground," Colin!
Cloigheann recently put on a fine show at O'Shea's Traditional Pub on Baxter Ave. and Galloglas is on deck there for Saturday, December 9, at 10 p.m.
On Saturday, December 23 (the eve of Christmas Eve), The Rudyard Kipling will be hosting a Celtic Christmas at 8 p.m., featuring the music and singing of Galloglas plus a few musical friends. Sheila Joyce will be preparing a special menu for this observance of Scottish and Irish yule traditions. Last year's show was a full house and a mighty night and this year will celebrate the U of L vs. UK basketball victory as well. And/or you can hear Ten Penny Bit later that same night (10:30 p.m.) at O'Shea'sTraditional Pub on Baxter Ave._ Again this year Ten Penny Bit will be providing the music for the Christmas Eve Mass at Our Lady of Notre Dame du Port on Rudd Ave. in Portland at 4 p.m., but you had better get there by 3 p.m. because by 3:30 it will be standing room only.
The day after Christmas is special in the Celtic lands, known as "Boxing Day" in Britain and "St. Stephen's Day" in Ireland The Irish Rover will be observing these occasions on December 26, with music by Ten Penny Bit, The Rashers and Galloglas, respectively.
Speaking of nativity, Roz Carothers of Drowsy Maggie is "with child" and will not be performing for a while. All her fans hope that when Drowsy Maggie awakens from her slumber she will be wailing once again. Rock-would like to express the hope that the offspring will be a similarly talented chip off her old block.
The Boar's Head Festival at St. Paul United Methodist Church on Douglass Boulevard in the Highlands is one Christmas pageant that should not be missed, if for no other reason than to hear The Louisville Pipe Band There are six free performances between Christmas and New Year's but you do need reservations (call 459-1595). Bob and Robin Loeffler (of Ten Penny Bit) are performing at Hawley-Cooke Booksellers (Gardiner Lane Shopping Center) on December 29. Go to browse, but check out Morgan Llywelyn's new book, "Finn MacCool."
The Rashers (along with another group to be announced) will be performing for the New Year's Eve revellers at The Irish Rover. For any other late-breaking news on Celtic celebrations during the season you can call the Celtic Centre at 897-9050. "No fairie strikes nor witch hath power to charm, so hallowed is the time."
Nollaig Shona Duit!