Cowboy Corner
Country Radio Music Awards
The second set of Country Radio Music Awards were handed out in Nashville on Oct. 3 during the Country Music Association Awards week. Host Clint Black stated that, "These are the only awards created for radio, and that's what it's all about." Black walked away with the Best Male Artist Award while the hot newcomer, Canadian Shania Twain was awarded the Best Female Artist Award. ln addition, Twain was honored with Single of the Year for her smash hit, "Any Man of Mine."
The radio Entertainer of the Year award was presented to who else but the amazing Vince Gill. Brooks & Dunn, to no one's surprise, won for Best Group or Duo, while Ty Herndon captured the Best New Artist award despite a rocky year for his personal life.
Album of the Year was awarded to Alan Jackson for Who I Am, Song of the Year went to the incredible John Berry's "Your Love Amazes Me," and Tim McGraw presented the Legend Award to the "Okie from Muskogee," Merle Haggard.
Congratulations to all the winners.
Top Country Tours
If you've ever been fortunate enough to attend a Reba McEntire concert, then you'll not be surprised to learn that Reba was awarded the SRO Awards Touring Artist of the Year award. A Reba McEntire concert is not just any old concert, it is a HUGE production. The same is true of every facet of her 20-year career. Reba is the bestselling female country act of all times (more than 30 million records), she had the highest-grossing country tour of 1994, and is considered the highest-grossing female act touring in any genre of music. Not too shabby for a redheaded gal with one of the most powerful voices around.
The multi-platinum selling "Indian Outlaw," Tim McGraw, was awarded the SRO Awards New Touring Artist award. Tim McGraw concertgoers are guaranteed a boot-stompin', knee-slappin', turbo-tonkin' good time. Tim will continue to tour next year promoting his latest smash number one album, All I Want, the followup to his multi-platinum Not A Moment Too Soon.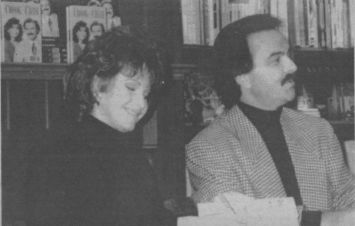 Lorianne Crook and Charlie Chase at a recent Louisville booking signing. Photo by Letha Marshall
Keep up the good work, Reba and Tim, and we're looking forward to seeing you here in Louisville in 1996!
Oak Ridge Boys Last Christmas?
The Oak Ridge Boys will be celebrating the holiday season this year with their brand new Capitol Nashville release, Country Christmas Eve, but will this be their last Christmas together? Well, yes and no! The Oak Ridge Boys are not dismembering, but won't be the same since baritone Steve Sanders, a member since 1987, recently announced that he will be leaving the quartet at the end of the year due to family conflicts. Since making the announcement, Sanders has decided that it would be in everyone's best interest for him to not even wait that long and thus quit as of Nov. 3.
Steve Sanders will be missed, but the show must go on. Fellow members Joe Bonsall, Richard Sterban, and Duane Allen are continuing to tour with Allen's 22-year-old son, Dee, filling the empty spot in the quartet until Dec. 4 when Dee must return to MTSU for his senior year final exams. At that time, former Exile lead singer (who is also Duane Allen's son-in-law) Paul Martin will become an official member of the quartet beginning with concerts scheduled in Las Vegas.
We'll miss you, Steve, and good luck to the Oak Ridge Boys!
Sounds Of The Season
Not only are the Oak Ridge Boys celebrating this Christmas in style with a brand new holiday album, but so are several other friends in the country music business.
Joe Diffie fans won't want to miss his. performance as Mr. Christmas. John Berry's O Holy Night is bound to outshine the most vibrant star atop the tallest Christmas tree. If you're looking for a new outlook on sounds of the season, then look no further than the Tractors' Have Yourself a Tractors Christmas. It's full of traditional themes told in an extremely untraditional fashion with a little Oklahoma shuffle wrapped up under the tree. If you're a "Baby Likes to Rock It" fan, then you'll love "Santa Claus ls Comin' (In a Boogie Woogie Choo Choo Train)," which is set to the previous tune.
Clint Black is more excited about his first holiday album, Looking For Christmas, than any other album he has ever recorded, since it is his first completely original country Christmas album. You won't want to pass this up to see just what Christmas looks like through Clint's eyes.
Toby Keith celebrates with his album, Christmas to Christmas. And last, but definitely not least, keep your ears open for "White Christmas" performed by country music's own angel, Lari White.
Happy holiday listening!
Hot Country Stocking Stuffers
What better way is there to make bright eyes twinkle on Christmas morn than to fill all the good little boys' and girls' (big boys' and girls' too) stockings with country music? And where' else can you find all this great country music but your favorite local record store.
Probably the most popular stocking stuffer this holiday season will be the brand new Garth Brooks album, Fresh Horses, his first new studio album to be released in over two years. Songs include the smash "She's Every Woman," and his current controversial release, "The Fever."
Country's sweetheart, Pam Tillis, seems to have another smash album on her hands with her debut album as producer, All of This Love, which includes her first release, "Deep Down." Country crooner Vince Gill is bound to fill several stockings with his new greatest hits album, titled Souvenirs, which includes "Pocket Full of Gold," "Look At Us," "The Heart Won't Lie" with Reba McEntire, and "I Will Always Love You" with Dolly Parton.
Dwight Yoakam is back with a brand new single, "Nothing," from his brand new album, Gone. Clay Walker is asking "Who Needs You Baby" on his latest release, titled Hypnotize The Moon. If you're looking for a little inspiration this Christmas, be sure to pick up Common Ground, a country-gospel album with performances by greats such as Patty Loveless, Doug Stone, Ricky Van Shelton, and many more.
Ken Mellons' fans will be "Rub-A-Dubbin"' with his brand new release, Where Forever Begins. Asleep at the Wheel is celebrating its 25th anniversary in the music business with The Wheel Keeps On Rollin'. And lastly, but not least, is Ricky Skaggs' first release in a number of years, Solid Ground.
For The Reader On Your Christmas List
If you have some readers on your Christmas list, then I've got some great suggestions I know they'd love. Betty Shelton, the loving and devoted wife of country superstar Ricky Van Shelton, has co-written her story of love for and devotion and dedication to Ricky Van during the good years and the bad years, which included severe bouts of alcoholism and infidelity on Ricky Van's part. "She Stays" is an inspiring, yet grimly realistic, tale of her perseverance and Ricky Van's recovery to a strong, clean, and wholesome life and marriage.
Any country music fan would love to find Lorianne Crook and Charlie Chase's brand new book, "Crook & Chase: Our Lives, the Music, and the Stars," under the tree this Christmas morn. The book includes an account of the rise to fame of each of country music's most popular interview duo, as well as details of their twelve years of country celebrity encounters, both onstage and offstage. These former hosts of TNN's "Music City Tonight" are currently promoting their book on a book signing tour (which stopped off at Hawley Cooke's Shelbyville Rd. store on Nov. 18). They are also planning a CBS special about Garth Brooks and working on a nationally syndicated daily talk and entertainment show titled "Crook and Chase" which will begin Jan. 15. Additionally, they are working on a four-hour weekend radio program called the "Crook and Chase Country Countdown," and the dynamic duo are planning a two-hourT BS special titled "The Hunks and Ladies of Country Music."
Upcoming Live Country
Possum fans on your Christmas list are in luck this year. The "King of Country Mu. sic," George Jones, will be appearing at the Palace Theatre on Saturday evening, Jan. 20. Tickets are now on sale. This show will let you know just why George "Don't Need Your Rockin' Chair" and why "He Stopped Loving Her Today." This is a show you and those on your shopping list won't want to miss!
Well, that's it for this month (and year). I'd like to take this opportunity to wish each and every one of you a very Merry Christmas and a safe, prosperous, and Happy New Year! If you are in a position to help those who are less fortunate this holiday season, please take the time to make this a Merry Christmas for someone who would otherwise not have a Christmas at all. Each and every child and grownup deserves a happy holiday season, so do whatever you can to help. Thanks so very much!
Always remember: Keep your boots shined up and your hat on straight,'cause country music is comin' your way, once again in 1996!