Down On The Corner
• Chaz Signs a Deal. Chaz Rough has signed a deal with Wild Justice Management. Rick Smith and Victor Somogyi came to town to ink the deal with Rough at the Train Station Restaurant on November 9. Also Signing was Gary Meeks.
• Harvest Showcase CD Released. Snail & Rocket has announced that thel995 Harvest Showcase CD Are You Hungry for Music Vol. 3 is for sale for $5 and 5 canned goods at both ear X-tacy Record stores. Acts on the'95 CD include: Godhead, Cooler, Fat Passion, Milhous, Oscar Bingo, Gary Meeks, The Java Men, Tuesday Sun, England Winters, Waiting for Wallace, Days of the New, Jelly Babies and Linny Simkin. Proceeds benefit Kentucky Harvest.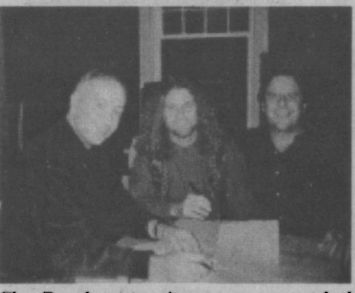 Chas Rough, center, signs a management deal with Victor Somogyi, left, and Rick Smith, right, of Wild Justice Music.
• The Free Spirit Band is making the run at the Charlie Daniels Talent Round-Up. They're scheduled to play on February 14. Good luck, guys.
• Harry Lewman Scores Leadbelly. Local blues artist Harry Lewman has been working on twenty to twenty-five scores of Huddie Ledbetter's blues tunes. The scores will be notated in standard notation and tablature and will be published as a book by TRO Publishing, the firm that handles all copyright and royalty transactions of Leadbelly's songs. Besides the printed no tation, the scores will be available as MIDI files. Release date is tentatively set for late spring of 1996.
• Gotcher MIDI? Harry Lewman is also interested in getting together with musicians who are composing or transcribing material for MIDI. Harry says he's running Cakewalk, Finale and Emagic on IBM machines. You can contact Harry at 502-893-8893.
• Oh, Yeah Dept. Harry also has a new tape out, entitled You Know I Had to Do It.
Check the Local Releases for details.
• Alan Rhody Gets More Cuts Dept. Occasional LMN columnist Alan Rhody is a working songwriter as well as performer, which means he gets together with other folks to write. A collaboration with Kate Wallace has resulted in a new single, "Give It A Push," to be released by Wallace on Honest Records. Rhody's "Christmas to Christmas," co-written with Ron Hellard and cut by Tanya Tucker, will be on a new triple CD compilation of country and pop artists.
• Male High School's Marching Band took fourth overall in the state in their division of Class AAAA bands during the Kentucky Music Educator's Association State Championship at Eastern Kentucky Univer sity on October 28.
The band will present an evening of Christmas Holiday music on Tuesday, December 12, at 7:30 p.m. in the Sallie P. Durrett Auditorium on Preston Hwy.
• First Annual GRAMMY Showcase Announced. The non-profit arm of the National Academy of Recording Arts & Sciences, The NARAS Foundation, will be implementing the First (To-Be-) Annual GRAMMY Showcase, a national platform to promote unsigned rock and alternative bands.
The NARAS Foundation will screen submissions, select five bands in each of ten local markets (Altanta, Boston, Chicago, Dallas, Los Angeles, Nashville, New York, San Francisco, Seattle and Washington, D. C.) for a live showcase. One band from each local showcase will be flown to New York or Los Angeles, all expenses paid, for a regional showcase in early February. Two bands from each regional showcase will be flown to the national showcase in L.A. during GRAMMY week (February 27). Those bands will have a shot at a production deal from a major label, get to attend the GRAMMY Awards, get CDs, etc. Got all that? Here's what you have to do to start: Submit two cassettes of original material (3 songs max), one band photo, one band bio/press release (one page or less) and a list of all band members' names, addresses and telephone numbers. Send all that to: GRAMMY Showcase, 3402 Pico Blvd., Santa Monica, CA 90405.
Whew. Need more info? Call 800-200- 8991 or check their Web site at http:// showcase.grammy.com.
• More opportunity? Undercurrents '96, the 8th Annual International Music Expo in Cleveland, is accepting tapes and promos from musicians, bands and songwriters who are interested in being considered for a showcase performance during the May 16-18 event. Send a three-song cassette, one-page biography, an 8x10 B&W photo and $10 to: Undercurrents '96, P.O. Box 94040, Cleveland, OH 44101-6040 by February 1, 1996.
• More Musical Web Sites? The Music Industry Online Network (MIO net), a "virtual community of musical artists" can be contacted at http://www.mionet.com.
• The American Music Center, a jazz- oriented music agency, has a Web site at http://www.amc.net/amc/' Enhanced CDs. The first "Enhanced CD" to come into the LMN office arrived the other day. The band is Skeleton Crew, the CD is Prehistoric – Dig! and the label is Intersound. I took it home straightaway and dropped it into my PC's CD. Pretty impressive. Interactive software, videos, pictures of the band with audio samples, plus all the songs. I guess it's the wave of the future and I can see that I'll have to upgrade my 2X CD to quad (at least) and maybe go for more memory. The CD requires a minimum of 386 with 8 meg of RAM or a Mac.
Besides that, the music's pretty good.
The band's chief songwriter admits to a Beatles obsession and it shows on first listen. Beyond that, I can say no more.
• Bluegrass Acts, Listen Up. The International Bluegrass Music Association is soliciting applications for its showcases at the 1996 World of Bluegrass. The event is scheduled for September 23-29, 1996 and will feature 24 acts. Interested groups should submit five complete promotional packages and five copies of a representative recording before January 15, 1996. Send it all to: IBMA Talent Committee, 207 E. Second St., Owensboro, KY 42303.
• Country Music Stars of the Future? The Shepherdsville Country Music Place has begun to stage Talent Shows occasionally. Unlike a lot of places that invite performers to come do their thing, SCMP will give the First Place winner $50, the Second Place finisher $35 and $15 to the Third Place finisher. The First Place winner also gets a gig at SCMP. Call Renda Aiken at 968-6358 for more information.
• River City Music News Bows Out. Dennis Patterson has folded up River City Music News after eight years in the business. The free monthly began it's life as River City Rocks in 1988, with a strong focus on metal and near-metal rock. Over the years, the publication changed to include other music styles, including country and jazz, but remained known as a hard rock paper. Hard rockers can turn to David La Duke's new publication, Ball Buster, for news of the busted balls music scene. LMN also writes about rock and related genres.
• Are You a Celtic Music Fan? Maggie's Music, Inc. has released a catalog of Celtic albums. Contact them at POB 4144, Annapolis, MD 21403, or call 410-268-3394.
• Walden Theatre is accepting applications for the Spring Academy 1996. Walden will offer classes in voice, movement, acting, playwriting and improvisation for aspiring theatrical folk between the ages of eight and eighteen. Classes start January 8, 1996. Call 589-0091 for information.
• Mom's Mixer Clinic. MOM's Music staged a Yamaha Mixer Clinic, presented by Chris Gero, who writes for many Fox TV shows, including Melrose Place, 90210 and Models, Inc., as well as for Disney. One of the nifty mixers was given away. The winner was Mike Sary.
• Some Local Folks are Selling Records. Bobby Brooks and Steve Fish, of Fish N' Brook Records, have sold 40,000 units of their first release, Celestial Journeys. They are now in 30% of the states. Brooks lived in Nashville for two years and learned a lot (courtesy of "hard knocks") and has applied the lessons to what they are now doing. They have just started to package their album with gift certificates for massages from a local salon (Z Salon & Spa). How's that for a target, all you other players out there with albums to sell?.
Key Changes • John R. "Jack" Hamelmann, 66, died November 6, 1995. He was a drummer and a Life Member of American Federation of Musician's Local 11-637.