s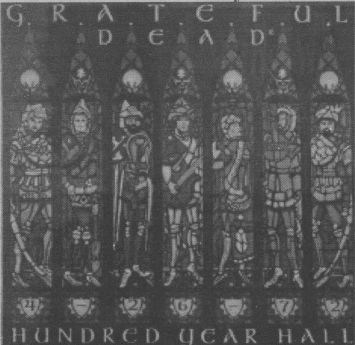 Hundred Year Hall (Grateful Dead Productions)
Grateful Dead
By Bob Bahr
Deadheads are ecstatic when they own several tapes from the same Grateful Dead tour. Ideally, they would have recordings of every show from every city on the tour.
Casual Dead fans might be satisfied with one representative recording from a Dead tour. For them, Hundred Year Hall is a dubious addition to the relatively thin Grateful Dead official catalog; recorded in Germany during their 1972 Spring tour of Europe, this two-disc set is a lesser brother to Europe 72, a three-record (twodisc) set that was released in late 1972 by Warner Bros. That earlier collection drew from the entire tour, and the result was a strong portrait of the band's sound during this period, a stretch of history when the GD lineup boasted one drummer (Mickey Hart temporarily left the band) as opposed to the Dead's traditional dual-drummer configuration. Hundred Year Hall duplicates six songs from the old collection: "Sugar Magnolia," "Truckin'," "l Know You Rider," "One More Saturday Night," "Jack Straw" and "China Cat Sunflower."
Additionally, there is the obligatory, meandering instrumental jam that makes a Dead show either an unforgettable experience or a somewhat tedious adventure. Depending on the night's variations, it's alternately called "Space," "Drums," "That's It (For the Other One)," or even referred to as another song's "Prologue" or "Epilogue." On Hundred Year Hall, it's called "Cryptical Envelopment," and the 36-minute jam benefits from Keith Godchaux's meaningful keyboard accents and Jerry Garcia's sometimes chattering, sometimes spaced-out guitar visions. Its inclusion is a wise choice.
"One More Saturday Night," a Bob Weir song, is positively electric at the close of the first disc, and throughout both discs, the Dead exhibit a tightness that approaches almost uptightness — a departure from the looseness of groove that made them famous. This new-found tightness is a mixed blessing: After all, a relaxed groove is one of the joys of Grateful Dead music. With "One More Saturday Night," the band hums along like a caffeinated garage band. But the rest of this set is inferior in every way to Europe'72.
The vocals, both lead and harmony, are often out of tune, mostly ragged, and sometimes nonexistent. Guitarist/vocalist Weir blunders through the whole of "Truckin'," a song that was soon to become something of a hit for the group, while vocalist Donna Godchaux's screeches ruin parts of an otherwise fine "Playin' in the Band" and the organic country blues of "Going Down the Road Feelin' Bad." On "Me and My Uncle" and "Next Time You See Me" (with Pigpen McKernan on lead vocals) the Grateful Dead sound like a band, rather than a collective of improvising musicians. According to the liner notes, the German audience was less than enthusiastic during the first set. Hundred Year Hall is the sound of the Grateful Dead buckling down and playing hard.
One possible reason for adding this set to your collection is Garcia's experimentation with various effects pedals. The wah-wah in particular gets heavy use, but Garcia plays with his guitar tone throughout the album. Like the band, the chances he takes always make the music richer, whether he hits it on the head or goes down in glorious failure.
However, the sound of a vocalist just flat out missing a note is rarely enjoyable. The bottom line is that Hundred Year Hall is a merely fair Grateful Dead performance, and in many ways it is also a poor duplicate of a previous release. Save your money unless you are a rabid Deadhead.