Second Thoughts
Meet Composer John Adams — 1995 Grawemeyer Recipient
The writer wishes to emphasize his deep gratitude both to Dr. Paul Brink, Associate Dean and Ms. Mary Lomse Greer of our U of I School of Music and Maestro John Adams.
American-born and -educated John Adams is the tenth recipient of our locally founded and internationally aeelaimed Grawemeyer Award for Music Composition. But why and how was he chosen?
School of Music Associate Dean Paul Brink put it in one sentence, "We had 125 entries and he was the best!"
But how did he achieve such unique recognition?
The Award's farsighted and generous donor, a corporate executive and engineer by profession, Dr. Charles Grawemeyer, prioritized these specifics:
• The piece must be accessible to the general public.
Dean Brink explained that this primary requirement eliminates the possibility of a piece being "esoteric" or only of interest to a musical elite.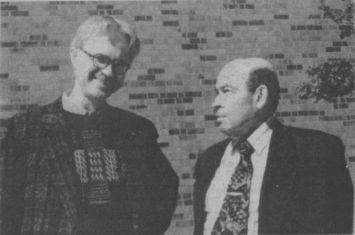 John Adams, left, and Henry Mayer
• The composer cannot submit his or her own work. It must be a substantial composition, previously performed in public, recognized for its quality by an orchestra conductor, critic or music publisher and be of such quality to be recorded.
The judging goes through three stages. In Stage I, the School of Music Faculty Committee reviews each entry without knowing who wrote it. This year, 1520 pieces survived this intense scrutiny.
In Stage U, the School of Music invites a distinguished conductor, critioand the previous winner to hear the music. They may choose from three to nine entries and tapes are made of these compositions.
In Stage II, the finalists' taped scores, still unidentified as to their composers, are sent to a selected number of the general public. By contrast, they are not professional musicians. The piece with the most votes is the winner.
Adams' winning composition was his violin concerto. His genius for composition includes three operas, orchestral works and music for the dance, video and films. He has a strong affinity for newer sources of sound, notably synthesizers and samplers. The present writer has heard a symphonic orchestra performance of his "Harmonielehre" (Harmony Learning) and a complete performance of his opera, "Nixon In China."
All this achievement led Louisville Music News to want to know more about Adams and to let him speak for himself during his recent visit to receive the Grawemeyer Award.
Adams is a native of New England and a distinguished Harvard graduate. Since leaving Harvard with an undergraduate magna cum laude sheepskin and a master's in music composition, he has lived in the San Francisco Bay area. There he has been a leading contributor to and participant in its musical and cultural life besides enriching his talent with study and activity in Western Europe.
Adams describes himself as "an ethnic American composer — this phrase says something about my personal relationship to American culture. This is a great and vast resource for a composer since many and varied influences exist here and interact with each other."
This self image derives from a number of contributing influences on Adams who began his study of musical theory and composition at the age of ten.
One major influence was that of his father, with whom he appeared and apprenticed as a clarinetist in marching bands and small orchestras, includI ing appearances in entertainment for mental hospital patients.
An incalculable influence was "the musical and cultural life of New England with a major reference to Boston. From 1920 to the 1950s, the city was a musical mecca centered largely on its Symphony's talented and pioneering conductor, the unforgettable Serge Koussevitzy. Koussevitzy, introduced his audiences to thenn=ew but now widely welcomed pieces by Stravinsky, Bernstein, Bartok, Copland and Britten."
"I greatly enjoyed my years at Harvard and remain deeply grateful for them. But I found its music school's preoccupation and preference for music from Central Europe and composers such as Arnold Schoenberg somewhat stifling. I wanted wider exposures to musical ideas and greater freedom of expression."
Moving west at 24, Adams found his milieu: composing and teaching. A significant development came when the. San Francisco Symphony, one of this country's premier orchestras, named him Composer in Residence. He produced concerts for both the local conservatory and the orchestra, creating "The New and Unusual Music" series with financial backing in the orchestra's budget and the strong encouragement of its Maestro Edo de Waart. "We set out to offer high profile concerts in such unlikely settings as fashion design centers and nightclubs. These made for a more informal environment. We made it clear — don't come if you don't want to hear it!"
Speaking of new music, Adams reveals "your Louisville Orchestra's continuing presentation of new music should make all of you very proud. These recordings are a substantial part of my own record collection."
How did he happen to write "Nixon in China"? "I happen to think that music and opera should deal with real life situations, especially those that can affect us all. 'Nixon in China' was an idea suggested to me by Peter Sellers, who became its stage manager. The poet Alice Goodman gave us a wonderful libretto. The more I thought about this topic, the more the complex characters of Nixon, Chairman and Mrs. Mao and Chou Enlai challenged me. I was also intrigued by Henry Kissinger and the relationship between Nixon and Pat. I came to see the visit to China with its conversations as one of the most significant events of our century. I simply sought to portray Nixon without trying to judge him pro or con."
What's next? "I'm not sure. Producing an opera is a, time-consuming and expensive activity. So I don't know if I want to write any more of them."
Adams is only 48, so we can hope for more great things from his genius. Only time will tell what form they will take. We found him a highly articulate, pleasant and concerned human being.