Rhody Introduces Album at Rud
By Wally Stewart
"The Beatles Anthlogy isn't the only long-dreamed-of CD hitting Louisville this week; mine is too!"
Alan Rhody didn't say that but he chuckled about the timing at the Rudyard Kipling party for his fourth release — From a Real Good Home. (See a review on page 21.) The large gathering of his hometown fans and friends enjoyed the humor, music, and un at a one-night-after-Thanksgiving Day celebration, hearing two sets of original folk-country tunes.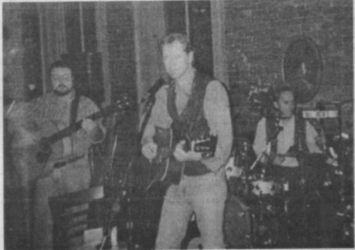 Left to righ, Larry Colburn, Alan Rhody, Thumper Bartlett. Photo by Wally Stewart
The Nashville resident's quarterly shows at The Rudyard are usually a solo guitar act but he was joined this night by Thumper Bartlett (formerly with Karen Kraft) on drums and percussion and Uncle Pecos' Larry Colburn on bass.
Alan's songs have been cut by many Music City acts and he started with the CD's opener —"Trainwreck of Emotion," a hit for Lorrie Morgan. Most of the release's twelve tunes have been cherished at his performances for years and their variety of subject and form displayed his professionalism.
The title song and "Real Big Country" were serious messages that promoted thinking, while "One of Two Thousand" and "Charlene and the Quarterback" almost blew the walls out with laughter and shouting. "Hanging Out in the Highlands" was a poignant look at memories of early music friends, life on Louisville's Bardstown Road and other hangouts.
Songs from previous recordings were played, including the intense "Pony Rider" (one of my great favorites). It had not been rehearsed but Colburn and Bartlett picked it up easily and their effort was appreciated.
Rhody gave genuine affection to the fans, as he always does, joking with them on stage and visiting every table between sets, personally thanking all for coming. Some won copies of the new recording and most stayed well past midnight, when the show finally ended.
You can keep up wlth Alan's local schedule in this paper or get on his mailing list at: Alan Rhody Productions, P. O. Box 121231, Nashville, TN 37212. Alan's new Web site address is http://songs. c0m/noma/ar.
You can order the new CD from him or get it locally at both ear X-tacy record stores; both Hawley-Cooke bookstores and HMV Records in The Mall St. Matthews. lt's not labeled as an "Anthology" but it has several treasures.