The Fanatics
By Paul Moffett
It's like the old farmer's ax: you change the head two or three times, you replace the handle eight or nine times, but it's the same axe.
That's the Fanatics.
Founded in 1965 as "The Pleasure Seekers" by a "bunch, of guys from St. Xavier," (Steve Elder, Tommy, Jack and Mike Nunn, Freddie Mueller, and Joey Balback), the Fanatics have been a constant on the Louisville scene; the group has never disbanded in its existence, aeeording to keyboardist and co-leader David Owen.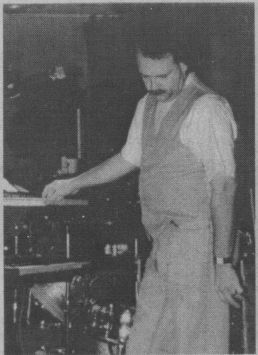 David Owens
The band won a Battle of the Bands contest at Whispering Hills Country Club in 1966. That win bought them a PA system, a deal with Midwest Artists Attractions Agency. They moved over to Gene Snyder's Joni Agency the next year.
Two years after its founding, however, there were no original members left, aeeording to Greg Hensley, who joined the group in 1979.
"People changed bands like they changed shoes in those days," Hensley said. "l was in a band with a couple of them before the Fanatics."
"The Monarchs broke up for a while, then got back together," David Owen, who came onboard in 1975, added. "We've been together the whole time."
"Together" means gigging steadily, four to six nights a month, dishing out a menu of very current pop favorites, generously spiced with classics, meat and potatoes rock 'n' pop like "Your Mama Don't Dance," "Good Lovin'," "Takin' Care of Business," plus samples from all the decades in between.
"We're not an 'Oldies' group," Hensley protested. "Just because of our age, everybody thinks we're an oldies group, but we're not."
Their playlist also carries tunes by Sheryl Crow, Mariah Carey, Chicago, Earth Wind & Fire, Go West, Gloria Estefan, Vince Gill, Little Texas, The Black Crowes and on and on. With all seven members singing, there probably isn't a tune they couldn't handle. "We play because we enjoy it, '' Hensley said. "We're not gonna be rock stars."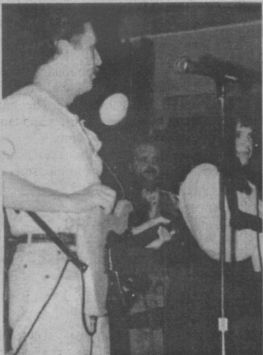 Greg Hensley
Owen agreed. "We like playing and we have fun when we perform."
Their audiences seem to agree. The repertoire goes over well at the weddings, proms, corporate parties and weekend jobs, such as a recent Jim Porter'sgig they played, where a crowd gathered early and stayed late.
Surely the group does "Brown-Eyed Girl?"
"Oh, sure," Owen laughed. "These days we do a lot of weddings and proms and you gotta do that song."
"Out at T. K's [Pub], the kids all want to hear it," Hensley agreed.
Organized as a partnership, nobody "owns" the band. New members are taken on as partners when they join.
"Nobody has to 'buy in' when they join and nobody gets any money when they leave," Hensley said. "We used to make new members buy in, but we stopped doing that. Nobody had the money, anyway."
At the band's 25th anniversary party, held at Stages in 1990, some 40-plus musicians who have been members of the Fanatics came. Today, that number would be larger still. The band's lineup just underwent another change, with John Richards leaving to open a new club —Zephyr Cove — taking Kate Foulds with him.
The current members are: Danny Katzman, guitar, trumpet, vocals, and keyboard; Owen, keyboards and vocals; Hensley, guitar, vocals and saxophone; Kevin Landgrave, keyboards and arranger; B. G. Johnson, bass; Mike Fess, drums; and Marilyn Kington, vocals.
The Fanatics are booked by Triangle Talent, which bills them as a polished, professional band that plays danceable material, starting off easy before rocking out the night. As a show band with keyboards, horns, and everybody singing, the group keeps even their aging boomer fans shaking it late like they used to, because, after all, it's the same ax.