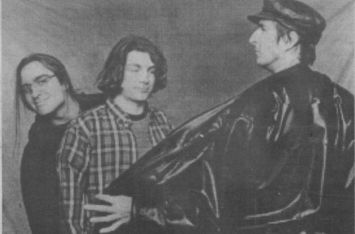 Primus
Upcoming Live Music By Bob Bahr
What on earth are you going to give to your buddy whose musical scope seems limited to music from the venerable vaults of Motown? Get him a ticket to the Temptations and Four Tops Christmas show. lt's precisely this kind of crafty thinking that can get you through the coming holiday season relatively unharried. Shop smart; shop for music.
And when you finish shopping for music, wipe away the memories of yammering cash registers, dopey Christmas drivers and your faltering checking account with a little post-mall tuneage. Of the live-in-concert variety.
There are plenty of musicians piling into vans all across the country this very day, pointing their road-weary butts in Louisville's direction and driving here to entertain us. It would be inhospitable to not show up at their gigs.
"Imagine 100+ men singing and dancing in tuxedo/black tie at the ..." sez the press release for the Thoroughbred Chorus. Can't get much more festive than that , I suppose. It's the four part harmony group's 47th Annual Christmas Show, December 1 and 2 at Memorial Auditorium. The theme is "Radio Days" and the Thoroughbred Chorus is joined on Friday by the Pride of Sweet Adelines. On Saturday, the 1993 International Quartet Champions the Gas House Gang are featured.
Do you like country,expecially the kind dished out by fetching female singing stars? Oh, baby, you need to go to Louisville Gardens on Saturday, December 2. That's when Trisha Yearwood is visiting. Just a few streets over on the Fourth Street Mall, a reggae group called the Gizzae Reggae Band is celebrating the release of their CD at the Cafe Kilimanjaro restaurant.
Consider the agreeable roots-rock ethic of the Bodeans, one generation's college radio favorites. They return to town on December 4 for a show at the Brewery's Thunderdome. Bill Miller opens.
The next night, two equally attractive but very different shows play Louisville. At Coyote's, Delbert McClinton offers his heads-up country with a tinge of R&B and rock. Area favorites the Metropolitan Blues All-Stars will open the show for Delbert.
Meanwhile … over at Louisville Gardens, Les Claypool's eccentric, accessible group Primus about Wynona's Big Brown Beaver, [illegible] the truth about that last part, as you know if you watch MTV. The bliss-spreading Meat Puppets open the show. It's on December 5, in case you lost count.
Hardcore punk fans with a taste for metal give high marks to Jesus Christ Superfly, Come to the show at Butchertown on December 6 and everybody will think you're cool.
The next night (Dec. 7), the cheerful staff at Butchertown will welcome the Dirt Merchants, a tuneful group that just graduated to a major label.
There's a band from Cincinnati called Shag and I've been hearing good things about them for over a year now. I've been waiting for them to show their funky faces around Louisville and, well, I'm still waiting. But a friend tells me that his efforts to hear Shag brought him across a group named b, who sound like Funkadelic during their lean and fierce years. I'm sold. Swag plays the Brewery on December 7. No word on Shag yet.
The name "The Young Messiah Farewell Tour" does not mean that the cream of the contemporary Christian pop are saying goodbye to their savior. It means they are not going to do these shows again come next year. So if you want to hear this Christmas featuring Steven Curtis Chapman, Paris, 4Him, Carman, Larnelle Harris, Margaret Becker, Ce Ce Winans and Wayne Watson, get in line for tickets now. The studded cast play Freedom Hall on December 8.
Do you in wonder what former Newgrass Revival singer John Cowan is up to? The answer is yours on December 8, when Cown debuts his new group, the Sky Kings, for the ears of Louisville. The group also contains Bill Lloyd of Foster & Lloyd fame. It's a Lonesome in Special and it will be staged at the Kentucky Center for the Arts.
Some friends are really hard to buy for. Think back. Was she a Doors fan way back when? Then blindfold her and take her to the Brewery on Friday, December 8. Riders on the Storm, a Doors tribute band, will be playing that night.
You say she's a KISS fan? Then try Phoenix Hill on December 22. That's when Strutter is in the house, along with the Java Men and the Rumors. I wanna rock and roll all night. And party every day.
Reunited, reconstituted, reformulated cheese. "Campong on Acid," loud guitars, rock lyrics as comedy, comedy as rock lyrics … It's the Government Cheese reunion. Every time you saw them while you were in college, you were drunk. Don't end that streak now! Relive the old days with a string of Molson's and Bowling Green's most irreverent band on December 9 at the one and only Butchertown Pub. The Silos (featuring the original lineup), Supafuzz and Drunk Monkey will be helping things along.
The Cows are sacred in some indie rock circles, while the Rev. Horton Heat floats above the indie mortals like a heavenly Supersucker with a rich history. I make this needlessly complicated — just come to the Brewery on Wednesday, December 13, for this double bill and be ready to dance like a tequila-cranked hillbilly.
Randy Travis protegé Daryle Singletary plays Coyote's on December 14.
When you can write a song like Shawn Colvin can, you have no need to do other people's tunes. But Colvin bucked everyone's preconceptions by recording all covers for her last album. Thus it's an inspired pairing to put her with the likewise contrary Leo Kottke, who is a determined iconoclast on guitar. The two play the Palace Theatre on December 14. This is a sure-fire show and a good gift for someone who is always looking for good, solid music that is off the beaten path.
The previously mentioned Motown Christmas show featuring the Temptations and Four Tops is at the Palace Theatre on Thursday, December 21.
How does the concept of country punk strike ya? If it sounds as bracing as making snow angels in the nude, then you're the kind of adventurer who would like Jason & the Scorchers, and—lucky you — they're coming to the Butchertown Pub on December 29 The band split up for a while, and they became one of those bands that had thousands of people claiming that they attended a Jason & the Scorchers show, even though the odds (and attendance figures) make it doubtful. See what burned the name on people's brains at the end of this month. In the Pub's other rooms, the bluegrass of the Galoots and the contemporary rock of Almost Noah will serenade you. Supafuzz opens. Happy '96.
Pick O' the Frickin' Pickin': Shawn Colvin & Leo Kottke, Dec. 14