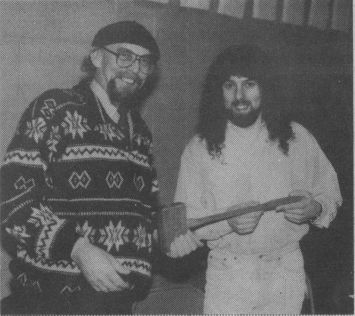 The passing of the official bung knocker: outgoing President Paul Moffett, left, hands off to the new President, Paul Dell Aquila
The Presidents Write
A First Word
By Paul Dell Aquila
Greetings,fellow Co-op members!
I'd like to express my excitement for becoming an active part of this wonderful organization, the Louisville Area Songwriters' Cooperative. My compliments go to the founding members (especially Paul Moffett and Jean Metcalfe) for their vision and initiative. We all must applaud the many successful programs and events the trustees of this group have provided for local songwriters during the past nine years.
As president, I can offer two basic things to the Co-op: my dedication to original music and a proportion of my daytime hours. The Board of Trustees has recently shifted the title of president to me partly because of the time l have available to devote to the job. The cooperative's decisions will still be handled by the same competent members that have been with the organization for years, including Mike Boehnlein, Jack Roberts, Paul Moffett and Jean Metcalfe. This board now has my commitment and my time to see their plans through efectively. One of the most valuable assets a cooperative has is time ... time for effective execution of its decisions.
We are fortunate this year for the addition of five other talented new board members. Bryan Hurst, Carl Slesser, Sheila Price and Grace Delligatti were voted in this January and are sure to contribute many fine ideas in the coming months.
With the merger of the new members and the veteran chair holders, I anticipate a productive year for the Co-op. I hope all LASC songwriters will offer their advice to the new committee and participate wholeheartedly during this period of transition. lam confident, collectively, we can sustain the great programs the LASC has initiated in the past and initiate many new programs as well.
Let's dog it!
Very truly yours,
Paul Dell Aquila
A Final Word – Sort Of
By Paul Moffett
Just over nine years ago, I went to a small New Albany restaurant to hear a friend, Debi Knight, perform on a lunch gig. While I was there, I met Jean Metcalfe, another songwriting friend of Debi.
A few months later, Jean and Debi, Dave Evans and I formed the LASC, with the express purpose to make a tape of our tunes. We did that -— twice. We also began staging showcases and seminars, bringing publishers and other music industry types to town.
For all of that time, Jean and I were officers and unpaid staff, doing many of the nuts-and-bolts tasks necessary to make the LASC work. It has been interesting, challenging, exasperating, frustrating and, occasionally, exciting.
This year, we decided to step down. Jean and I have gotten increasingly occupied with running the Louisville Music News, so much so that we, on occasion, did not have time to take proper care of our duties as President and Vice- President of the LASC.
We and the LASC were fortunate that Paul Dell Aquila and Grace Delligatti showed up just in time to take the hand- off.
We're thrilled. Paul and Grace are excited and energetic and full of ideas to revive the Co-op and move it forward. Besides that, they're players. It has long been a regret of ours that we have not been able to attract players. Perhaps now, that failing will be corrected and the Co-op will grow to become the songwriters and musicians organization that we have long thought it should be.
If you haven't been active in the Co-op in a while, now's the time to jump back in, with changes going on. The new President and new Board will need all the help they/we can get. Opportunity, the songwriters blessing and bane, is at hand.
Oh, yes, we're not gone – I'm still the treasurer and Jean is still on the Board.
Keep on writing.
Yerz, Paul Moffett