Cowboy Corner
Many artists take time off for the holidays and work on their new show for the new year, so what better time than now to sit back and enjoy the success of a greatest-hits album. Garth Brooks has been on vacation for quite some time now and still has nearly a year left before he will pick up his regular recording and touring schedule, so why not enjoy his greatest hits album. For a limited time you can find Garth Brooks: The Hits at your favorite record store. This eighteen-song collection includes some of Garth's biggest hits, such as "The Dance," "Rodeo," "If Tomorrow Never Comes," "Calling Baton Rouge," "We Shall Be Free" and "That Summer." If you haven't already done so, you'll definitely want to add this record to your collection.
Speaking of Garth Brooks, it has been announced that Garth's Ropin' The Wind album has tied with Whitney Houston's The Bodyguard soundtrack to be the number one selling album of the 1990s, selling in excess of 10 million copies. Now who said that country wasn't hot! Garth enjoyed huge hits from"Rodeo," "What She's Doing Now," "Papa Loved Mama," "Shameless" and"The River" from this multi-platinum album. Congratulations, Garth!
•
The 1995 American Music Award nominees were recently announced, including six country categories. Garth Brooks, Vince Gill and Alan Jackson are all contenders for the Country Male Vocalist Award. Mary Chapin Carpenter, Reba McEntire and Lorrie Morgan will compete for the Country Female Vocalist Award. The Country Band, Duo, or Group Award will be given to either Alabama, Brooks & Dunn or Little Texas.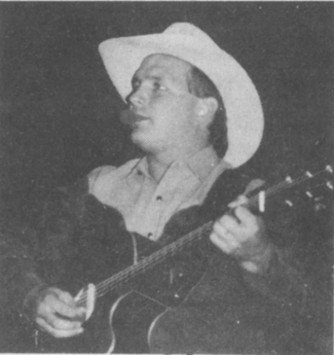 Garth Brooks. File Photo By Beverly Ingram
John Michael Montgomery's"I Swear," Tim McGraw's "Indian Outlaw," and Vince Gill's "Whenever You Come Around" are all nominated for Country Single of the Year. Up for Country Album of the Year are Common Thread: The Songs of the Eagles; Reba McEntire's Read My Mind; and Alan Jackson's Who I Am. Faith Hill, The Mavericks and Tim McGraw are all nominated for New Country Artist. Lorrie Morgan will co-host the American Music Awards with Queen Latifah and Tom Jones January 30 on ABC. Check local listings for the exact time. Good luck to all the country stars!
•
The 1995 Country Music Fan Fair is scheduled for June 5-1l in Nashville, Tenn. If you would like to see your favorite country artists perform live and get their autographs, don't waste another minute. Last year, Fan Fair was sold out by January 20.For more details on how to purchase Fan Fair tickets, call (615) 889-7503.
•
Dave Gibson of the Gibson/Miller Band has announced that he will be leaving the band to spend more time with his family and to concentrate more on his songwriting career. Gibson stated that the last two years on the road with the band have been hard for him personally. He wrote many of the band's hits as well as hits for other country artists. These songs include Joe Diffie's "Ships That Don't Come In," Tanya Tucker's "If It Don't Come Easy," Alabama's "Jukebox In My Mind" and Steve Wariner's "Heart Trouble" and"Midnight Fire." Blue Miller says the band will continue intact and will soon announce a new name. Good luck, Dave!
•
Kentucky's own Patty Loveless is finally receiving some long overdue recognition in the music business. The smash hit,"How Can I Help You Say Goodbye," from her Only What I Feel album, was a true turning point in Patty's career. Her latest release, When Fallen Angels Fly, was certified gold in just 90 days from its release and has already produced the hit song "I Try to Think About Elvis." Patty's current release, "Here I Am," is rapidly climbing the charts. Congratulations, Patty! For Christmas, Patty bought her mother a brand new house. right here in Louisville.
•
There is a definite baby boom in country music these days. Martina McBride and her husband are the proud parents of a daughter born December 22. Wynonna delivered a baby boy on December 23. Wynonna stopped touring in August to prepare for the birth of her first child, while Martina worked all the way up to her last scheduled show on December 3 at Rupp Arena in Lexington. I hear this last show of the tour was full of practical jokes between Martina, Brooks & Dunn and Clay Walker. Ten men in diapers supposedly appeared on stage with Martina while she was singing her smash hit, "My Baby Loves Me," and Martina appeared on a stretcher, supposedly in labor, during Brooks & Dunn's set. Wynonna and Martina are both scheduled to resume working sometime around March. Martina says she will take the baby on the road along with her husband. Martina's husband works with Garth Brooks, therefore he has another year of vacation and will have all of 1995 to spend with his wife and new child. Just as Wynonna and Martina are preparing to resume work, Suzy Bogguss will be preparing for the birth of her first child in March.
Not only has the baby boom hit the females in country music, but the men have had their fair share of dirty diapers. Neal McCoy, Tracy Byrd and Mark Chesnutt have all become proud fathers in the past year. Congratulations and good luck to all the proud new parents and soon-to-be parents of country music!
•
I'd like to introduce you to one of the newest country bands around Kentuckiana: The 'n Kahoots Band. This seven-piece band started out a year and a half ago and like to describe their music as"country with a 'KICK."' The band's set includes approximately 75% country music with cover tunes by artists such as Tim McGraw, Garth Brooks and Joe Diffie. The remaining 25% of their set includes cover tunes by artists like the Eagles and Lynyrd Skynyrd.
Band member Gary Hobbard recently told me the band has played venues such as The Grand in New Albany, Bobby McGee's and Marma Dukes.
"We love what we are doing and the people and the crowds we have encountered thus far have made it all worthwhile.
To those people who have religiously supported us we would like to take this opportunity to say THANKS!! To those of you who have not yet had the chance to see us, we hope that you will take the time to catch one of our shows and decide for yourself."
•
The newly refurbished Palace Theatre has gone country. The reigning CMA Female Vocalist of the Year, Pam Tillis, is scheduled to appear Friday, January 20. Pam is sure to sing hits such as "Maybe It Was Memphis," "Shake The Sugar Tree" and her latest smash hit, "Mi Vida Loca." On January 27, the King of Country Music, George Jones, will be performing some of the biggest hits of his country music career. On February 23, the Palace Theatre will present the reigning CMA Vocal Group of the Year, Diamond Rio. And look for the Man in Black, the legendary Johnny Cash, on April 7. Hurry out and get your tickets for all these shows because they won't last long.