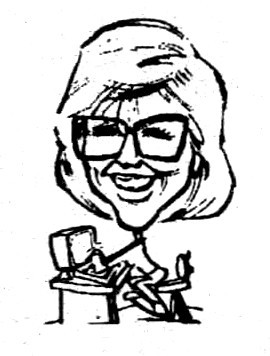 Newsical Notes
Everybody must have been so wrapped up with holiday happenings that they didn't share their news with us. Quite a contrast from December's column, huh? Of course, we had only one meeting in December instead of two.
The December 5 meeting/party was very enjoyable and there was some wonderful entertainment by Ray Burden, Dave Cole, Paul Dell Aquila, Grace Delligatti and Paul Moffett, who sang a few of their originals at the end of the evening.
It was good to see a few old faces and a couple of new ones. Come on back next meeting!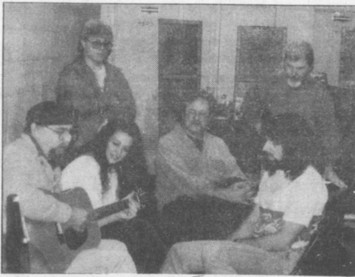 Left to right, Paul Moffett, Tony Cestaro (standing), Grace Delligatti, Dave Cole, Paul Del Aquila and Ray Burden (standing). Photo by Jean Metcalfe
Congratulations to Charlie and Gladys Farmer, who celebrated their 50th wedding anniversary on December 28 Charlie was at the December 5 meeting and looking forward to a trek to Florida with Gladys. Can't remember their departure date, but after last January's record-breaking low temperatures, a 16" snowfall and some of the largest icicles l can ever recall seeing, l would think they'd choose the morning of January 2.
Maybe Charlie will write a song or two about what's happening on the beaches there. Here's a title for you, Charlie, at no charge: "Warm, Round Beauties in the Sand." It would, of course, be about seashells.
Just as I was wrapping this column up, Mark Gibbs came through with some happy news. He'd just received a copy oi Lug Nut & the Spare Tires' new CD, Back to the Past Lane. The album is special to Mark because it contains two of his original songs: "What About You" and "I Like It a Lot." The album title is a catchy way of letting you know that this is sort of an oldies collection. It is the arrangement ('50s and'60s style), however, rather than the age of the songs that gives the album its name.
lf you'd like to own a copy, stop by Better Days or ear X-tacy, or just see Mark at an upcoming LASC meeting. Want more details? Call Mark at 366~2379.
Mark got a nice plug on WHAS~TV's Louisville Tonight Live on December 22 and is hoping for airplay on WRKA FM103.