Upcoming Live Music
By Bob Bahr
Scrape up those pennies left over from Christmas shopping, cash in that $20 check you got from Aunt Martha and head out into the cold for some soul-nourishing music. This month's roster is slight but sweet.
Doug Raney, resident of Denmark and guitar-playing son of legend Jimmy Raney, kicks off the new year with a little jazz on January 2 at the Silo Microbrewery Complex. This Louisville Jazz Society concert, like all their events at Silo, is presented in a smoke-free environment. That's a welcome change from the grey-hazed shows we endure most of the time.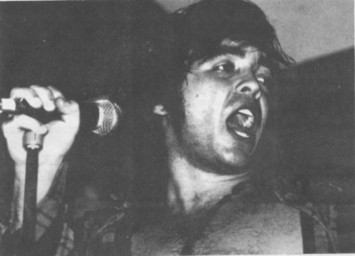 Pictured above is Tim Arlon of edenstreet, who is appearing at Butchetown Pub on Jan. 27. Photo by Nicolas Bnura
Speaking of endurance, the "Free Tuesdays" shows at Butchertown Pub is Louisville's strongest, most stable vehicle for alternative music. Though not smoke-free, it is usually free of dogs. Highlights in January include a double bil1on January 10 with Hairy Patt and Chickenhawk (featuring guitarist Wink O'Bannon), Feeder and Grrlsick (featuring Greg Maddux) on January 17, the besotten theatrical cheese of Gem Barbarella on January 24 and the solid pairing of Ted Bundy's Volkswagen and Stick People on January 31.
The name Ricky Skaggs means different things to different people. To some, it's the name of one of the hottest guitar players in bluegrass music. To others, Skaggs is a hot country music artist who owns several Grammys. Perhaps to a third group, he is known for his down-home gospel music.
Skaggs' performance at the Southeast Christian Church will probably be heavy on Skaggs' gospel side. Drive over to the church's Hikes Lane facilities on January 13 for a taste.
It seems like a long time since the squirrely New Duncan Imperials have littered our fair city with their shtick (somewhere along the Jerry Lee Lewis-Jerry Lewis-ZZ Top axis). The spell is over. The New Duncs hit Butchertown Pub on January 21, so lock up your daughter (or son). If those yo-yos don't strike your fancy, come down to Butchertown anyway. Common Law Cabin, Louisville's favorite alternative roots rock band, is also on the bill, along with songwriter Danny Flanigan's new project, Greathouse.
. Why see "Hello Dolly!"? Aside from being an award-winning musical, the Broadway Series production features a legendary performer in the role that made her famous: Carol Channing in the starring role of Dolly Gallagher Levi. "Hello Dolly!" runs January 24 through January 29 at the Kentucky Center for the Arts' Whitney Hall.
The bluesy, melodic edenstreet is headlining the show on January 27 at Butcherto wn Pub, but even the musicians in that group are excited about the opening act: Supafuzz. Heavy, groovy and electrically intense, Supafuzz will be making a lot of noise around town in '95.
And finally, George Jones plays the Palace Theatre on January 27. Jones became a country music legend the hard way: 10,000,000 road miles, 100 albums and more than 35 years in the business. If the hits "Why Baby Why," "She Thinks I Still Care," "A Good Year for the Roses," "He Stopped Loving Her Today" and "Who's Gonna Fill Their Shoes" mean anything to you, boogie on down to Fourth Street at the end of the month.
PICK OF THE PICKIN'S
TRIPLE BILL
New Duncan Imperialls
Common Law Cabin
Greathouse
Saturday, January 21