Bluegrass Beat
Been to a good festival yet? If you haven't, you have already missed some good opportunities and if you have, you should really be in the festival mode. Of course, you should stay that way.
Let's review where we've been so far. I was at the Festival of the Bluegrass in Lexington for one day. Saw some good acts, some that did not really grab me and quite a few others. I talked and did a lot of visiting. Seldom Scene was there. I always enjoy these guys, although with Duffy's lead they can be a little wild. I have read that they are going to become divided. If I recall correctly, Mike Auldridge and one or two others are putting together a group called Chesapeak. Guess we will just have to wait and watch to see what happens. Doyle Lawson did a couple of good shows, as he always does. Got to chat briefly with Doyle.
I met a group whose music I have played on Sunday Bluegrass [the show that Berk hosts on WFPL 89. 3, 8:30-11 p. m. —— Editor] a number of times. I had never seen Redwing but like their stuff, based on one of their CDs. They made sure I got their new release, The Right Combination. From what I have spot-checked and played on the show, this is going to get a lot of play. I've had requests for this band before and I am sure I'll be hearing a lot about this new album.
Most of the members of the Schmitt Family band were there; quite a few listeners to our show stopped me, including one we have mentioned a lot of times, Wayne Greenwell. Good to see all of these folks and especially those who listen to the radio show. Also must mention that Sammy Adkins was there. I really enjoyed seeing Sammy again. He is looking good, as if a little hard work is agreeing with him. Sammy can go anywhere he wants to now and I think in time he is really going to go. You can say you saw it here first. Sammy has a group called Sammy Adkins and the Sandy Hook Mountain Boys. He has plans for a new tape to include several songs of his own making. I will definitely be looking forward to that one. (Sammy, we wish you the best of luck on this and may you book many festivals.)
The Otter Creek Park festival got a little wet on Saturday but that only served to cause the umbrellas to sprout like a field of mushrooms. A little rain/shower at a bluegrass festival is just like a bluegrass baptizing. You should expect a shower when you go and hope that it doesn't. Not only my opinion, but that of many others: Dry Branch Fire Squad stole the weekend hands down on Sunday morning. Two, not one, two enthusiastic standing ovations from a very sizable crowd. From what I have seen and heard from fans and general festival goers alike, DBFS has deservedly become one of the MOST ENTERTAINING groups on the road today. Dry Branch (as well as many others) is a valuable asset and addition to any festival. This is not to say any less for the many other groups available. There are many and that is a big many, that meet the first and foremost criteria in talent. Draw the fans into that show.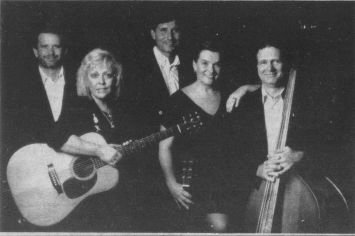 Dry Branch Fire Squad. Photo by Dane Penland
Josh Williams and High Gear, The Youth Allstars, Dr. Ralph Stanley and the. many others provided a great weekend of entertainment. John Hartford, due to unfortunate circumstances, disappointed a few of his fans. John had gotten a leg or foot injury shooting baskets with his grandson, Dustin and pulled something or whatever. As a result, John was on cnitches, had to sit for his act and could not dance. His not being able to dance was the disappointing bit. John is an excellent entertainer, one of these great talents that can go out there and do it by himself and do it well. As with many others, I always especially enjoy a visit with John Hartford. (John, best wishes for a lightning recovery. I'm expecting to see you dance at The Museum of Appalachia in October.)
In general, the attendance was up for the OCP festival this year and will continue to rise if the real potential is recognized by the proper folks in Louisville. Louisville or Rome — neither was built in a day. The many voices I have heard all echo the same sentiment: Otter Creek Park is an excellent bluegrass festival site. Especially with all it has to offer, facility wise, location wise and any other wise you would like to throw in. Louisville, keep it going in Otter Creek Park.
Next time I will have to tellyou how my trip to the Charlotte, Mich., festival was.
What's next?
July 7-8, Tommy Brown & the County Line Grass, Cedar Valley Music Park Bluegrass Festival, Derby, Ind.
July 28-30, lst Annual Redlick Valley Bluegrass Festival, Irvine, Ky.
July 21-22, Old Time Fiddlers Contest, Rough River Dam State Resort Park.
July 13-16, Annual Little Eagle Creek Bluegrass Invitational, Rynearson Farm, Westfield, Ind.
July 27-30, Frontier Ranch, 15 miles east of Columbus, Ohio.
For more specific information on festivals, call me on Sunday night during my show at 502-574-1753. I'll tell you what I can.
I had a letter from Wes Homner with a CD enclosed: Songs From An Old-Fashioned Tradition, Wes Homner & Mountain Therapy.
Wes Homner was the recipient of the International Country Gospel Music Association Bluegrass Artist 1995 award. This is an all-gospel CD and sounds good to me. Traditional gospel, bluegrass, that includes such familiar old tried-and-true numbers as "When the Roll Is Called Up Yonder," "Are You Washed In the Blood," "He Leadeth Me" and others.
Wes is also a writer and some originals here are "When Gabriel Blows His Horn, " "Jonah,""Blood Stained Trail," plus. Twelve songs in all; twelve I think you will like as bluegrass gospel. You will be hearing them on Sunday nights.
Wes Homner, P. O. Box 364, New Castle, PA 16103. Call 412-654-3023.
He also says he enjoys our Bluegrass Beat in the Louisville Music News. Thanks, Wes Homner.