I've Got A Mind To Ramble
Every year I count down the days prior to each Chicago Blues Festival in anticipation of the three-day event in Grant Park. This year made the eleventh out of the twelve festivals that I've attended. It gets hard from this vantage point in time to distinguish one festival from another, with the countless musicians that have performed, many of whom are no longer with us.
What struck me about this year's festival was the extent of commercialism that has encroached into the activities. Banners advertising products surround the seating area of the Petrillo Amphitheater. The concession area has grown to where it rivals the midway of our state fair, with booths for radio stations, record companies and ancillary organizations related and not so related to the blues. Sponsors are everywhere, but that is what is to be expected for the world's largest free outdoor blues festival.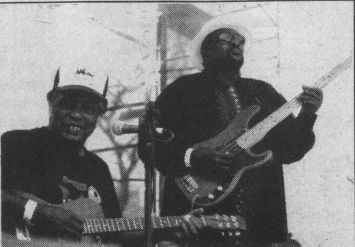 R. L. Burnside, left, with Big Jack Johnson. Photo by Keith Clements
A photo pass allowed me to get next to the stages for taking close-in shots of the performers in action. There are always challenges, like getting the singer without the microphone stuck in front of his face, or the wincing guitarist with his eyes open, or avoiding the blurred blob of a bluesman during the nighttime shows. At some point during each festival when the crowds seem almost unbearable, I question what I am doing here, but then there is some stellar performance that makes it all worthwhile. This year it was the country blues of R.L. Burnside and the urban blues of Luther Allison.
R.L. was a part of the Fat Possum Records Mississippi Juke Joint Caravan from northem Mississippi which included the newcomer Dave Thompson and veteran Junior Kimbrough. Their bus was late from Oxford, Miss., but when they did finally arrive, Dave opened the set, playing his contemporary blues that has an appealing universal sound. Junior followed with that steady, droning primal beat that took everyone back to the wild, untamed roots of the blues.
Then came R.L. Burnside with Big Jack Johnson to back him up on bass. R.L. turned it up several notches and transformed the Front Porch Stage to a juke joint in Holly Springs. He played his guitar with a romping, reckless abandon that created an excitement that few, if any, country blues musician can match. When R.L. tore into "Shake 'em On Down," "Old Black Mattie" and "Jumper On the Line," I just closed my eyes and all my worries went to another part of the universe. Burnside enjoyed every minute, smiling and joking through the whole set. His strong, deep voice and his bare-finger riffs convinced those of us in Grant Park that Burnside's unique style of Mississippi blues is a national treasure.
That same evening three of Chicago's west side guitarists were featured in the Petrillo Band Shell. Eddie C. Campbell returned a couple of years ago from an extended stay in Europe to reclaim his reputation in the states as a hard-edged bluesman with a funky, sometimes quirky, groove. His songs were original, like his commentary on alimony, "Cheaper to Keep Her."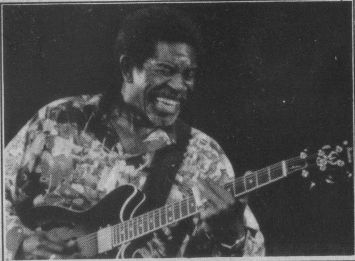 Luther Allison at the 1995 Blues Festival. Photo by Keith Clements
Luther Allison followed to perform one of the most dynamic performances I've ever seen at the Festival. From the moment he walked on stage playing his guitar to when he left playing, his presence was electric with the huge crowd. It was like he was plugged into high voltage. His wiry frame twisted and turned with each cascade of notes that came from the three guitars he played. Luther might be considered flamboyant, but it is a natural manifestation of his deep, emotional commitment he makes with every song he does. Luther's music brings a fresh perspective to the blues, with lots of thoughtful statements of urban social injustices in his lyrics, like his song "I Live In a Big City." He traveled the farthest distance to make the Festival, flying in from France that morning. There was no sign of jet lag in his killer performance. What an act to follow and Otis Rush had the unenviable task.
Otis did beautiful versions of his classics like "My Own Fault Baby" and "All Your Love." His laid-back manner was a distinct contrast to Luther's intensity.
To cap off a wonderful day Eddie and Luther came out to jam on stage, with Otis doing an extended version of "Sweet Little Angel." Again Luther stole the show.
Will I be up in Chicago next year for the thirteenth? You bet!