Blues In The Night In The Forest
By Les Reynolds
Louisville-area jazz and blues bands will take the stage at Jefferson County Memorial Forest on two consecutive July Sunday nights and, it is hoped, in the end will give the audience(s) a greater understanding and awareness of local jazz and blues music as well as some solid entertainment.
Slated to perform at the 6 p. m. shows are Mike Tracy Jazz Quartet, BB Taylor Blues Band and Mike O'Bryan and the Memphis Red Hots (July 16) and Gayle King and Indigo, the Mudcats Blues Band and the Ron Jones Quartet July 23. Sets will probably last 45 minutes to an hour.
Gary Falk Recording Studio will provide the sound for the entire concert.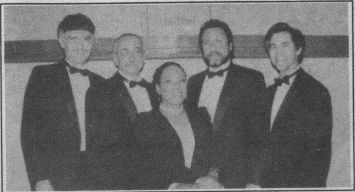 Indigo
This will be the third year for this event, which has gone under different names each time ("Jazz in the Forest" the first time, for example). It is sponsored by: Fund for the Arts, Jefferson County Government and Musician's Local 11-637, The Recording Industry's Music Performance Trust Funds.
According to Jeanne Curtis, Fund for the Arts' Vice President of Extemal Affairs, the free concerts will be held at the top of the Horrine section in the Forest on the Manor House lawn.
Although this is a concerted effort to expose the people in Southwest Jefferson County to jazz music and offer an opportunity to hear it in an unusual setting, Curtis says their mission is more broad-based in general: "It's to provide free performances of exceptional quality that's accessible to the entire community."
"I also feel a strong need to support local musicians and give them a venue to do it (perform)," she added.
The Performers: Among the bands taking advantage of this opportunity to perform is Indigo, which is basically a jazz band, anchored by saxophonist (and recording studio owner) Gary Falk and the sweet, silky voice of Gayle King, who has been singing for 15 years. While her singing is tailor made for jazz, sometimes there's a hint of a latent blues singer inside.
As for the band itself, King says their music is a mixture, doing "a bit of everything. We do recognizable tunes and don't go far out. It makes a difference that we have a singer. We do a lot of standards."
Falk echoes those comments and goes further, noting they do tunes from Manhattan Transfer, Spyro Gyra, Sergio Mendez, Natalie Cole and others. "The jazz we play is " the most palatable as far as the public goes," Falk explains. "We do original arrangements, but standard tunes and oldies. If we were in a concert, to the average person we'd be the band most would identify with. We don't do any far-out music or a lot of protracted, far-out solos."
Indigo, Falk says, is a "jobbing band," and King says they work steady, but not as a constant group, personnel-wise. They call musicians as they are available and needed, with King and Falk always at the core. There's a piano, keyboard, drum, sax and vocal; Indigo occasionally expands to six horns (the "Pendulum Orchestra") with King as the arranger.
Mike O'Bryan's Memphis Red Hots is a truly eclectic band. The band's demo runs the gamut from simple Mississippi Delta blues to western swing to Appalachian-Irish folk to standard jazz and even some Dixieland.
"We're at that crossroads before everyone split (into categories)," said O'Bryan. "We don't worry who calls it what. We play tunes from a time when music was music and before labels." The Red Hots "run the gamut of different styles from the '2Os and '30s. Primitive, well, that's not the word. We go back to the roots."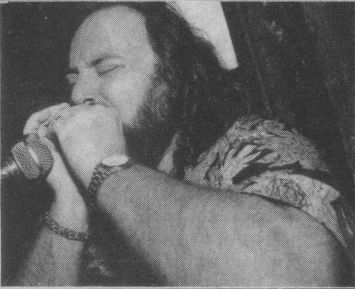 Jim Rosen of the Mudcates. Photo By Nicolas Bonura
He noted that western swing is their strength because it's what they listen to and like most, "but can't label it (that) even when we do it ... We blend all sorts of sounds in real old tunes." For example: "Some call our swing Dixieland, but the banjo is) done with finger picks versus strumming and there's no steel guitar or fiddle." The current band has been together about five years.
Jim Rosen (Mudcats) says his band is Louisville-based and has been around about ten years, doing "all types of gigs."
"We're not a real traditional blues band. We do some and more modern and bizarre arrangements at times. I don't really know how to classify us exactly. Probably more the Chicago blues sound," Rosen said.
He noted the band works fairly steadily, though not as much as in the days when blues was at its peak in Louisville, about two years ago. "Lots of clubs are playing more alternative rock and roll; the young people like it more. People who listen to blues bands are probably staying home more."
It will be the first time playing at the forest for this four-man band.
Ron Jones says his jazz quartet will play "Charlie Parker to Duke Ellington to Gershwin." Jones is very matter-of-fact about his band and describing its sound.
"We're not as commercial since we have a chance to play a lot of straight-ahead jazz like Parker, John Coltrane and Cannonball Adderley — not watered-down Kenny G. That's not a knock, understand; that's just the way it is."
A combination of "jobbing" and concert group, the band has had some of its music recorded live for WFPL's program "Jazz Tonight" and they've also played concerts in Central Park. It'll be their second Blues In the Night concert, which will be only part of Jones' busy life: l5-20 weddings a year, playing two or three times weekly, practice, giving private music lessons and being a husband as well. "It's all a full-time job, but I wouldn't trade it. We re not making 200 grand behind a desk, but we're happy."
Jones says most of the tunes have "all pretty much been done; there's nothing new out there," so that's where inventiveness comes in. "We have a few where we put a twist on it. Like, we might do 'Somewhere Over the Rainbow' and instead of doing it like they do it on 'The Wizard of Oz' we might turn it into a samba."
Our music has feeling and energy," Jones noted. "Anytime you have that, people are gonna dig it. When we play, you can tap your feet and snap your fingers. That's our foremost priority —it's gotta feel good."
Mike Tracy, who runs the Jazz Studies at the University of Louisville, will front a quintet at this year's event, their second. (They performed at the inaugural Forest concert.) He commented that two of his more regular members can't attend, so some switching will be necessary. There will be piano, bass, drums, a trumpet and Tracy blowing sax.
"When we play in situations like this, we like to do recognizable tunes," Tracy explained. "Our basic ingredient, like with most jazz groups, is improvisation. We lean more to bebop and modern as opposed to traditional swing."
Tracy says that although demographics traditionally don't indicate support of jazz events by south-southwest residents, Louisville as a whole has a fairly strong following. "For a city steeped in country and western music, we have a strong jazz following though not really big. We don't draw tens of thousands, but it is consistent."
When, Where & How: As mentioned, the performances are FREE to the public. Starting times are listed as 6:30 p.m., ending at 9:15. Directions will be posted once inside Fairdale. The main thing to remember is to take Mitchell Hill Road to Holsclaw Hill Road — if you see the Welcome Center, you've gone too far. Holsclaw Hill will be a left tum, which then winds on a tough uphill to the top of the forest. (Elevation nearly 900 feet by then).
For more information, call the Fund for the Arts at 582-0100 or the Forest Welcome Center at 368-5404.