The Board of Directors of the recent Kentucky Scottish Weekend (held in General Butler State Park) obviously failed to light a
The Board of Directors of the recent Kentucky Scottish Weekend (held in General Butler State Park) obviously failed to light a bonfire or ritualize a virgin, etc), because Lugh vanished and it rained without mercy. The "R" word makes outdoor festival organizers twitch, so the KSW board must have writhed the entire weekend. This was unfortunate because the original highland games in Kentucky is planned with great care and skill. Their pipe band competition was superior to that at this year's Glasgow Highland Games where the sun god did radiate approval. Go figure.
The GHG board must have thrown one of their members into a bog with great fanfare. The highlight at the '95 GHG was Natalie MacMasters, the dancing Cape Breton fiddler. A sight (as well as a sound) to behold!
Unfortunately Rock was unable to attend the multi-music festival in Somerset, Ky., where the Celts were represented by the likes of Seamus Egan, Eileen Ivers and Silver Arm. Not to despair, as there is a dazzling Celtic horizon before us.
Absolutely do not miss Dick Gaughan. Scotland's legendary singer and guitarist is on his first U.S. tour since 1983. Gaughan has a vocal style rooted in traditional Scottish and Irish singing reflecting his own working class roots (once a plumber). A folk virtuoso, he flat picks fiddle tunes "bang on," "on the money," "tight," so clear and clean and yet retains all the emotional energy that this music has to convey. All right already — where/when! Tuesday, July 18, 8 p.m. at "Leo Coffeehouse" at The University "Y," 270 Calhoun St., Cincinnati (on the University of Cincinnati campus). Tickets are $12. For more information call 513681-2344.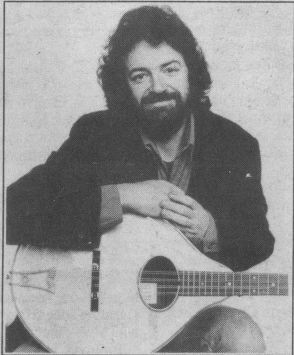 Andy Irvine
Gaughan is a "drop of the pure stuff" and no less so is Liam Harney and the Trinity Irish Dancers to Celtic Thunder at the Louisville July 8. A Celtic rock band from Chicago, Drovers, will no doubt be hot but the word on the wind is: Hold on to your hats for Wolfstone, a Celtic rocker from Scotland who apparently seized the day at the recent Wolftrap Irish Festival in Washington, D.C.
Before you it know it, the Louisville Irish Family Fest will be here. Trad lovers cherish the memory of the Irish supergroup Planxty. Christy Moore, Liam O' Flynn, Donal Lunny, et al, have all gone their separate ways. That solitary path now brings Andy Irvine to the '95 Liff. Also now a member of the all-star group Patrick Street, Andy joined with Paul Brady (probably one of the biggest non-household names in music) for perhaps one of the top Irish trad albums ever, simply titled "Paul Brady / Andy Irvine" (Rock's personal favorite as well). His bouzouki virtuosity has been further expanded in his East Wind album featuring Bulgarian and Macedonian music.
Until then you can look forward more nearly to July 3 at the Irish Rover where their Irish Block Party begins at 3 p.m. with an Irish puppet show, arts and crafts, games, face painting, clowns, etc.
Dayton's dynamic duo Fannigan's Isle takes the stage at 4 p.m. followed by The Bluegrass Irish Dancers, The Rashers and, finally, Ten Penny Bit. It is all under a big tent over the parking lot and admission is free!
As ever, Celtoids, if you have any information having relevance to Celtic Corner readers, give Rock a call at 502-459-2001 and you will see it here. I'll see you somewhere near the stage!