Cowboy Corner
Alan Jackson Sweeps Tnn Music City News Country Awards
Where else can you see George Jones on stage awaiting the arrival of Tammy Wynette, Tammy rushing down the hall wearing sunglasses with her hair in curlers, Vince Gill bumming around just humming and whistling, the guys of Sawyer Brown just hanging out and Linda Davis pulling up in a pickup truck? Where else but the rehearsal for the 29th Annual TNN Music City News Country Awards hosted by Martina McBride, Charley Pride and Marty Stuart.
I had the great opportunity of attending the TNN Music City News Country Awards for the first time on June 5, at the Grand Ole Opry House in Nashville, Tenn. Minutes prior to the live telecast of the awards show, the halls backstage at the Grand Ole Opry were swarming with country stars and there was a great electricity and cloud of anticipation in the air thick enough to cut with a knife. "Just who will be the big winners tonight?" was the question on everyone' s mind. The fans had cast their votes, the ballots had been tallied, Reba, Alan and Vince were all anxiously waiting in their seats in the auditorium and it was just a matter of minutes.
The curtains rose and Martina McBride started the show off with a bang by performing "Independence Day," complete with a production of fireworks. No time was wasted in beginning to hand out awards and it didn't take long for everyone to realize that this was Alan Jackson's night; Alan proceeded to win five of the seven awards for which he was nominated. The only two awards he didn't receive for which he was nominated were Video of the Year for "Livin' On Love" and "Summertime Blues"; he could have won only one of them anyway.
Martina walked away with the video award for her acclaimed "Independence Day" video.
The entire list of winners follows. Comedian of the Year: Jeff Foxworthy; Christian Country Artist of the Year: Ricky Van Shelton; Vocal Group or Duo of the Year: Brooks & Dunn; Vocal Collaboration of the Year: George Jones and Alan Jackson on "A Good Year For The Roses" from The Bradley Barn Sessions album.
Single of the Year: Alan Jackson's "Livin' On Love"; Album of the Year: Alan Jackson's Who I Am; Video of the Year: "Independence Day" by Martina McBride.
Star of Tomorrow, Vocal Group or Duo: BlackHawk; Star of Tomorrow, Female Artist, Faith Hill; Star of Tomorrow, Male Artist: Tim McGraw.
Living Legend Award: Waylon Jennings; Minnie Pearl Award: Willie Nelson.
Vocal Band of the Year: Sawyer Brown; Female Artist of the Year: Reba McEntire; Male Artist of the Year: Alan Jackson Entertainer of the Year: Alan Jackson.
Congratulations to all the winners!
Farm Aid In Louisville?
Willie Nelson is currently the president and chairman of Farm Aid, which he helped establish along with John Mellencamp, Neil Young and John Conlee ten years ago.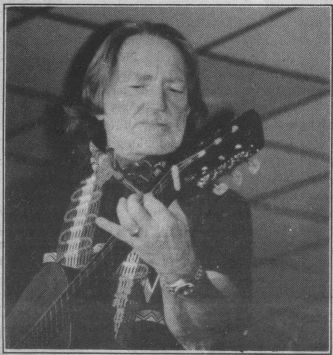 Willie Nelson. File photo by Jean Metcalfe
FarmAid has distributed more than $12 million to farmers through various emergency help, out-reach, educational and legal organizations. Willie recently stated that Louisville is being considered as the host city for this year's FarmAid. Willie said, "This is the tenth anniversary so we're talking about doing something for sure, maybe September. Louisville has been mentioned a couple of times, so, we'll see." Keep your ears open because this is a show you wouldn't want to miss. America's farmers are really struggling today and they deserve to make a decent living like everyone else. After all, if it wasn't for the American farmer you would not have been able to eat that juicy hamburger and those hot fries for lunch. Thumbs up to Willie and all those involved in helping out the hardest working people around.
Kentucky State Fair Country Fever
At press time, the official announcement had not yet been made for this year's Kentucky State Fair concerts, but I have done my research and have a tentative schedule for the country concerts. Please be aware that these are NOT official yet! Brooks & Dunn, along with Mark Chesnutt, will be opening the fair on Thursday, August 17, in Freedom Hall. George Strait will make his annual appearance on Saturday, August 19. Once again, the Oak Ridge Boys will perform in Cardinal Stadium on Sunday, August 20. Ricky Van Shelton will stop off at the state fair on Wednesday, August 23. And wrapping the fair, up again this year will be Alan Jackson in Sunday, August 27. Appearing with Alan will be Faith Hill.
Keep listening for exact details on these concerts and ticket information. I am told that tickets will go on sale Monday, July 10. All TicketMaster locations will only accept cash and the Kentucky Fair & Exposition Center will accept cash and charge cards. There will be a ticket limit per concert per person, but tha talso has not been announced. If you are interested in buying tickets, be sure to call the ticket outlet you plan to purchase your tickets from prior to July 10 to find out that location's stipulations. If you do plan on purchasing tickets, plan to be in line hours before the tickets go on sale, which is usually 10 a.m., because these concerts are infamous for selling out very quickly. Good luck and I hope to see you at the shows.
Brand New Country
The next time you are in your favorite local record store, be on the lookout for some hot new country such as Mark Collie's debut Giant Records release, Tennessee Plates, which includes the sizzling "Three Words, Two Hearts, One Night." Lorrie Morgan fans will definitely want to pick up Lorrie Morgan Greatest Hits, which contains such hits as "Five Minutes," "Something In Red," "'Til A Tear Becomes A Rose," and "Watch Me," in addition to three new songs, including "I Didn't Know My Own Strength."
George Jones and Tammy Wynette fans will be glad to know that the king and queen's first duet record in fifteen years, One, is now available and full of traditional-style country ballads. Also be on the lookout for Rodney Crowell's Jewel Of The South, the Moffatts' debut album, Shaver's Unshaven and the Nitty Gritty Dirt Band's Stars & Stripes Forever. Also keep your eyes open for Amazing Grace, a release on which various country artists sing country gospel.
Among them are John Berry singing "Blessed Assurance," his mama 's favorite hymn; and Paul Overstreet singing "Mansions Over The Hilltop," my personal favorite hymn.
Cowboy Corner Country Ouiz
Q: What is the story behind Lorrie Morgan taking an English fan on the road with her?
A: When Roy Rudham's wife bought him a plane ticket from London, England, to Nashville, Tenn., to attend Lorrie Morgan's Fan Fair fan club party for his 25th wedding anniversary gift, he never expected it to turn out the way it did. Unbeknownst to Roy, Lorrie had canceled her fan club party due to scheduling conflicts with a movie she is currently filming in San Diego. All fan club members were sent a Fed-Ex package with a letter of apology, a Lorrie CD and various Lorrie paraphernalia, but Roy never received his.
Roy, a crime prevention officer in London, came to Nashville without even a Fan Fair ticket; he came strictly to see Lorrie Morgan. Well, come Tuesday night, June 6, Roy trudged through a bad storm to the Ryman Auditorium to attend Lorrie's fan club party. Upon arrival, he was told that the party had been canceled. Roy got linked up with a police officer who in turn eventually came in contact with Lorrie's assistant manager, Jennifer Winter.
Lorrie's office greatly apologized to Roy and furnished him a ticket to Fan Fair and backstage passes to the concerts. In the meantime, Jennifer contacted Lorrie and her manager in San Diego and Lorrie was absolutely heartbroken for Roy. So much so that she personally called Roy at his hotel, apologized to him and invited him to ride with her band on the tour bus from Nashville to Atlanta for a show on Saturday, June 10.
Upon arrival in Atlanta, Roy had the grand opportunity to attend 'Lorrie's sound-check, have dinner with her and Lorrie even introduced Roy on stage during her show that evening. Roy later had the opportunity to stay in the same hotel where Lorrie was staying and she flew him back to Nashville on Sunday to catch his plane home.
This is a trip that neither Roy nor Lorrie will soon forget. Roy is such a fan and was so impressed that he is founding a Lorrie Morgan fan club in Europe. Hats off to Lorrie for going above and beyond to please her number one European fan.
If you have a question you'd like answered about one of your favorite country artists, please send your question, along with your name, to: Cowboy Comer Country Quiz, Louisville Music News, 7505 Cambridge Drive, Crestwood, KY 40014. Please don't hesitate to send in your question.
We're anxious to hear from you.
•
Well, that's it for now. Always remember: Keep your boots shined up and your hat on straight, 'cause country music is comin' your way.