Guy Clark, Townes Van Zandt
By Michael Campbell
With Townesology support from Bill Ede "Only two things that money can't buy and that's true love and homegrown tomatoes." — Guy Clark from his song "Homegrown Tomatoes."
"I may be a lonely schizophrenic, but at least I have each other." — Townes Van Zandt to the audience.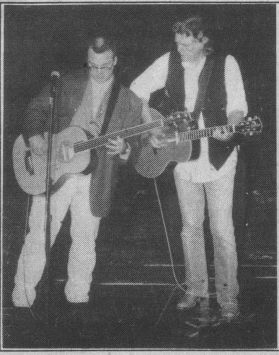 Travis Clark and his father Guy Clark. Photo by Eddie Davis
The yin and yang of American folk music shared their gifts with a shamefully small, yet profoundly supportive audience at the Macauley Theatre on June 16. Guy Clark, accompanied by bassist extraordinaire / harmony vocalist / perfect stage foil son Travis, gave an assured, relaxed and sincere performance, seamlessly blending tunes from 1975's Old Number 1 debut recording to the newly released Dublin Blues. For those unfamiliar with Clark's music, Bill Ede's observation that Guy Clark could have written "Big Bad John" might be instructive. Extending that metaphor, Townes played an early Sixties Johnny Cash (i. e., "Ring of Fire") to Guy's folksiness.
Highlights of the Clark set included newer works, including the Rodney Crowell collaboration "Stuff That Works," his own bluesy "Limo to Memphis," and "B1ack Diamond Strings." Turning the potential annoyance of the monitor speakers picking up Snoop Doggy Dogg from the radio into humorous choreography, the Clarks seemed to enjoy every moment on stage, encoring with "Texas Cookin'." This man can really write about southern food!
In contrast with the comfort of Clark, watching Townes was more like glimpsing intensely private moments of someone you worry about and wondering what the next moments will bring. Townes came out and got right to business, opening with "Loretta," and painting a down-and-almost-out film noir in "Marie," in which the protagonist wistfully dreams of finding a "burned-out van" and "settling down" with his unexpectedly pregnant companion. Plaintive performances of the well-known "Pancho and Lefty," and "If I Needed You" helped round out the evening. Amidst his end-of-the-rope perspective, Townes expresses powerful hope and tenderness with selections like "Katy Bell" from his current No Deeper Blue release and most powerfully in "To Live is to Fly."
After stumbling a bit with his picking during "Blaze's Blue," Townes offered an apology of sorts, citing sleeplessness as the culprit and then offered several jokes in a row. The enduring crowd was treated to an encore disclaimer, "I can spot sympathy applause a mile away."
The evening was a lyrics connoisseur's dream; as Townes put it in "To Live is to Fly": Everything is not enough /Nothing is too much to bear.