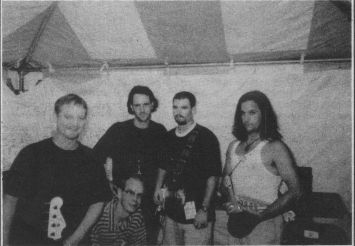 The members of Starbilly backstage at Summer Lights. Photo by Wally Stewart
Nashville's Summer Lights
By Wally Stewart
DANCING ON THE STREETS OF NASHVILLE —My feet don't want to be anywhere but Deaderick Street, celebrating "Summer Lights In Music City," the Thursday after Memorial Day.
June 1-4 three blocks of asphalt and concrete became a living cornucopia of artistic joy and I tried to become a "human sponge." A marvelous buffet of musical styles and diverse visual attractions were available for sampling, from six simultaneously running stages and the street area.
The first tune I recognized was "Blue Kentucky Girl," from the Young Acoustic All Stars, talented teenage bluegrassers with some Kentucky roots. Next came crunchy power-pop from Louisville and Buzz Records' artists, Starbilly. I'll look for this rocking powerhouse back home.
Country powerhouses Lee Greenwood and Ronnie Milsap, SL's first honorary spokesman, performed Thursday. Getting "Lost In The Fifties" with Ronnie made the steady rain that was now falling barely noticeable. That rain abbreviated a closing set from the awesome Goose Creek Symphony, disappointing fans who braved the soaking to dance and shout "The goose is loose!" Named after a creek in Floyd Co., Ky., this "hillbilly Grateful Dead" band was silenced by the sound board's drowning.
The weather dried up after Thursday, but not the music. I sat rapt at a Friday songwriter stage, inches from priceless emotion in the voices and tunes there. Later I got to jumping with the Bluebloods before going to see former Louisvillian turned Music City headliner, Ionell Mosser.
Electricity sizzled in the sardine can throng Saturday night at former gospel star Michael English's first concert in over a year. This was a coup for program coordinator Erika Wollam and Michael's joy at performing again was very apparent. "I'm Healing" was cathartic for singer and fans but English and his dynamite entourage gnostly rare levels of excitement, headed for huge pop success.
Sunday found several contributors to Liberty Records' tribute to The Beatles – "Come Together" — backed by The Nashville Symphony and bringing youthful memories to mind. John Berry's "The Long And Winding Road" was majestic and some folks gasped at Phil Keaggy's uncanny McCartney vocals. Guitar legend Chet Atkins accompanied Suzy Bogguss and they received a standing ovation; another came later for the entire cast.
Lexington, Ky.'s John Michael Montgomery closed the festival with trademark ballads, high-energy rockers and some guitar blistering. After megahit "I Swear," John gave the ecstatic mob listening a lengthy encore, ending with "It's What I Am."
The many other highlights included Western Flyer's haunting "Cherokee Highway"; the "Guys & Dolls" musical; Latin salsa; Kami Lyle's jazzy, alternative pop; local ballet and dance groups; and Bonepony's intoxicating Celtic-tinged stomp rock.
For next year s dates call 615-259-0900. l'll be dancing on Deaderick for as long as my feet let me.