"First Lady Of Country Music' Crusades for Children
By Michael W. Stout
The "First Lady of Country Music," Tammy Wynette, performed an unforgettable concert in the Bomhard Theater at the Kentucky Center for the Arts on June 3 as part of Louisville's annual WHAS Crusade for Children. Ms. Wynette appeared on stage dressed to kill in silver-gray jacket and skirt, silver shoes and, as usual, perfectly coiffed hair.
(Naomi Judd once stated that Wynette, a licensed cosmetologist, had told her to have something to fall back on because music is a fickle business). Wynette made good on her early promise to sing some of her hits from the 1960s, '70s, '80s and even the '90's, starting off with 1967's "Your Good Girl's Gonna Go Bad" and continuing with the ever-popular "D-I-V-O-R-C-E," which became a big hit the following year. She also included her own 29-year career favorite, "'Til I Can Make It On My Own, " which hit No. 1 on the country charts in 1976.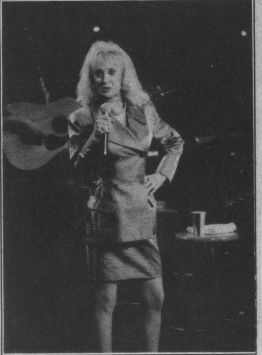 Tammy Wynette. Photo by Michael W. Stout
In addition to these country classics, Wynette drew from her more recent albums, Honky Tonk Angels (a trio project with girlfriends Dolly Parton and Loretta Lynn) and Against All Walls (her duet album with artists such as Wynonna, Sting, Elton John and Joe Diffie), offering up her self-penned "That's The Way It Should Have Been" and "What Do They Know. "
She continued with such crowd-pleasing classics as "Apartment #9," "I Don't Wanna Play House," and her 1968 version of "How Great Thou Art." And since a Tammy Wynette concert wouldn't be a Tammy Wynette concert without her signature song (and despite women's lib), Wynette proudly performed "Stand By Your Man."
Wynette's voice has seen better days and she relies heavily on her backup singers to fill in sour or missed notes, but that's easy to understand, considering that she's been singing professionally for nearly 29 years and just last year spent five days on life support. Wynette still looks frail from her illness (she thanked the fans for all the prayers, cards, flowers, etc. during her recuperation) and doesn't sound quite like she used to, but I felt honored just being in the same room with her. After all, she is the "First Lady. "
If you weren't fortunate enough to catch Tammy Wynette during her recent stop in Louisville, be on the lookout for her and her ex-husband — what's his name? Oh yeah, George Jones —as they tour the country this summer to promote their new duet album, One, on which the two combined voices once again to cut classic Jones/Wynette-style duets. The project was sparked when Tammy joined George on "Golden Ring" for his latest album, The Bradley Barn Sessions.
Wynette jokingly related that before meeting George for this session, she had wished he would sing the song in one key lower than they had done it nearly 20 years before because she couldn't sing that high anymore. When she got to the session, George asked Tammy if they could sing the song one key lower because he couldn't sing like he used to. Wynette joked that she had told him she would try her best just for him.
The One album is available in local record stores.