Tomorrow's Bluegrass Today
Offer Creek Park Festival Attendance Rises
By Les Reynolds
To paraphrase a popular movie line: "If you play it, they will come."
The 2,000-plus sometimes-drenched music fans didn't come to check a weather report – they came to hear music.
They were bluegrass fans and all braved very unpredictable weather that at times threatened to drench everyone and everything in sight.
According to event manager Gary Loeser, the three-day concert could've been a washout Saturday afternoon of the Memorial Day weekend, "but they just pulled up their umbrellas and sat there," he said. "If there's any festival to plan for in the rain it's bluegrass.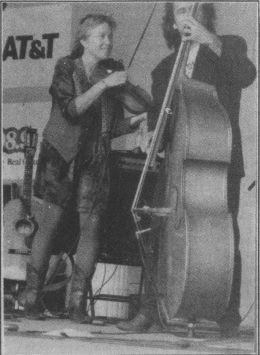 Laurie Lewis smiles as her bass player takes a solo. Photo by Les Reynolds
The fans won't let you down." The same could be said of all 22 musicians and their groups, who showed up and played the entire schedule basically on time, with several of them playing two or three times.
The Otter Creek festival proved that it could draw from far and wide as well as bring in the "big name" artists: Laurie Lewis & Grant Street came from California and one of the biggest and most enduring names in bluegrass, Dr. Ralph Stanley and his Clinch Mountain Boys, came from Virginia. Local favorites Gary Brewer and the Kentucky Ramblers took the stage as the sun finally peeked out Sunday aftemoon. Periodic workshops were held nearby, frisbees flew and folks ate picnic lunches on the grounds – a true festival atmosphere.
"Despite the rain, we're quite pleased," Loeser said, noting a 25% attendance increase over last year and the huge jump in advance ticket sales: 600 for this year's event compared with 139 in '94." "Incredible," Loeser said. Money wise, walk-up sales were less than last year, though, due to lower ticket prices. This event got $5,000 less through the gate even with higher attendance.
Two performers granted Louisville Music News a brief peek into their lives as bluegrass musicians: the vivacious Kathy Kallick, who performed with her Little Big Band on Saturday and with Laurie Lewis on Sunday; and a very tired but gracious Ralph Stanley.
Kallick, from California, came from the Chicago folk scene to San Francisco in the early 1970s to find a "thriving bluegrass club there ... bluegrass was more interesting lots of energy and I got swept up into it." A natural progression for a flat-picking guitarist. She says she enjoys festivals because the fans are comfortable, they can hear or play music, people-watch and it's "safe and cozy." Remarking on the Otter Creek fest, Kallick said that for its size, it was remarkably professional while still maintaining a personal touch. "The fans can access the performers and the sound is fabulous," she said and praised the management as well.
Kallick commented on change in bluegrass music, noting that it is no longer considered odd to write original tunes and lots more musicians are doing it now. "Originality keeps the music alive," she said. She also commented on women in bluegrass: "Yes, I'd say it is new (women fronting bands), (relative to the music's long history), but the novelty's not there anymore. Women's voices are accessible to men and women to listen to. Women fronting bands are strong figures, active and powerful role models and, I hope, interesting to men."
She records on the Sugar Hill label. Her band for the festival: John Reischman (mandolin),Jerry Logan (bass), Pete McLaughlin (guitar), Tom Rozum (mandolin) and Laurie Lewis on fiddle.
Longevity and endurance characterize Ralph Stanley. His vocals, good humor and banjo playing have been favorites to bluegrass fans for almost 50 years!
A year after a serious hip injury, Stanley lS in fine form. He's recorded — count 'em — 155 albums and has played (by his own estimation) 90 percent of all weekends since his first in 1965!
"I take care of myself and the Lord just keeps blessing me," he said humbly.
He then reflected on the changes he's seen in bluegrass music: "When I started, there wasn't any electric bass; now there are lots of new bands springing up.. they've left the traditional sound ... I guess that 's good. Maybe it needs a little change. There are also very few traditional groups left."
Musicians he's perfonned with conjure up a veritable Who 's Who of Bluegrass Music: Monroe, Sizemore, Smiley, Reno, Martin.. "I could go on and..," he said.
And, like that funny little drum-playing rabbit on television, Ralph Stanley just keeps on playing.
The Clinch Mountain Boys: Art Stamper (fiddle), Steve Sparkman (banjo), Jack Cook (bass), Ken Davis (guitar). Dr. Stanley's son, Ralph II, was resting the final days of the festival.
Stanley recorded his latest album, Gospel Gathering, on the Freeland label.
Also performing during the weekend were Kentucky Blue, Eastbound, New Horizon, Sugarbeat, The Lynn Morris Band, The Dry Branch Fire Squad and David Grier / Tony Furtado & Friends. Additional performers were The Youth All-Star Band, John Hartford, John Gage, Josh Williams and High Gear, Northern Lights, the dance team Step-N-Country, Front Range, The Charlie Sizemore Band, The Reno Brothers and Illrd Tyme Out.
Sponsors of the Otter Creek festival included the City of Louisville, AT&T, ear Xtacy, U.S. Cavalry, Liberty National Bank and Premier RV.
KJ 98.9, Fox 41 TV, Louisville Music News, Deering Banjo and South Central Bell also provided support.