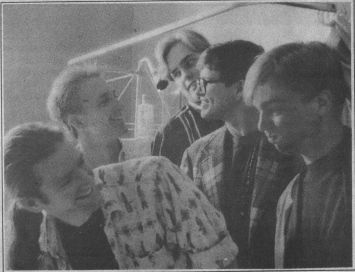 The Uglies: l to r, Patrick Fitzgerald, Mark Watson, David Marcum, Dan Kilian, and John Cooksey. Photo by David Lester
Uglies Fare Pretty Well In Farewell Performance
(Dan Kilian Embarks for New York)
By Bill Ede
The small listening room at TwiceTold Coffeehouse was filled to overflowing on June 9 as The Uglies performed their final stint as a band. Some patrons were turned away before it was decided that the back porch area should be utilized to accommodate stragglers, who continued to arrive throughout a 30-(or so)-song set of mostly Dan Kilian tunes. The long set was broken only by a brief interval wherein fellow Ugly, Patrick ("P. F.") Fitzgerald performed a custom-written song wishing Kilian well in his upcoming move to New York. Saxophone player Mark Watson then toasted Kilian, recalling thc first time he'd heard the latter's songs. (Watson could be seen flashing on Kilian's often brilliant lyrics in the hallway before joining the rest of the band on stage to round out their sound.)
And, oh 'dem Kilian lyrics. Whether writing about a "victim with a whip … with aggressive self-pity and a lethal grip" ("The Mosquito"), or a has-been beauty queen doing TV ads for charity" ("Hyenas"), Kilian exposes romanticized characters for what they are, with no overabundance of reservation (or mercy). Other songs (many from their Spoon and Fun Dip cassettes, available locally) are just downright funny. One song gives us specific instructions on doing the "Impossible Dance" ("Stand on your hands and wave them in the air. Spin on your eyeball and throw yourself down the stairs"), while in another we are told of the benefits of having one's "Baby On Top" ("There's nobody above her ... When I'm underneath my baby, I'm on top of the world").
"Here in Hell," conversely, paints a vivid picture of an infernal afterlife that is not quite what some optimists would have us believe.
The band's set was preceded by a short acoustic set by Kilian, who would later perform his "Last Kiss On the Highway" alone to enthusiastic applause. Other standouts of the evening included "Suit," "Can't Stop Rubbing the Buddha," and the show's all-too-ironic finale, "Everybody's In a Band," which was, of course, no longer true at the end of the song. The Uglies' performance included Kilian (vocals/rhythm guitar), Fitzgerald (bass), Watson (saxophone), John Cooksey (lead guitar) and David Marcum (drums).