Upcoming Live Music
By Bob Bahr
There's something musical going on every night in Louisville and not all of it consists of special appearances by out-of-town artists. Local performers provide regular, weekly nights of music that you can count on. We'll look at some regular features on the Louisville music scene in this column, but first, let's take it from the top: July 1.
The Butchertown Pub has put together another packed night of music, sating the Saturday night crowd with mainstream alternative (Starbllly), slick musicianship and songwriting (L'woo), blues (Paul McGarry & the Shuffle) and the indefinable (Common Law Cabin, Dreadful Lemon Sky). All those acts play on July 1 at the Story Avenue nightspot.
The Pub has stiff competition on the 1st: The Lonesome Pine Special all-day African music event at the Zoo and the Waterside Festival at the Water Tower. The LPS show, dubbed the Africa Fete World Tour Festival, features Baaba Maal, Oumou S an gare, Femi Kuti & the Positive Force Band and Boukman Eksperyans. All those names might not be familiar, but rest assured that these bands are the real deal. Boukman Eksperyans alone is worth the trouble of traveling to the Louisville Zoo on Trevilian Way.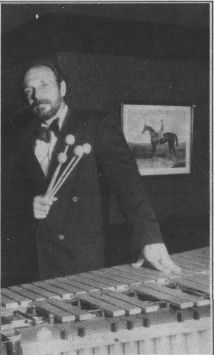 Dick Sisto performs at the Old Seelbach Bar with basssist Sonny Stephens
The Waterside Festival, held on the Water Tower grounds at the intersection of Zorn Avenue and River Road, blends original art, festival food and blues music. The scheduled acts are solid —_Steve Ferguson & the Midwest Creole Ensemble, the Mudcat Blues Band, Bodeco and the Metropolitan Blues All-Stars —but I also recommend showing up at the booth run by Van's Creole Gumbo. Van's makes great wings and tasty boiled crawfish. The Waterside Festival starts at 5 p. m. on Friday, June 30; noon on July 1; and 2 p. m. on July 2.
On July 2, the Freddy Jones Band returns to Louisville with an appearance at the Phoenix Hill Tavern. A group with fine musicians, Freddy Jones is enjoyable when they avoid a Deadhead-like meandering. Circle shares the bill with them.
The next day, sure as the sun rises, an open stage for songwriters will be held at the Rudyard Kipling on Oak Street. It's been happening that way for over a decade and though the participants come and go, the open-stage night every Monday manages to persevere. You can count on it.
The Java Men have been making their appearances at the Air Devils Inn on Monday nights a regular event too. There's no end in sight, so keep the Java dudes in mind if you're restless and in the mood for buoyant, challenging alt-jazz some Monday. Air Devil's Inn is on Taylorsville Road close to Bowman Field.
Tuesdays apparently strike a number of places around town as a good night for regular gigs. At Dutch's Tavern on Shelbyville Road the skilled players in the Jim Wilson Project gather to work through some songs. Blues/bluegrass favorite Shannon Lawson joins the Jim Wilson Project more often than not.
Pianist Ray Johnson is dependable for genteel, agreeable jazz most weeknights at Jack Fry's Restaurant on Baxter Avenue. On Tuesdays, he's usually accompanied by clarinetist Scotty MacLaury. This duo is a sure bet. So is Dick Sisto and Sonny Stephens, who play jazz most every weeknight at the Seelbach Hotel downtown. Sisto plays vibes and Stephens is an excellent bassist.
Among alternative rock fans, the Free Tuesdays at Butchertown Pub aren't much of a secret. If you want to keep an ear on the newest sounds, attending these weekly excursions is a good way to start. By the way, the Free Tuesdays aren't always free, but they are always cheap.
On Wednesdays, the Sandy Neuman Quartet hosts a jazz jam at the Rudyard Kipling. And over at Phoenix Hill Tavern, local music gets a little respect courtesy of WQMF. They broadcast the appearance of local groups on Q TOO, bringing the acts into your living room or car. Support them by showing up at PHT and hearing it live.
Zena's on Market Street has a pretty stable roster of acts that includes Kush Griffith, Smoketown Red and the Mudcat Blues Band. But my pick would be the Ron Hayden Trio, who serves up fine jazz every Wednesday night. Zena's doesn't charge a cover, they just want you to buy a beer and tap your foot.
Back to the special events. On July 2, Montell Jordan of "This Is How We Do It" fame plays Palace Theatre. The 6' 8" singer is the newest twist on the New Jack Swing theme. Time will tell if he is a one-hit wonder or long-term player.
Then Phoenix Hill celebrates Independence Day on July 3 with performances by the Rock & Roll All-Star Band, the Predators, Starbilly, Rusty Spoon Blues Band and Dem Reggae Bon. Not a bad lineup.
The All-Star Band is selected through a vote system arranged by the Courier-Journal's SCENE magazine.
Jamey Aebersold's summer jazz workshop draws great players to the Louisville area every year. This year's faculty will demonstrate their finesse at the Silo Brew Pub on July 5. For $8 ($6 for LJS members) you get to hear the playing of Hal Galper, Jim Snidero, Steve Davis, Jack Wilkins, Todd Coolman, Ed Soph, Bobby Shew, Mark Levine and others. Three different groups will perform at this smokefree show.
She was here just a few months ago, but I certainly won't complain about the return of Patti LaBelle, a fantastic singer and dynamic performer. LaBelle is at the Palace Theatre on July 6.
Headbangers take note: the elaborate crunch of Queensryche takes over the Louisville Gardens on July 7, with the equally formidable Type O Negative opening. Ear plugs are available at ear X-tacy for $1, folks.
Heavy metal thunder? I can almost hear it. Hard rock thunder? Been there, done that. But Celtic Thunder?
That's the dubious name the Lonesome Pine Special is hanging on a performance by the Trinity Dance Company, Wolfstone and the Drovers. From now on, I'll be plagued by the image of a giant green Tyrannosaurus clomping around every time I hear the Irish-rock sound of the Drovers. See the giant dino — er, see the Celtic celebration at the Louisville Zoo on July 8.
Lady Marmalade isn't the only musician getting a repeat call from the Palace. On July 8, Tom Jones returns to the Palace Theatre for his brand of soul, steam and strewn panties. Don't underestimate Mr. Jones.
The long-legged Marcia Ball returns to give Louisville another dose of her Cajun boogie piano on July 13 at the Phoenix Hill Tavern. She never disappoints.
Things cool off around Louisville until the Pat Metheny Group returns with their airy, exotic blend of Latin rhythms, jazz fusion, bop and New Age. Sources assure me that keyboardist Lyle Mays will be in tow — and that ensures a good show. If you love Metheny's recent CD releases, well, that's pretty much what he sounds like in concert. Slick and well-arranged doesn't begin to describe the sound. Guitarist Metheny and his group play the Palace on July 19.
Feel the fine, funkifried fusion of Fattburger at Jim Porter's Good Time Emporium on July 20. The cholesterol-free Napp Band opens.
July 21 brings Louisville another one of those, shall we say, DIVERSE nights at the Phoenix Hill Tavern. In one room, there's Strutter, a KISS tribute band of some repute. In another, musician Londa Crenshaw, who won't hesitate to deflate a man's excessive machismo. In between them, I suppose, is a rip in the male-female continuum. No, that's just Push Down & Turn, one of the steadiest working cover bands in the region. The Accused is also in the house on the 21st.
A full bill is more compatibly diverse at the Butchertown Pub on July 22. Bodeco leads a lineup that includes Chickenhawk, Supafuzz, the Prayers and Fannigan's Isle. The big clubs dish out something for everyone, don't they?
Bad '50s sci-fi flicks, '60s surf-guitar music and '90s lo-fi underground music collide in Man or Astroman?, an entertaining (and slammin') band on the Estrus label. Their July 25 show at the Butchertown Pub should not be missed. Chickenhawk opens.
Occasionally, the Palace books a show that makes the protective souls among us cringe, fearful of the damage that might come to the ornate theater's decor. Consider the July 26 show: Megadeth, Flotsam & Jetsam, Korn and Fear Factory. This is not to say that Megadeth fans are irresponsible and violent, just that Megadeth fans may sometimes exhibit irresponsible and violent behavior. Whatever.
And finally, the folks at the Lonesome Pine Special office have a fun double bill at the Louisville Zoo on July 29. Toby Twining Music makes a cappella sounds, then the Yellowjackets play jazz-fusion with aggressive, gripping instrumental solos. This show is guaranteed to be hot, if only for the muggy late-July weather.