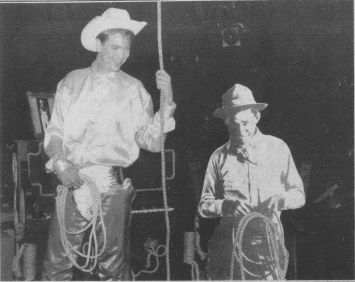 Greg White as Will Rogers
Will Rogers Follies' at Derby Dinner
By Leslie Turner
Only in America can a free-spirited, "no-account" drifting cowhand from Oologah, Oklahoma, become an internationally known writer, philosopher, stage and screen star and friend of presidents and kings. Only in America can that same rope-spinning, friend-winning cowboy become the heart and soul of his own music extravaganza more than sixty years after his untimely death, in a heart-warming, eye-popping package called "The Will Rogers Follies. "
If you are looking for a taste of one of America's greatest humorists mixed in with a taste of one of Arnerica's most extravagant Broadway producers, you must not miss one of the last few remaining productions of "The Will Rogers Follies," being presented through June 11 at the Derby Dinner Playhouse in Clarksville, Ind.
Several aspects of this 2lst season opener are noteworthy, starting with the cleverly executed set, designed by Lee Buckholz with several surprises to keep your attention. Costumes, by John P. White, were as fleshy and provocative (as Ziegfeld himself would have wanted it) as you can possibly get in a legitimate midwest theater. I heard more than a few gasps during the opening number and scanned the program afterwards looking for any disclaimers akin to NYPD Blue. (I found none.)
Improvements to the playhouse itself caught my eye, from the dressed up lobby and redesigned program (I enjoyed the personal touch in the bios) to the clever preview of an upcoming production -— what an excellent idea! Even the server was more generous than in the past with my husband's helping of roast beef and I had to splurge on one of the newer dessert choices.
After all this, I was primed for a great evening and the music and acting did not disappoint. I was surprised to see this production done so soon after the Broadway version came to Louisville, but a packed house proved it was a low-risk venture. A great script and an always dependable chorus line of Footnote performers who really earned their tips. kept this production moving. Choreography, by Barbara F. Cullen, was as clever as the great humorist himself, always catching you off guard and forcing you to listen as well as watch (cows' tails and tambourines come to mind.)
All of this brings me to Greg White, who portrayed Will Rogers with the utmost finesse. Yes, he does remind you of Jimmy Stewart and everyone tells him so. His dead-pan, "aw shucks" delivery of such well-known lines as "I only know what I read in the papers" and "I never met a man I didn't like" won the audience immediately. His biggest response came from his comment about why he likes the "Courier Journal" so much, since it "doesn't clutter up your mind with two points of view." That comment drew a spontaneous round of applause which I found very interesting! Rope tricks? Well, he had a little elp and to tell you the truth I was hoping for more, but I was impressed nevertheless.
The success of this production is more a tribute to the man, Will Rogers, than anything else, I believe. It's safe to say there's a great difference between today's comedy and yesterday's humor and this production is proof positive Americans still appreciate the greatest gift Will Rogers gave us — the opportunity to laugh at ourselves.
I didn't know a lot of people any more who might have seen Will Rogers in person, heard his radio broadcasts or read his articles. Neither have I ever been to New York to see a Broadway play or to experience the spectacle of a genuine no-holds-barred a la "Ziegfeld Follies" musical production at the Palace. (If the Derby's version is tame — and I'm sure it is —I probably couldn't handle the New York version anyway!) Thanks to the great theater offered right here in our own back yard, I don't have to fly to New York to enjoy a great night on the town OR meet Will Rogers! If there are still tickets left and you haven't been able to catch this show, make a point to see it. I believe Derby Dinner has gotten the message that we really like these flashy productions. I expect we'll see more and more in months and years to come.
Derby Dinner Playhouse is located at 525 Mariott Drive in Clarksville, Ind. For information and reservations call 812-288-8281.