Cowboy Corner
ACM Awards Full of Surprises
The 30th Annual Academy of Country Music Awards program was full of surprises May 10. The biggest surprise was probably the fact that Reba McEntire won her very first ACM Entertainer of the Year Award, beating out such greats as Alabama, Garth Brooks, Brooks & Dunn and Alan Jackson. As for Alan Jackson, he flew to California with seven nominations and walked away with just one: Top Male Vocalist. Vince Gill walked in with four nominations and walked out without a single trophy.
Hot newcomer Tim McGraw won his first two ACM awards: Top New Male Vocalist and Album of the Year for Not a Moment Too Soon. That's quite an accomplishment because he was up against Garth Brooks, Mary Chapin Carpenter, Vince Gill and Alan Jackson. Not only did newcomers The Mavericks manage to take home the Top New Vocal Group or Duet Award, they also picked up the Top Vocal Group Award.
Garth Brooks was shocked and honored to receive the Jim Reeves Memorial Award for furthering the cause of country music internationally. And there is no one more deserving of the Pioneer Award than Kentucky's own Loretta Lynn.
The entire list of winners is as follows: Entertainer of the Year: Reba McEntire; Album of the Year: Not a Moment Too Soon, Tim McGraw; Song of the Year: "I Swear," John Michael Montgomery; Top Male Vocalist: Alan Jackson; Top Female Vocalist: Reba McEntire; Top Vocal Group: The Mavericks; and Top Vocal Duet: Brooks & Dunn.
Top New Male Vocalist: Tim McGraw; Top New Female Vocalist: Chely Wright; Top New Vocal Group or Duet: The Mavericks; Video of the Year: "The Red Strokes," Garth Brooks; Pioneer Award: Loretta Lynn; and Jim Reeves Memorial Award: Garth Brooks.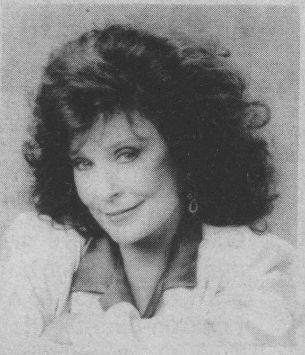 Loretta Lynn
Musician awards included: Bass: Glenn Worf; Drums: Eddie Bayers; Fiddle: Mark O'Connor; Guitar: Brent Mason; Keyboard: Matt Rollings; Specialty Instrument: Terry McMillan for harmonica; and Steel Guitar: Paul Franklin.
Radio Station of the Year: Nashville's WSIX; Disc Jockey of the Year: Gerry House of Nashville's WSIX; and Nightclub of the Year: Billy Bob's in Ft. Worth, Texas.
Congratulations to all the winners!
Country Radio Ratings Vary
Louisville radio ratings were recently released and country radio still has a strong hold on the radio airwaves, although there were several changes since the last ratings. "The Country Leader" 97.5 FM WAMZ experienced a very unusual drop in ratings from January through March, but managed to hold onto its number one ranking, still beating out the number two station, 840 AM WHAS. 107.7 FM WHKW "The Hawk" made a significant jump over the last ratings, moving from number eleven all the way up to number eight.
WAMZ's sister station, "Real Country" 98.9 FM WKJK slipped two spots since last fall from number seven to number nine. Country oldies station 620 AM WTMT slipped three spots from number seventeen to number twenty.
Hot New Country
There's quite a variety of hot new country at your favorite local record store these days. The next time you stroll in to browse through the country records, be sure to look for Daryle Singletary's self-titled debut album; Dwight Yoakam fans won't want to miss his latest, Dwight Live; and Shenandoah fans will definitely want to pick up The Best of Shenandoah. Confederate Railroad has a hot new record coming out titled When and Where, as well as Kenny Chesney with All I Need to Know. Ray Stevens fans will have to have Ray Stevens Live and Michael Martin Murphy followers will want The Best of Michael Martin Murphy.
Fans of older country will be in hillbilly heaven with The Best of Chet & Friends with Chet Atkins and a whole slew of his musical buddies, the Floyd Cramer Collector's Series, Charlie Pride's Greatest Hits #2, The Best of Don Williams, Jim Stafford Greatest Hits and The Essential Glen Campbell, Vol. 1.
State Fair Puts Damper on Country Concert Scene
The country concert scene is currently suffering a good run of bad luck. At this writing there is only one country concert scheduled for the Louisville area: Doug Supernaw will be sure to sing hits such as "I Don't Call Him Daddy," "Reno" and "State Fair" when he performs a free concert June 9 on the Belvedere as part of the Louisville CityFair. This current concert draught can be attributed to the Kentucky State Fair's rapid approach.
Country music has been well represented at the state fair in recent years and I don't expect this year to be any different. No word yet on who will be playing at this annual event, but it won't be long. Something tells me that Brooks & Dunn and George Strait will be on the list, but nothing's written in stone yet. Keep reading and I'll let you know as soon as I get the word.
Cowboy Corner Country Quiz
Q: Was Naomi Judd married to husband Larry Strickland prior to her diagnosis of chronic active hepatitis?
D. Cornett, Louisville
A: According to the recently aired movie of the Judds' life story, NBC's Naomi and Wynonna: Love Can Build a Bridge (based on Naomi's best-seller autobiography, Love Can Build A Bridge), Naomi Judd married longtime beau Larry Strickland (a former Elvis backup singer) AFTER her diagnosis of chronic active hepatitis, the disease that forced the "Queen of Everything" (as daughters Wynonna and Ashley refer to their red-headed boogie-woogie babe from Mars of a mother) to retire from country music. This aspect of the movie has sparked several comments, questions and conversations.
Although Naomi had been diagnosed with CMV (cytomegalovirus) in 1987 and had been seriously ill for quite some time, she was not actually diagnosed with hepatitis until after her marriage to Larry. Naomi and Larry were married May 6, 1989 and the first idea of Naomi having hepatitis was not introduced until January 12, 1990, the day after her 44th birthday. Naomi's health continued to deteriorate and she tearfully announced her plan to retire from country music at 3 p.m. on October 17, 1990, in the old RCA building where she and Wynonna had signed their first recording contract seven years earlier. The Judds toured the country performing their Farewell Tour in 1991 and their final concert was painfully performed December 4, 1991, in Murfreesboro, Tenn. The end had finally come to one of the most incredible, magical and harmonious musical unions the world has ever experienced.
Naomi has since been correctly diagnosed with hepatitis C, but she will be the first to tell you that she is in remission. She is currently enjoying spending time with her husband of six years at Peaceful Valley, their farm in Franklin, Tenn., as well as spoiling her first grandchild, Elijah Judd Kelly (Wynonna's tyke), when she is not traveling the country speaking to women's groups and at medical conventions about self-healing from inner strength, hope and faith in God. She feels that drugs will sometimes fail you, but God never will. Naomi is a strong believer in and promoter of guardian angels. "They're my guardian angels and I'm their little one."
If you have a question you'd like answered about one of your favorite country artists, please send your question, along with your name, to: Cowboy Corner Country Quiz, Louisville Music News, 7505 Cambridge Drive, Crestwood, KY 40014. Please don't hesitate to send in your question. We're anxious to hear from you.
Well, that's it for now. Always remember: Keep your boots shined up and your hat on straight, 'cause country music is comin' your way.