I've Got A Mind To Ramble
Have I Got Blues for You
Occasionally I get a call from a manager of a blues act asking me about opportunities for their musicians to perform in Louisville while they are touring between gigs. Since I don't like to be the middleman, I'll give them the names of several suitable venues and let these agents work out the booking details.
This was the situation when Stephanie Mana of Blues Etc., who represents bluesman James Peterson, called me. A deal was struck on very short notice with the Backstage Cafe for him to perform on May 11. Since there was no chance for any publicity, only a handful of people were in attendance. One of the rewarding joys of following the blues is catching an outstanding show by a blues musician that is unfamiliar to you. James was a personal discovery for those few who were at the Backstage that night.
James Peterson and the Dream Team
James and his band, The Dream Team, were en route from his home in Ybar City, Fla., to Chicago to play at Rosa's. (He will be back in Chicago again during the Chicago Blues Festival on June 2 and 3 to play at Kingston Mines.) James looks the bluesman with a gold scorpion hanging around his neck, an earring in his left ear and the letters "JP" embossed on his two front gold teeth. His powerful slashing guitar technique reminds me of another unheralded bluesman, Eddie Kirkland, and he makes you wonder where he has been the last 40 years of his career.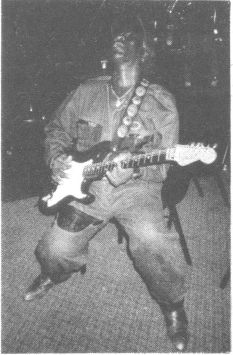 James Peterson at the Backstage Cafe. Photo By Keith Clements
James was born in 1937 in Russell County, Ala., which was a rural farming community. He first sang spirituals in his church, but it was his father's small juke joint that hooked him on the blues. When he was only 14 he traveled to Chicago to sing in a friend's band and be influenced by the great blues legends playing in the Windy City at that time. James went to Buffalo in 1955 where he played in various bands and eventually opened his own club, the Governor's Inn, House of Blues, in 1965, providing the music as the house band for many national acts.
It was during the '70s that his son, Lucky Peterson, grew up in this same blues environment and became a child prodigy, performing on James' first album at the age of 5. After several extended stays between Florida and Buffalo, James settled permanently in Florida in 1981. His latest recording, Don't Let the Devil Ride on the Waldoxy/Malaco label, showcases his excellent songwriting, singing and blazing guitar. Peterson wrote eight of the 10 songs on the CD and Mike Griffin, of the Unknown Blues Band, helps out on guitar.
Now back to the show. The blues Dream Team includes Danny Bagsby on keyboards and rhythm guitar, Charles Davis on bass, and the drummer, Paul Lee. I enjoyed this stripped-down band on stage better than the slicker CD production. James coaxed and got the few of us involved by moving out into the seating area on a remote and singing "I've Had My Fun (If I Don't Get Well No More)." He held his guitar up to his face and sang into the mike pickup.
Each year a Handy Award is given for the best blues song; well, my vote is for Peterson's beautiful slow blues "Went Too Far, Stayed Too Long (Got Back Home a Little Too Late)." His lyrics and licks makes this song a contemporary classic. Some of his early country gospel influences came through on "Children Gotta Eat." This seasoned performer did three long sets, sometimes sitting on his amp as the show wore on.
When James Peterson returns to Louisville with better advance notice, his show deserves to be packed.
Garvin Gate '95
This year's Garvin Gate Blues Festival (Oct. 13-15) is shaping up to be another fantastic weekend, with a strong Chicago blues connection. Friday night will feature Magic Slim and the Teardrops, Mississippi Heat with Dedra Farr will perform on Saturday, and Sunday will climax with Byther Smith and the Nightriders. Byther put on a great show several years ago during a KYANA Blues Society concert at Bellarmine college. Sue O'Neil and the Blueshounds will be rattling the rafters in the Rudyard Kipling both Friday and Saturday night after the music is over outside.
Blues in That Toddlin' Town
By the time you read this I will be up in Chicago's Grant Park at the 12th Annual Chicago Blues Festival (June 2-4). Saturday will feature Otis Rush and Luther Allison on the Main Stage and there will be a tribute to the multitude of blues legends that were born in 1915. Don't forget to tune the evening performances that will be broadcast over WFPL.
Keith Clements is president of the KYANA Blues Society.