Songwriter of the Month: Paul Moffett By Jean Metcalfe
His railroad cap has been replaced almost exclusively by a dark wool beret, and his reading on the local recognizability meter is in the high range.
Paul Moffett, immediate past president of the LASC, came to the Louisville-area music scene from Dallas, Texas, in 1971 and fondly remembers seeing mandolin madman Sam Bush and Newgrass Revival playing at The Great Midwestern Music Hall during the heyday of music on Washington St.
For six years Paul hosted and performed on the area's longest-running open stage at The Rudyard Kipling on Oak St. Upon his retirement, he was honored at a surprise farewell party by members of the LASC -- who was by then sponsoring the event -- for his dedication to local music.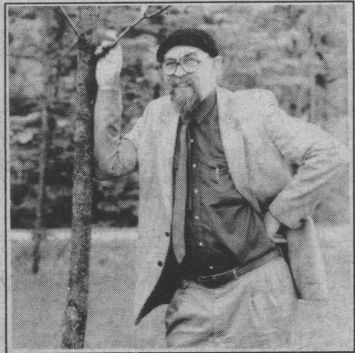 Paul Moffett. Photo by Jean Metcalfe
One of four founders of the Co-op in 1986, Paul served as its first president until early this year, when he willingly turned the bung knocker gavel over to current president Paul Dell Aquila. At that time he relinquished his unofficial title as "LASC President for Life."
Paul has been on the LASC's Board of Trustees continuously since the Co-op selected that form of government shortly after its inception, and currently serves as the organization's treasurer.
In April of 1989 Paul and this writer began publishing Louisville Music News, which was spawned by and now contains the LASC Letter. He is responsible for the newspaper's advertising sales and layout, and serves as associate editor, among other duties. The June edition of Louisville Music News brings the number of monthly issues printed to 75.
In the early '80s, Paul was part of the trio Gemjam, with Marie Augustine and Dave Evans. It was with Gemjam that Paul once performed as part of the Center Stage series at the Kentucky Center for the Arts' Bomhard Theater.
A Paul Moffett list of original songs would contain about 75 titles ("not enough," he says) and arguably the best known of them in open stage circles is one he co-wrote with Dave Evans, "Cotton Mouth Blues," a condition he admits to experiencing at the Bomhard Theatre performance.
Paul's infamous song critiques are feared -- and desired -- by aspiring songwriters who wish an honest opinion of their songs. His encouragement -- and sometimes perceived discouragement -- of songwriters has earned him a niche in local songwriting folklore.
Contrary to rumors that have circulated since the early days of Louisville Music News, Paul Moffett is not a "60-year-old guy who hates rock 'n' roll."