The Tiger Changes Owners But Not Its Stripes
By Paul Moffett
The Toy Tiger has a new master – Dennis Clark, former policeman, current entrepeneur and first-time bar owner.
But it'll still be the Tiger, according to Clark. "It's a rock 'n' roll bar and always will be," he said.
Clark, together with his wife Judy, bought the bar just because he "wanted to be in the bar business." He currently owns several balloon-delivery companies.
"Most people who buy a bar want it to be like 'Cheers,' a little place where everybody knows you," Clark noted. "I looked at two or three small bars and there were like the same twenty guys who came in every night."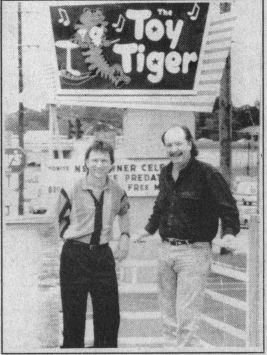 Perry Scroggins, left, and Dennis Clark
"If somebody tossed a grenade in the front door, then you're out of business."
When his business broker told him about the availability of the Tiger, he was hesitant, but, after talking to Freddie Brown, longtime owner/manager of the Tiger, and looking at the numbers, he and his wife decided to go ahead with the deal.
Clark was impressed by the longevity of the staff, many of whom had worked at the club for years, which has been at its current location for twenty-three years.
Rock 'n' roll includes homemade bikini and banana-eating contests, the snakeskin boot-clad Clark admitted. It also means concerts, said Perry Scroggin, who has been promoted to manager.
"I'm open to ideas from Perry and the staff," he remarked. "I don't know enough about the local music scene to really deal with the bands and they do."
Clark wants to try to help out local bands.
"Maybe one or two of them will go get famous and then come back and play. And give me a break on the price," he chuckled.
"Always something happening" is the basic idea, he noted. His patrons should be able to listen to live music in one room, walk into another for some kind of contest, sit at the bar and drink and drop change into the games in the game room.
Like all new club owners, Clark is optimistic that old Tiger fans will continue to feel right at home and that new Tiger fans will come in to check the place out.