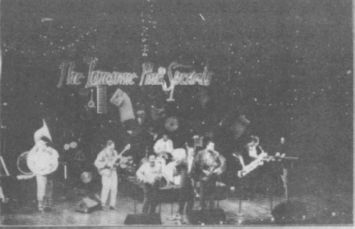 Mardi Party
By Jean Metcalfe
Nobody at Stairways on the evening of Feb. 17 seemed to mind that the Mardi Gras benefit party thrown by the Advocates for WFPK/WFPL was not happening on the exact day that gave it its name. Especially not since the evening's buffet of authentic New Orleans cuisine was catered by the lady who gave Lynn's Paradise Cafe its name. (More than a few plates leaving the buffet tables were seen to actually overflow with such delicious concoctions as seafood etouffe and crawfish pie. Fortunately the latter didn't taste anything like the crawfish a la hobo my brother cooked when we were kids.)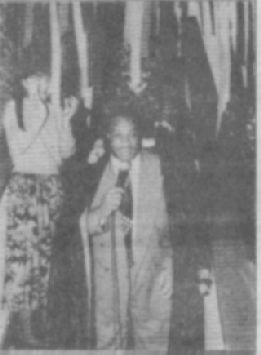 Ron Cooper, King of Mardi Gras
Ron Cooper, the University of Louisville's enthusiastic new football coach, likewise didn't seem to mind being crowned King of the Mardi Gras – his "first time to be crowned anything."
Who was that masked man who placed the crown on Cooper's head? It was WFPK/WFPL's tireless general manager Gerry Weston, assisted by the stations' similarly masked Vicky Costello.
Although there didn't appear to be any heavy-duty revelers in either of the two party levels at 627 West Main Street (well, actually, the occupants of one table did seem to be having more fun than the rest), a LynnWinteresque green frog on the buffet table seemed ready to toot the horn that was clamped between its lips.
Most assuredly, Ray Strothman, the lucky party-goer who won the stereo system from Ovation Audio-Video Specialists, didn't mind.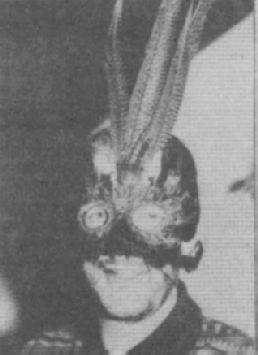 Who was that masked man
Even the weatherman cooperated to make enjoyable the stroll from Stairways to the dance party at the Kentucky Center for the Arts. Festive lights snaked about the KCA's Bomhard Theater and outlined the popular dance floor as the Dirty Dozen Brass Band kept 'em jumpin' at the Lonesome Pine Special concert.
A word about the DDBB. See, there were the old guys and the new guys (in about equal numbers) this evening, and their leader decided – seemingly on the spot – to dub them the New Dirty Dozen Brass Band. (Later in the evening he decided they were merely "The Dozen.")
The Dirty Dozen Brass Band had earned the name back in the '70s because they were hired so often to play at the Dirty Dozen Social and Pleasure Club, one of the few such clubs remaining in New Orleans at that time. (The social and pleasure clubs were an outgrowth of the burial societies and "sou sous" that proliferated in black areas, especially prior to World War II when life insurance was not available.)
Obviously the renowned DDBB does not limit its playing to Mardi Gras festivities; since 1982 the band has been all over the world and has performed at all the major festivals, including Montreux, and are regular performers at the New Orleans Jazz and Heritage Festival. It showed.
Meanwhile, back at my desk the next day I spied my whimsical Fat Friday party favor and fervently wished Lynn's Paradise Cafe had insisted on sending me home with a doggy bag.