Up Close And Personable
By Michael W. Stout
When country music fans hear the name Billy Dean, hit songs such as "Billy the Kid," "You Don't Count the Cost," "We Just Disagree," and "Somewhere In My Broken Heart" immediately come to mind. Billy Dean is no stranger to the top of the country music charts; he is also no stranger to country music awards. In addition to several award nominations, Dean has received Country Music Television's Rising Star Award, the Academy of Country Music's New Male Vocalist of the Year Award and the Song of the Year Award in 1992 for "Somewhere In My Broken The latter song, Dean's personal favorite, has also received the Million-Air Club Award signifying that it has been played in excess of 1 million times on the radio. Dean considers this country classic the biggest sueeess of his country career.
We all know about his music career, but what is his personal life like? Well, he spoke candidly about both with Louisville Music News recently.
Dean is not currently touring since the birth of his second child. He and his wife and two children (a boy and a girl) live on a lake outside of Nashville. "I'm mostly sticking close to home, because that's what I want to do right now with the newborn I've been on the road for four years, hitting it pretty hard and finally reached a point in my career where I don't have to beat myself up as much as I used to have to do. I'm mostly staying home and writing and riding my motorcycle and raising my kids."
Dean is taking this well-deserved break from the road because touring is difficult on his personal life. "It's hard to make any kind of family atmosphere or being a husband or being a father when you're not there. If I was twenty-five and single, I'd probably never come home; I'd stay out there all the time. But I have other responsibilities besides music."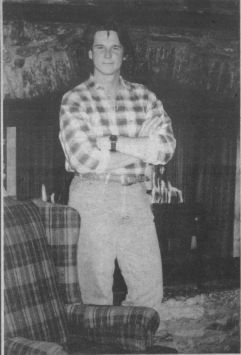 Billy Dean in Louisville
Dean didn't expect the music business and the road to be quite so grueling. As a matter of fact, he had no expectations of the music business at all. "It was everything I heard. It's brutal, it's vicious, but it's rewarding too. I think the thing that surprised me the most is there's not a whole lot of loyalty in the music business. It just so happens that it's one of the most incredible businesses to be in, so why shouldn't it be the toughest?"
Dean started playing guitar in grade school, started performing in his father's country band at the age of eight and was touring the Gulf Coast of Florida as a teenager, composing and performing his own songs. He first realized he wanted to be. a country singer when he was in about the tenth grade. "I always knew that I wanted to do this because it was the only thing that I couldn't put down for more than a half-hour or so. I'd run outside and play a little bit and come back in and grab the guitar and sit and pick a little bit."
"I'll never forget, my mom was always – my dad too — was always getting onto me about leaving my guitars out. It was like as soon as I'd put it up, I'd have to take it right back out because I was going to play it, so finally I got a little upset and took all the guitars and put them up in the attic and swore I'd never bring them fown again. They made me get up there and take them out and never said I had to put them up again." Fortunately, Dean hasn't put his guitar down since then.
Nashville encouraged Dean to move from Florida while competing on the Grand Ole Opry stage in the Wrangler Star Search Competition, but he felt touring was more important. He toured extensively and his songwriting started to be noticed, so he finally moved to Nashville.
Once living in Nashville, he became a country music star overnight, right? Wrong! "Really, I think the biggest hurdle for me has been having my music and my art taken seriously because of what I look like."
That's right, Dean's looks have stopped — and continue to stop – several women's hearts. "Everybody says, Well you've got the whole package: You're handsome, you're talented.' I think the looks, the physical, the outside appearance has taken away from some of the music. Right at the beginning of my career, I got kind of thrown into that country hunk thing. I didn't resist it because I thought, 'Well OK, this is what they're making me out to be.' As an artist and a singer/songwriter, I feel like it hurt my credibility."
Dean can't complain too much about the effect his. – physical appearance has had on his music career, though, gaining non-country music fans. "In [the country music] regard, it really did [help] and it's helped me in the television and film work. In that business, looks are just about everything. So, in the television end I think it's helped me a lot."
Dean feels that his looks aren't everything. "You ought to see me in the morning; I look like hell." He does feel fortunate though. "I have all my teeth and I'm halfway educated." Dean actually attended college on a basketball scholarship. Not too bad for a good ole country boy towering well over six feet tall.
But he doesn't let his popular looks stand in his way. "The thing I love the most is writing songs and I love to stumble across music that touches a lot of people and people realize that it makes me human when they hear songs like 'Billy the Kid' that they can relate to. That's really all I want out of the business, to be able to do that. If I record songs that other people have written, it's usually a certain kind of a style or a certain kind of a message like ['You Don't Count the Cost'] that I tend to gravitate towards."
Dean assures us that he definitely takes more pride in his songwriting than his singing. "The singing is just an instrument, a vehicle to get the song heard and bring it to life, although I've worked real hard to be a singer. [With] the time off now I'm ready to sort of go back to school. I'm hanging around my old songwriting buddies, some people who are really master craftsmen. I'm kind of, like, going back and furthering my education really."
Dean doesn't take his country star status lightly, just as he doesn't his songwriting. "I'm' very proud to be a country star, or celebrity, or whatever. I love the level I'm at right now because I have a little more, I think, of a mature fan, so I don't get chased around cities or hotels or anything like that; they're very polite fans. So, I m not really a reluctant celebrity at all."
He didn't feel like a star until his first visit to Country Music Fan Fair in Nashville. "Probably at Fan Fair's when I realized, when there were people who'd been standing in line to get my autograph for ten hours or something like that, I guess I realized." Long hours meeting and greeting the fans, smiling, taking pictures and signing autographs normally doesn't bother Dean in the least. "For just a split second you can make somebody really happy and excited and make them forget the rest of their problems for a few minutes. I think that's probably what I was put down here for."
Dean enjoys meeting the fans and doesn't feel it is a bother, but claims that "the only time it gets to you is when your scheduling [is hectic]. What I was doing, I would go out, I would tape four or five hours of ABC 'In Concert,' I'd do the television show, then I would go do an in-store, I'd sit for four hours at Wal-Mart, or Kmart, whatever store, or a record shop and sign autographs, then I'd have to go do my show. By the time I got to my show, I was exhausted and didn't really feel like going out and playing. That's when it started bothering me. Everything else started taking away from what I love to do, which is performing and that's when I just said, 'I'm not going to do that anymore; I'm not going to let the industry or the business part of it take my love to play away.' Playing comes first and then if I have time."
Fortunately, Dean's current sabbatical from the music business is not permanent. He plans to be back in the game later this year, full force. "What I'm really going to do, as far as performing goes, is, right now, I'm writing kind of an acoustic unplugged album. It's all my songs, with the exception of two songs I'm going to record. I'm basically writing a new album just for myself and I'm going to tour that, hopefully in the fall, doing theaters just unplugged. It's kind of songs that I've collected, songs that I ve written, songs that would never be accepted probably on the radio or in country music. It's music that these people will never get a chance to hear unless 1. get out there and play it for them because: they're great songs and it's very entertaining music, but it's not what you consider probably commercial. That's what I've enjoyed the most, I did two dates, one in Lexington and one in Ashland, Ky. and had the best time I've had in three or four years playing."