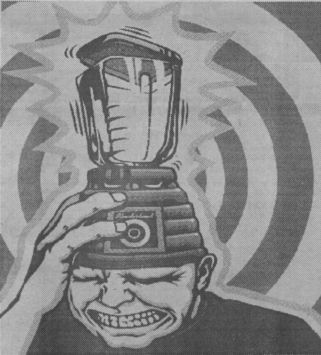 the punk antidote
Prime Candidate For Burnout (Tooth and Nail Records)
Blenderhead
Frail (Tooth and Nail Records)
The Blamed
By Robert Gruber
Critics these days are having a blast heaping scorn upon Seattle. Once the "grunge capital" of the universe (and springboard for the 90's rock sound), now Seattle is seen as a mined-out vein, with only the fool's gold of bands from out of town left behind. The cream of the crop is now fat and angst-free on major labels, Sub Pop is now a division of Greed, Inc. and the rest of the world is searching frantically for the "next Seattle."
Meanwhile, out of the still-smoldering ashes of hype and frenzy rose Tooth and Nail Records, an upstart Christian label that has scored big in its first year of existence with a slew of extremely hard hardcore bands. In the wake of Green Day and the Offspring, so-called "authentic punk" is the "now" thing, but most of the acts on Tooth and Nail make those over-hyped major-labelers sound slick, tired and uninspired by comparison.
Blenderhead, for example, has all the earmarks of a MaximumRockNRoll top-pick.
Bill Powers has an emotional dynamic to his sing/shouting similar to Ian McKaye, which makes sense since much of this band's music has the same sort of raw, mechanical sounding slamma-jamma as Fugazi. Although lyrically the band rails against such topics as political correctness and abuses of various kinds, Powers' ranting isn't just the same old thing — there's a lot of clever phrasing in songs like "Bottle Breaker," "Alcohol House" and "National Drug" that lifts this record above the norm. Produced by Aaron Sprinkle (of fellow Seattle band Poor Old Lu) the sound is big and brash, with extreme emphasis on the drums.
The full-frontal assault of The Blamed is showcased on their second album, Frail. Much of Frail has a more familiar-sounding thrash-and-burn quality to it than Blenderhead, with hard, detuned guitars coursing over breakneck, Bad Brains-ish rhythms. New lead singer Jeremy Moffet spends most of his time shredding his vocal chords through such raw titles as "Feeding the Ignorant," "No Difference" and the thudding "For You." Trying his hand at more straight-out singing (on the ballad-like "Brecze"), Moffet sounds like a young Greg Dulli — not a bad thing.
The Blamed comes closest to capturing the spirit and fire of the Crucified, a legendary (now-defunct) Christian punk/thrash band that torched the way for many of the acts on Tooth and Nail. And while their lyrics seem too often to plumb the depths of teenage, guilt-ridden angst, the Blamed offers a solution that most bands of their ilk do not: the saving message of Jesus Christ, rendered straightforward and unashamed. Not since the hymns of old has gospel music been this upfront and honest.