I've Got A Mind To Ramble
Over Morning Edition on NPR came the sad, moaning blues of "Dark Road" by Floyd Jones. This was the opening of a tribute announcing the passing of the great Chicago blues pianist Sunnyland Slim on March 17. He was born Albert Luandrew in 1907 in Vance, Mississippi.
From 1918 to 1995 Sunnyland played with the likes of John Lee Williamson, Tampa Red and Muddy Waters. After he came to Chicago via Memphis in 1942, he was responsible for getting Muddy into the recording studio to make his first Chicago recordings on the Chess brothers' original Aristocrat label. Sheldon Harris' book Blues Who's Who devotes 2-1/3 pages to Albert Luandrew.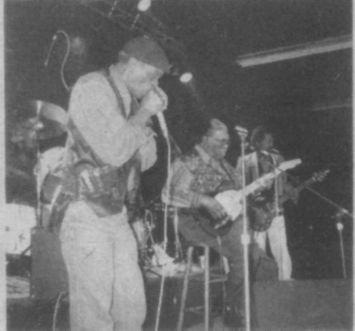 Big Daddy Kinsey & The Kinsey Report at the Backstage Cafe on April 12. Left to right, Nate Armstonr, Big Daddy Kinsey and Donald Kinsey. Photo by Keith Clements
Sunnyland remained very busy since 1978 (where the book stops), recording on Red Beans and his own Airway record label. The long list of songs Sunnyland has written includes "Tin Pan Alley," "Brown Skin Women," "Every Time I Gets to Drinking," "Got to Get to My Baby," "Miss Bessie Mae," "Sad and Lonesome" and "Sunnyland Train," from whence he got his name. He was one of the most recorded of all bluesmen, with over 200 recordings credited to him. He was known for his gentle strength and for helping younger musicians, and was considered the patriarch of the Chicago blues scene.
At the 1994 Chicago Blues Festival I had the opportunity see Sunnyland perform on two occasions. On June 5, Sunnyland performed a set of his standards on the Front Porch Stage. He had to have assistance to get on the stage, but when he began to play his piano with that characteristic easy rolling bassline mixed with his cascading treble flurries the years rolled back.
One of the highlights of the Festival weekend was the 15-year celebration of Earwig Records, staged by Michael Frank at Buddy Guy's Legends on June 2. The place was packed with such legends as H-Bomb Ferguson, Lovie Lee, John Primer, Mad Dog Lester, Big Jack Johnson, Jimmy Dawkins, Maxwell St. Jimmy and Sunnyland.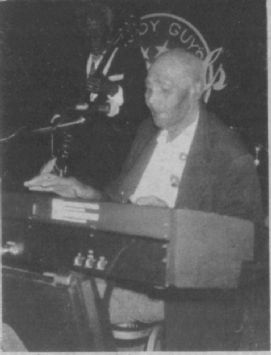 Willie Johnson, left, with Sunnyland Slim at Buddy Gay's Legends on June 2, 1994. Photo by Keith Clements
The accompanying photo has special meaning, for if you look closely you will see Willie Lee Johnson playing guitar along with Sunnyland. Willie played with Howlin' Wolf from the late 1940s to 1959. He can be heard on the Wolf's "Saddle My Pony," recorded in the Sun studios in 1948, right through to "Smokestack Lightnin'," recorded in 1956 for Chess Records. Check out your early Wolf recordings on Chess and you will hear his dense, distorted guitar style that powered Wolf's live and recorded music through the mid-'50s.
After Hubert Sumlin replaced Willie in Wolf's band, he continued to play on the weekends in Chicago during the '60s and '70s. Willie's last public performance was this June night at Legends, for he passed away about two weeks before Sunnyland.
•
I was a lucky recipient of a ticket for the Big Daddy Kinsey & the Kinsey Report concert at the Backstage Cafe on April 12. The Backstage gave the KYANA Blues Society ten complimentary tickets, which were distributed by a drawing during KBS' April 8 Bluesland Cruise. The crowd was sparse for the high caliber of this father-and-son band from Gary, Indiana.
Lamont Gillespie and the Homewreckers opened the show. (He was scheduled to see his doctor that week to determine if surgery would be necessary to correct a medical condition.) Joey looks good with the help of medication.
The band did an excellent 40-minute set featuring their original "Things Gonna Change" and Otis Rush's "All Your Love" which is one of their cuts on the Live From the Slippery Noodle Inn Vol. 2 CD that has just been released.
This was the first time Lester Big Daddy Kinsey had played in Louisville, while the Kinsey Report (which includes his sons Donald on lead guitar, Ralph on drums and Kenneth on bass, plus Ron Prince on rhythm guitar) have performed here before. Big Daddy's last release was "I Am the Blues," on the Verve label, which is a tribute to Muddy Waters with many members of Muddy's band participating. A new record, Ramblin' Man, on PolyGram will be available soon.
The Kinsey Report opened each set, featuring Donald's virtuoso guitar. Rick Mason, who was sitting next to me during one of Donald's extended solos, said, "He doesn't leave much space between his notes but he knows how to fill it up." They play their music with a lot of contemporary grit but stay true to the blues heritage of their father.
Shortly before Big Daddy came up on stage Nate Armstrong blew some harp, which brought the band back to their roots. Nate has played with the band for ten years and originally performed with some of the King Biscuit musicians in Helena, Arkansas. Now when Big Daddy performs he usually sings, for arthritis affects his hands, but near the end of his second set he pulled out his guitar and slide. Those of us who stayed late were all transported way back with "Juke House Blues," "Good Morning Mississippi" and "Blow Wind." There is no generation gap with the Kinseys for they play their blues as a living tradition.