Down On The Corner
• Beat it, Daddys. According to Malaco Records, the Beat Daddys have disbanded and, at this time, there's no word on other plans of the various members.
• Unsolicited Plug Dept. Here at LMN, we don't review restaurants very often (read: never), but we sure do eat in them and, like everyone else, we have our faves. This spot is reserved for two of my personal choices for Restaurants I Fervently Hope Stay in Business So I Can Keep on Eating There.
• Number one is the new branch of Clifton's Pizza Company, located at 4111 Murphy Lane, just off Westport Road at the Kentucky Truck Plant. Tucked into a little shopping center next to Miller's Cafeteria, owners Mark and Jason are looking at the truck plant for business, but the rest of us who live in the area can enjoy the food. It's not long on atmosphere but who cares when you can eat their food? They have four or five tables for eating in and carry out, which is best, because the pizza dough is handmade and rolled out after you order, so it takes time. If you haven't eaten at C1ifton's, go there now and consume, or call them at 327-6644 and order a calzone, made to your specifications. Yum.
• Then there is the Take Me Away Gourmet, 9305 New LaGrange Road, at Whipps Mill Road in Lyndon. Specializing in whatever low-fat and/or gourmet dishes owner/chef Randy Frederick dreams up, this takeout spot will forever end any complaints about bor-r-ing food, 'cause it ain't. It's hard to characterize Randy's dishes, because he's inventive and changes his menu frequently. The Low Mein is usually available, though and appears regularly on my table.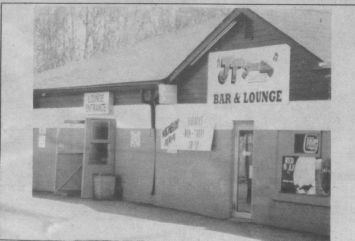 J. T.'s Variety Club
His entrees, usually enough to feed two people, run in the $6-10 range, which means you can eat wonderful gourmet food for about what you'd pay for something much less interesting. And his desserts are, as they say. to die for. – The phone number is 426-8122 but it's better to go there and smell the food. More yum.
• Yeah, But Can He Act Dept. Kris Kristofferson's new film, "Pharoah's Army," a Civil War film, has been getting good reviews since its first screening earlier this year. Why is this an item? The guys at Melody Hill Studios, Vince Emmett and Charles Ellis, composed and recorded the soundtrack, which has also been getting good comments. They worked on it for some time – I know, because I was out there last fall, trying to get a demo cut. Emmett delivered the demo in time for a seminar, in spite of the heavy workload.
Bill Porter is also doing work at Melody Hill and is available for consultation and engineering. As regular readers of this column know, Bill's recording credits read like a Billboard list of number one records, starting with Roy Orbison and Elvis.
Contact Melody Hill at 502-267-5298.
• While We're At It Div. Elliott Sewell's Volcano Recording Studio in Kettle, Cumberland County, Ky. , is up and running after a long spell of building. Sewell has New York experience in the business and is offering full service recording to musicians and songwriters. Contact him at 502-4337900 or 212-475-8340.
• Get Your Sticks and Go. Nelson drummer Bobby Rock will be holding a clinic at Music Warehouse on Tuesday, May 23, at 7 p. m. Rock is a drug-and-alcohol-free vegan and drum fiend, who is traveling for Peavey, Sabich and Aquarian and will be demonstrating the new Peavey drum kit. Call Robert Fiandaca at 456-4730 for more details.
• Local gospel singer Chuck Higginbotham's release, "God is My Refuge," has been on the National Southem Gospel chart published in the Singing News for seven weeks. Congrats to Chuck and will you keep on fixing my car? (Higginbotham's day job is as a mechanic at J. R.'s Volvo.)
• The Country Gentlemen Scores an Award. Our bluegrass columnist, Berk Bryant, picked up the Traditional Music Association's "DJ of the Year" award at the Ryman Auditorium on April 15. Berk said he was "shocked."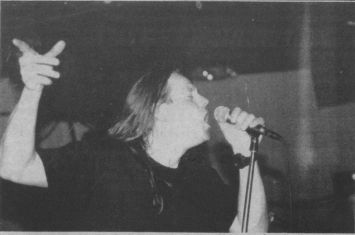 Jimi V of the Predators preaches that rock 'n' roll gospel at ta Toy Tiger VIP party on April 14. Phoot by Robin Alecia Roth
• The Kids are Alright Division. The Louisville Male High School Concert and Symphonic Bands recently received Superior ratings at the District Level of the Kentucky Music Educators Association Festival. Plus, the Bzind also traveled to Washington, D. C. , in April and picked up "First Place" in their Divisions in the National Adjudicators Invitational. Pretty good, eh? The kids don't get enough plaudits.
Go give them plaudits at the KMEA State Concert Band Festival at Louisville Male High on May 8 and 9. The event goes on from 8 a. m. to 9 p. m. both days, with a $2 admission fee. Or on May 16 and again on May 23, the bands will give their traditional Spring Concerts at the Sallie Phillips Durrett Auditorium on the Male Campus on Preston Highway.
• Nuff Said Dept. The Insider's Guide to Greater Louisville is available at your local bookstore. Written by Julie D. Segal and James Nold Jr., the book is full of nifty stuff you knew and forgot or didn't know about Louisville. The book even mentions LMN and chides us for our lengthy stories. Is this short enough?
Club News
• Shooter's Sports Bar, 3423 Bardstown Rd. , has been open for nine months, but just started booking live music. Owner Paul Webb has been involved in the bar business in various ways for many years and decided it was time to run his own.
Shooter's will feature classic and Southern rock bands, with a little country music now and then. Open seven days a week until 4 a. m., the bar should provide a counterpoint to the Toy Tiger just down the road. Bands will perform on Fridays and Saturdays, starting at approximately 10:30.
There are drink specials on the hour, called by the manager and ten cent Buffalo Wings during happy hour. Tuesdays and Wednesdays, customers can sing along with the karaoke.
Call 458-8533 for more information and the music schedule.
• The renovation of J. T. 's Variety Club is pretty much done, according to club owner Jim Tino. He's now booking variety acts instead of country music and is pleased with the results. We've been promising to run a picture for some time and here it is. Ray Haste, a regular player at J. T. 's, did some of the murals at the club. Haste also mentioned that he was writing a novel about a time-traveling country musician. Didn't he ever read "All You Zombies" by Robert A. Heinlein?
• Wad'ya Mean the Shepherdsville Country Music Place isn't Labo's? Yep, my humble apologies to Rick and Renda Aiken at Shepherdsville Country Music Place. Like the good businessperson she is, Renda got me her club's dates in a timely fashion and danged if I didn't list them all under Labo's. Curse those computer menus, anyway. So now I have to apologize to Marsha Puckett at Labo's as well.
I'm gittin' good at "I'm sorry."