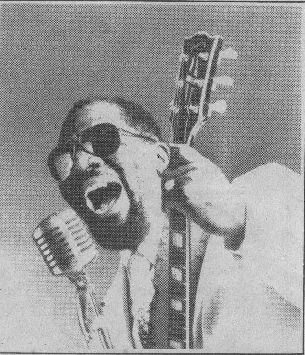 Jay Owens
a future blues classic?
The Blues Soul of Jay Owens (Atlantic)
Jay Owens
By Jeff Walter
Let's cut to the chase: Simply stated, this album deserves to be a blues and R&B classic.
Never heard of Jay Owens? Doesn't matter. Owens' obscurity is something the somewhat laborious liner notes go to great lengths to establish, as if it were a badge of honor. The key, however, is the music's timeless soulfulness; after a couple of listens, you'll swear you've been listening to it all your life.
For the record, Owens has made noise previously as a touring sideman for such greats as Stevie Wonder, Al Green, Aaron Neville, Etta James and Bobby Womack. But on his debut recording, he moves to center stage with the grace and poise of a veteran. What's more, the dude writes all his own songs. A generous thirteen of them are included on this album, originally released in 1993 and recently re-released on Atlantic's new Code Blue label.
Those who prefer R&B to hardcore blues will drink in Owens' fluid playing and his voice, which can range from a smooth croon to a raspy shout, as well as the solid supporting band and the liberal use of keyboards and horns. Blues lovers, on the other hand, will dig the heartfelt delivery, both vocally and instrumentally. On some songs, Owens sings like Otis Redding; on others, his sound is more reminiscent of Robert Cray.
The Blues Soul of Jay Owens is a savory mix of uptempo and slow tunes. The subject matter is nothing groundbreaking, as you can probably judge from the titles: "Come on to My House," "Why You Treat Me This Way," "Crosstown Love," "Missing You Blues." It's the sincerity and the performance that make this a disc well worth adding to your collection.
The blues braggadocio of "Come on to My House," the rhythmically propulsive "Stepping Stone" and the insistent "Bottom Line" ("Loving you is the bottom line") get the album off to a rocking start. Then Owens slows things down with the optimistically soulful "Chasing My Dreams."
If not for "Owens' blistering guitar work on "Wishing Well," the arpeggio piano riffs and swirling Hammond B-3 would push the seven-minute song into jazzy territory, especially at the conclusion. "I Can't Do the Same Thing" is a gorgeous and bluesy ballad a la Redding's "I've Been Loving You Too Much (To Stop Now)."
Atlantic has deep roots in blues and rhythm and blues. If the company has more of this in store, its new Code Blue series could someday be as well respected among blues labels as classic Chess and the modern giant Alligator.