Songwriter Showcase
Welcome to Thunder Over the Rud!" exclaimed Jean Metcalfe as she opened the LASC April '95 Songwriter Showcase. The spirit of a healthy gathering of local music supporters was not dampened by the threatening severe weather on the night of Thursday, the 20th. In fact, by the time Bryan Hurst hit the stage, the tall windows of the Rudyard Kipling were lit in a dramatic, cobalt blue -- a familiar post-thunderstorm hue that casts a haunting element into a springtime sunset. This provided a wonderful backdrop for Hurst's intimate, observational writing. Songs such as the double entendre of "In the Wrong Time" -- a regretful celebration of a relationship that would be doomed by bad timing (much like a song) or that square peg feeling that can beset two lovers.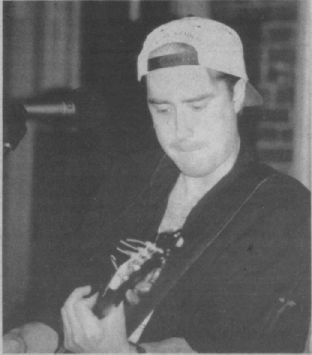 Bryan Hurst
Cradling his acoustic guitar, Hurst can summon chords that ring like a bell or tap at your brain with a hammer-like intrusiveness. Tunes such as "Russian Radio" and "Invisible Son" bring that quality home. Always the one to get belly laughs, not that that's the way he originally planned it, the deranged tango "You Only Love Me When You're Drinking" pulled lyrics like "you wrap your arms around me like your hand around that beer."
Accompanying commentary on the art of songwriting and its sources, while sweeping up at a bar, while riding a bus, while hearing a disembodied voice on the radio, i.e., "Fiona In the Air," for all you 'FPL members.
Bryan Hurst's skills from his days in Strict Nine and Core Of Resistance to the polished introspections of him home studio inspire my personal songwriting description of "little soundtracks for a big world."
Paul Moffett's suitcase of songs was opened wide for this special evening. If you feel a little road-weary after such tales from the asphalt as "I Can Sing a Country Song for You" and "Ticket on the Wind," it's because when you've experienced a set of Moffett's seasoned words and affable humor, you will have ridden, walked, loved and lost about five thousand miles.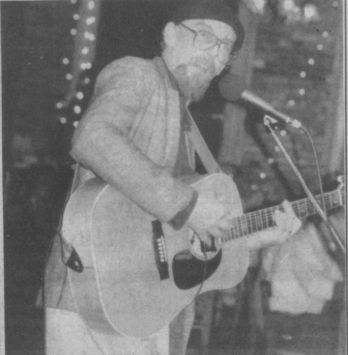 Paul Moffett
"I'll do all the autobiographical material first," he announced before spinning a yarn about Tyler, Texas. "I guess I haven't got the right hat on to be talking about Texas," he laughed, patting his ever-present black beret. A group of us unruly types shouted out, "Paris, Texas!" Of course, there was a story in that too . . ..
Rud raves such as "Steal This Heart" (still beating after a reported nine years of rewrites) and "C.J.'s Music" rang out in true Moffett milestone style -- great hooks those two; followed by a sassy, back-porch blues strut, "I've Got My Doubts About You Boy."
On a subtle note of an epiphany, Moffett described how he felt when it dawned on him that songwriters were just regular human beings. With intimidation out of the way, he began to write and never stopped. (Thanks for the Louisville Music News, too, Paul.)
Always a welcome visitor from the north, Indiana native Dave Cole charmed the crowd with his usual buckets of laughter and tears. And just a dash of blood -- from the ditty about the house he and his family built with their own, oh, six or eight hands I suppose. I haven't checked on the offspring count yet.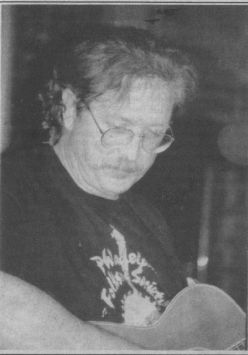 Dave Cole
Cole introduced one song with the affirmation of his twenty-five-year marriage. While he plucked through the spoken tribute to his wife and family, the room remained silent.
"This usually gets more applause in Indiana," he chuckled. With that, the room would not be outdone by Cole's Hoosier fans and the Rud burst into cheers. And there was no lack of applause for the song, either.
Sentiment leaves his front yard every now and then; one jaunt in particular takes him to an imaginary saloon for a drink with his heroes -- Hopalong Cassidy, Gene Autry and Roy Rogers. Now that Cole's grown up the images are no longer in black and white -- the old colors of television told it like it was then; and now the kid can have a beer with Gene and Hoppy and Roy. We begged for a tear-jerkin' and we got it with "W.F." It stands for Willie Frank, and to find out about this "man full of joy, with the mind of a boy" you'll have to purchase his tape. And you're on your own for the Kleenex, too.
With a voice steeped in years of broadcasting, the dulcet tones of Cole's speaking voice makes me feel as if I've just won something. The deep waters of his everyday experiences are tapped on the back of napkins, notebooks and walls and flow steadily through each song. An anthem to the suburbs, "Little Boxes" is a gentle, rocking ode to conformity, and a tribute to a lost friend, "Gibson Guitar" cried out like a classified ad to a misplaced F-hole, arch-top guitar from his childhood. When was it lost? Sometime around when "the boys came home and babies boomed." If you've seen it, find Cole and family at their house in the woods of Lawrence County near Bloomington -- twenty years later, they're still building the darn house.
Special thanks to MC Metcalfe on camera, microphone and gold lame`; to Jeff Jobson on sound and Little Kings, Linny Simkin on hostessing and Sharp's, Beth Moffett on merchandising and smiles, and Jack "I'll be takin' your money" Roberts at the door.