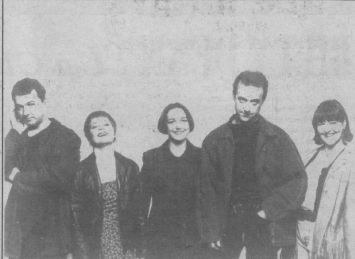 The Rankin Family
Rankin Family LPS Spring Finale
Their diminutive stature belied a giant of a band who trice brought Louisvillians to their feet in our Kentucky Center for the Arts' Bomhard Theater for a grand finale indeed of the Spring Lonesome Pine series. A musical wind from a distant Scottish past having picked up popular culture and technology as it has swept over Canada, the Rankin Family of Nova Scotia has a highly polished sound that brilliantly weaves together their complimentary yet distinctive vocal styles. Their pop and country influences are obvious but it is also clear that they have a deep foundation in Celtic music and dance.
Their Cape Breton fiddling was tastefully supported by fine bass playing and drumming and their Gaelic singing was magical, especially "Ho Ro Mo Nighean Bhoidheach" ("Ho Ro My Nut Brown Maiden). However, it seemed it was the sisters' dancing that pushed the audience over the edge, dazzled by such enormous talent. Rock's eyes were made to flow by Raylene Rankin's singing of "Rise Again" written by fellow Cape Bretoner Leon Dubinsky ... "We rise again in the faces of our children/We rise again in the voices of our song ...."
Five members of the family of twelve are in the band and another brother operates the mixing board. Although not actually a Gaelic-speaking family, they were made to learn the language in their early school days and were raised by avid music-loving parents. Their neighbor down the road at home is Natalie MacMasters, fiddling superstar now collaborating with Irish wunderkind, Seamus Egan. Their rendition of "Padstow" was a tip of the hat to the great British band Steel Eye Span, having recently accompanied them on a reunion tour.
As polished as their sound was, their stage presence was unassuming, creating the sense that they were our friends and neighbors rather than world-class entertainers. Rock is counting the days 'til they return.