Silos, psychodots
For one reason or another some bands just don't click on certain nights. The same can be said about yours truly as a listener.
Saturday, April 15, was one of those sudden, blurry nights where it took a familiar or superior tune by either band to shake me out of the doldrums.
Usually I head for the door when I get this feeling. But I have a history with both bands, especially The Silos, whose self-titled 1990 record is loaded with solemn stories that drift along in a simplistic and powerful country-rock vessel. A tried and true classic!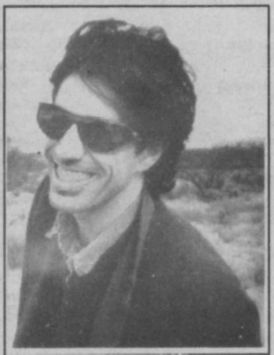 Walter Salas Humara
As for the psychodots, this is a band that I've caught live several times before, so the super imaginative guitar wizardry of leader Rob Fetters wasn't as eye-popping, but still so supreme it was laughable.
The psychodots' sound is sweet and dreamy a la the Beatles and XTC. Fetters and company painted a landscape lush in bouncy psychedelic pop that often conveyed their sheer enjoyment of playing. Based in Cincinnati, the psychodots have established a strong bond with some locals who show up to sing and dance every time the psychodots grace Louisville with an appearance.
The psychodots are a find band but I was fighting the night and I was in dire need of a Silo fix. I received that much-needed fix thanks to Walter Salas-Humara who fronts the Silos and who is one of my most treasured songwriters. Just hearing Salas-Humara's rough and soulful voice raised my spirits.
"I'm Over You," a song from the aforementioned classic Silo record, was tremendous. This is one love song worth hearing and I was grateful they played it. However, I was slightly disappointed in the band's decision not to play their older material. But I do understand them wanting to share fresh songs.
When I was into a fresh song like the soft and melancholy "Susan Across the Ocean" that Salas-Humara played solo, disrespectful gibber by portions of the crowds almost ruined it. But the man's crackling vocals shot 'em down.
The show did hit a lull halfway through, which provoked a friend of mine to suggest that the Silos needed a kick in the behind. About that time the Silos gave us a kick in the teeth with a raucous cover of Michael Hall's "Let's Take Some Drugs and Drive Around." It was masterful and the crowd finally responded, especially when Salas-Humara barked out "Let's do something dumb/Let's get into a fight/I'd rather get beat up/Than sit around all night."