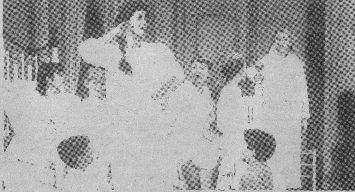 Marie Osmond as Maria Von Trapp
Marie Osmond Stars in 'Sound Of Music'
"The hills are alive with the sound of music."
Although far away from the hills of Austria, Louisville had an abundance of music April 4-9 when PNC Bank presented Rodgers and Hammerstein's classic tale, The Sound of Music, at the Kentucky Center for the Arts as part of its Broadway Series. America's sweetheart, none other than the multi-talented and beautiful Marie Osmond, filled her role quite handsomely as the whimsical, fun-loving, and musical Maria Rainer, a postulate at Nonnberg Abbey who was dismissed to become the Von Trapp governess and who eventually captured the heart of Captain Von Trapp.
Osmond's performance brought a breath of fresh air, as pristine as that in the rolling hills of Austria, to this heart-warming musical in which Maria discovered and taught the Von Trapp family, consisting of the captain and his seven children, the meaning of love, life, and music.
Osmond's theater debut performance, as could be expected, was highlighted by her pure vocal performances of songs such as the title tune, "My Favorite Things," and probably the most memorable song of the evening, "Do Re Mi," accompanied by the charming and talented array of youngsters cast as the Von Trapp children. While her competent acting ability was very evident in the role of Maria, her pure vocal performances greatly overshadowed it.
Kurt Von Trapp was played by Osmond's own ten-year-old son, Stephen Blosil. The entire troupe of children did a remarkable job of stealing the audience's heart, especially Vanessa Dorman, who played Leisl, when she and Rolf joined to sing "Sixteen Going On Seventeen."
Neal Benari did a fine job of filling the boots of Captain Georg Von Trapp, turning in a quite professional and enjoyable performance, highlighted by his rendition of "Edelweiss."
Claudia Cummings, the very talented and internationally renowned opera star, turned in an unforgettable, four-star performance as Mother Abbess singing "Climb Every Mountain," closing both Acts I and II. High quality talent made for a successful and enjoyable performance of The Sound Of Music.
Needless to say, this stage production was somewhat different from the classic movie version starring Julie Andrews that the world has grown to love, but the plot was virtually the same. Maria left Nonnberg Abbey, became the Von Trapp governess, taught the children to sing, captured Captain Von Trapp's heart and married him, the family performed and won at Max's concert, they were hunted by the Nazis but escaped with help from the nuns, and the Von Trapps lived happily ever after. A few story line details were altered, as well as the placement of some of the score, but the fine acting and vocal performances, as well as the beautiful stage sets and period costumes, made up for these changes by far.