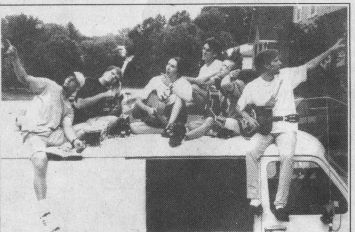 Fall (Independent)
100 Acre Wood
By Kevin Gibson
This locally produced, locally released cassette offers surprising ingenuity and depth, especially since it was recorded on a primitive eight-track system (it is a basement tape in the most literal sense of the word).
The under-produced sound this six-member band from southern Indiana puts down on this 10-song collection, however, makes one appreciate the music that much more. It may even heighten the effect.
ln a world where grunge and punk are on the minds of music listeners everywhere, these 20-somethings have given birth to a sound which could easily pass for some '60s remnant, something John Lennon and Otis Redding did for kicks one weekend but never bothered to release.
The best part is, it works. Mixing electric guitars with hypnotizing violins and gentle percussion, 100 Acre Wood (sans Winnie the Pooh) glides through its art with passion and soul.
Dreamy, soothing melodies and melting vocal harmonies surround intelligent, thoughtful lyrics through walks down various paths including folk, country, blues, rock and jazz.
Only "Storybook Hero" breaks the methodical pace for one upbeat moment; otherwise, "As It Is" and "Here & Now" head a meditative (if occasionally somber) and unique list of originals.
One wonders how a group of Generation Xers who grew up during a time typified by The Knack, The Brady Bunch and parachute pants got so serious. And so original. And so good.
This group is a regular at Twice Told Coffeehouse on Bardstown Road and has also been spotted at the Rudyard Kipling and East End Coffeehouse. Cassette copies of Fall can be purchased at the group's live performances.