Bluegrass Beat
I have to skip back a bit to start this, back to Owensboro for the IBMA Fan Fest. I was there on Saturday, September 23 and enjoyed the day. I saw a couple of friends and folks I had hoped I would see bu didn't really expect to run into.
A brief chat with Laurie Lewis tells us she is going to be very busy for several weeks on this all-over-the-country Rounder Records tour with J. D. Crowe & The New South and the Del McCoury Band. All of this started in Lexington, Ky., September 28 and will take them across the country, winding up in Seattle, Wash., one month later. Twenty-one dates in all.
Also saw an old friend, Bill Clifton, and Paul Adkins. Paul is ready to go with a new band and hopes to record soon. Paul says he will maintain the sound and show he has been doing. He does one of the best Lester Flatt impressions out there.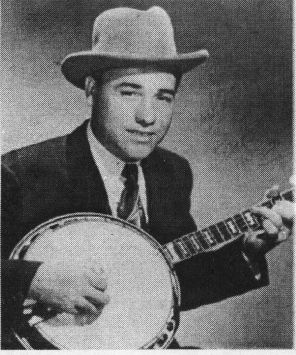 Earl Scruggs
Leroy Troy was there and performed Saturday afternoon. To my way of thinking, Leroy just about stole the afternoon. He had the audience — absolutely owned them — for nearly an hour. His introduction included something like "Uncle Dave reincarnated."
Without a doubt, this young man does the best old-time Uncle Dave Macon act I have seen: the banjo tricks, the reared-back, let-'em-have-it style, boisterous and entertaining and audience-pleasing. With Leroy's act you get your money's worth in the first fifteen minutes and the rest of the show is free. I was talking to Leroy when he came off the stage. Now this is an experience, talking to Leroy, perhaps second only to talking with Ron Thomason. He calls himself the Tennessee Slicker and yet there is an air of innocence about him. Disarming, honest and a real somebody, but don't let that fool you. Leroy Troy knows exactly what he is doing and does it well. I told him I thought he stole the afternoon. With that Tennessee Slicker innocence and a slight gleam in his eye, "I'm sumpin', ain't I?" he confided. (Yes, Leroy, you ARE "sumpin'." Whatever it is, don't let it get away.)
Oct. 7 was an important and happy day for one of our local pickers who has many fans in this area. Cyndi Ruff became Mrs. Bob Mahler. My wife and I attended the wedding and were honored to be invited and included. It was one of the nicest, best-planned and -carried-out weddings I have attended in a long, long while. (Cyndi, you were a beautiful bride and our sincere best wishes to you and Bob for many years to come. Bless you both.)
That day was a very mixed emotional day for us. After the wedding we visited the funeral home to pay our respects to a good friend of the last few years. We were shocked to learn of the unexpected passing of Chester Reid. Those of you who attend the shows at Shepherdsville will know Chester for his friendliness, his fish sandwiches and his support of bluegrass. (Chester, we will all miss you and, uh, would you say hello to Carl Story.)
I am beginning this column on Monday evening, October 9. You may not believe what I'm telling you now. The TV was on and about 8:15 the phone rang.
"ls this Berk Bryant?"
"Yes sir."
"Berk, this is Earl Scruggs."
Yes, it really was the Earl Scruggs. A few weeks ago I had sent Earl a tape at the request of Little Roy Lewis. It was of a 15-minute live show I had done with Flatt & Scruggs back when I was a country DJ. Way back when. First, Earl apologized for having not contacted me before now. No apologies needed, of course, but he did. We chatted for a bit and he asked me if I knew the date that the tape was made. I said about '56. Earl said that Louise, his wife, had looked it up in their records and it was June 25, 1955. Talk about making your day; what can you say after getting a call from the man himself. (Thank you, Earl, thank you for that call.)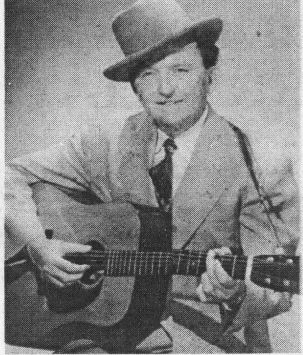 Lester Flatt
I've waited to finish this when I got back from the Norris, Tenn., trip. I enjoyed it as always. My high school buddy, Jack Huffman, came for our annual get-together down there. A lot of folks came from around here. I sincerely hope they will go back next year. We got rained on a couple of days. I can't help the rain. It was more than I have seen any weekend since I've been going there. In spite of the rain, Jack and I both marveled at the size of the crowd on Saturday. And they stayed around most of the day. I have seen smaller crowds at some bluegrass festivals on a warm, clear day.
A footnote to the Owensboro trip. I had a brief encounter with Tony Rice in the hotel lobby. Told him how much I liked the Tony Rice Plays and Sings Bluegrass album and asked him when he would do another. The answer: "When get my voice back." (O. K., Tony, we'll be looking for it.)
Pickers in the area soon: Shepherdsville Country Music Place: November 3, Junior Blankenship Band with special guest Johnny Collins; November I0, The Sunnysiders with Cyndi, all gospel; November 17, New Coon Creek Girls or J.D. Crowe. (As of this writing I believe it will be the Girls); November 24, Josh Williams and High Gear.
At The Opry House in Mitchell, lnd., November 30, The Lewis Family.
Here's best wishes to each of you for a Thanksgiving dinner and get-together that is ideal. May it be all Thanksgiving is expected to be.